Last Updated on February 8, 2022
Seize this new offer to score a free Dermalogica Foaming Wash sample. While supplies last, Dermalogica is giving away free samples of their Breakout Clearing Foaming Wash to select users.
Dermalogica Breakout Clearing Foaming Wash Dermalogica is a brand that specializes in skincare products for different skin types. The Dermalogica breakout clearing foaming wash is perfect for acne-prone skin. It contains exfoliators and natural botanicals that help reduce the redness of pimples and inflammation. This product also has Tea Tree, Lavender, and Camellia with their properties to help soothe dry or irritated skin in an instant.
To receive a free sample to try out, here is what you need to do.
How to get a free sample of Dermalogica Breakout Clearing Foaming Wash in the mail?
Dermalogica is giving away the samples through a sponsored post on Facebook and Instagram. Thus, to score this sample at no cost, you need to make the post pop up in your feed. It's quite simple if you follow the steps below.
Like and Follow the Dermalogica page on Facebook
Engage with the brand by liking recent posts, or watch a recent video they have shared
Visit their website and search for the Breakout Clearing Foaming Wash
After that, just keep an eye out while scrolling through your social feed. Below is a snapshot of the sponsored post you need to find in order to access the sample request form.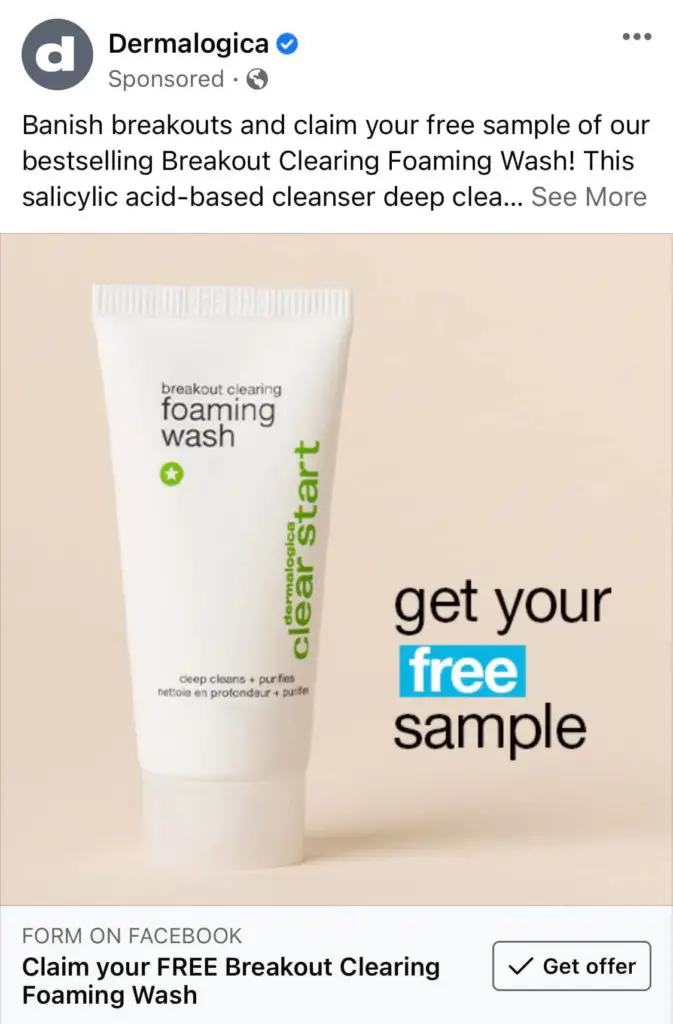 Be the first to get the latest freebies in your inbox