Last Updated on September 13, 2023
Let's delve into a realm where fragrance meets finesse. Welcome to the unveiling of the new AXE Fine Fragrance Collection. And you guessed it, you can claim a free AXE Fragrance sample while supplies last.
This fresh collection includes trending scents that have already garnered rave reviews from users, including:
Blue Lavender Premium Deodorant Body Spray
Green Geranium Premium Deodorant Body Spray
Aqua Bergamot Premium Deodorant Body Spray
Apollo Deodorant Body Spray
Phoenix XL Deodorant Body Spray
Dark Temptation Deodorant Body Spray
If you are interested in getting a sample, then read on to find out how.
How to claim a free sample of AXE Fragrances Collection?
UPDATE: A new link is available for this freebie. CLICK HERE and see if you qualify with your Sampler account.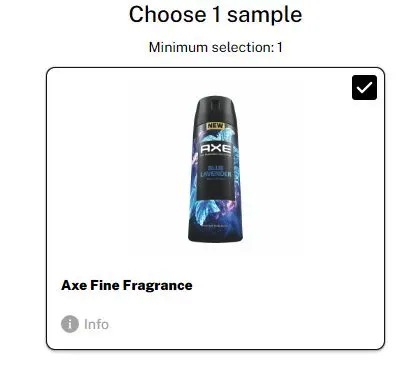 To get a possible sample through sampler, all you need to do is CLICK HERE to go to the offer page. Since samples are limited, you'll first need to answer a few quick questions to see if you pre-qualify. The quicker you do this, the better your chances, as these samples tend to go fast. If you pre-qualify, you'll be directed to log in with sign up with Sampler.
Once you've joined Sampler, you can claim your free AXE Fragrances sample. It will be listed among a pool of other exciting samples. So not only do you get a chance to try AXE's captivating fragrances, but you also get the opportunity to explore other enticing products.
This is an excellent opportunity to test out one of AXE's distinct fragrances without spending a dime. Whether you're a long-time fan of AXE looking to try a new scent, or you're new to the brand and curious about their offerings, this is an opportunity you don't want to miss.
So why wait? Follow the above steps and see if you qualify for your free AXE Fragrances sample. Remember, these freebies go fast, so hurry up and claim yours before they're all gone!
Be the first to get the latest freebies in your inbox