Last Updated on October 30, 2023
Notice to all the skincare-savvy individuals! There is a new freebie that is making waves across social media. If you're a skincare aficionado or just someone who loves good pampering, then you're in for a treat! This time around, you can score a free Youth To The People Superfood Cleanser sample to try out gratis.
Now, you might be wondering, what's the big deal about this cleanser? Well, Youth to the People is not your typical skincare brand. They offer high-quality, sustainable, and effective products, and their Superfood Cleanser is no exception.
This superstar product is a potent blend of kale and green tea. It's designed to purify, hydrate, and visibly regenerate your skin, and it can even aid in removing makeup residue.
But enough of me waxing lyrical about the cleanser. Let's talk about how you can get your hands on this free sample.
How to get a free sample of Youth To The People Superfood Cleanser?
NEW! On TikTok and Facebook / Instagram
So, how can you get this sample? It's simple. Keep an eye on your TikTok, Facebook or Instagram Feeds for a sponsored post from Youth to the People, and when it appears, snag your free sample. Here are some tips and tricks to increase your chances of getting the sponsored post to pop up in your feed:
Search for YouthToThePeople on TikTok, Instagram, or Facebook and follow them
Like their content or leave comments, etc… to show your interest in their brand and products
Use the search bar to look up the Youth To The People Superfood Cleanser and look it up on the internet as well
After that, keep your eyes open for any sponsored posts. Here is a picture of the one you need to find to claim this freebie.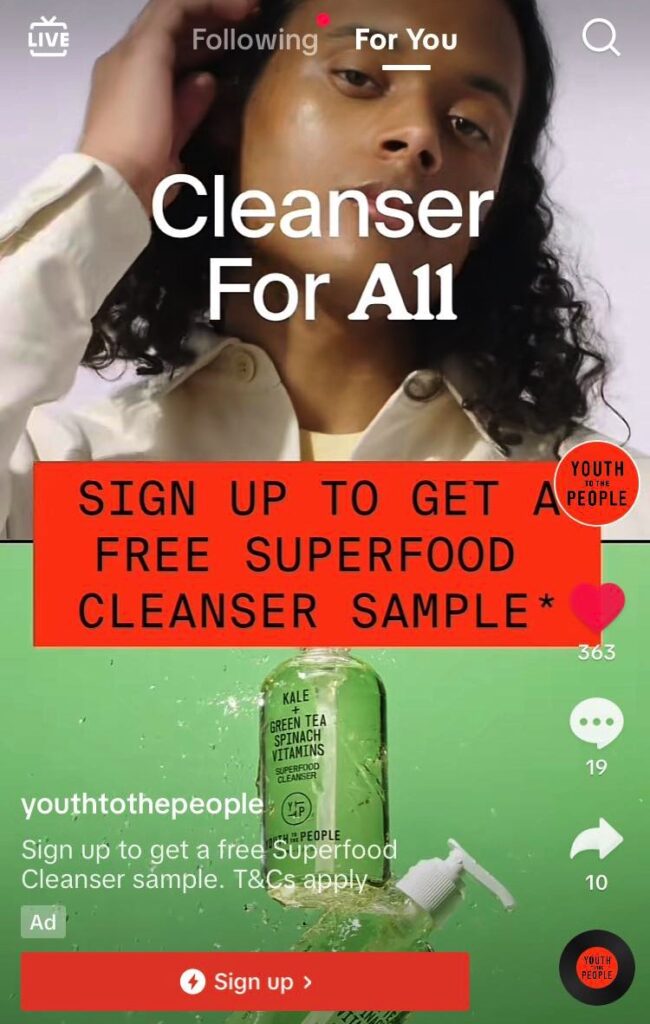 Remember, these freebies are typically available in limited quantities, so be quick to claim yours. And as always, make sure to share the news with your friends, because good things are meant to be shared!
So, are you ready to give your skin a superfood treat? With the Youth to the People Superfood Cleanser, you're not just cleansing your skin; you're nourishing it with the best that nature has to offer. So go ahead and grab your sample, and here's to happy, healthy, glowing skin!
Until next time, stay fabulous!
UPDATE: This freebie is also available on Facebook and Instagram ads. Here is what it looks like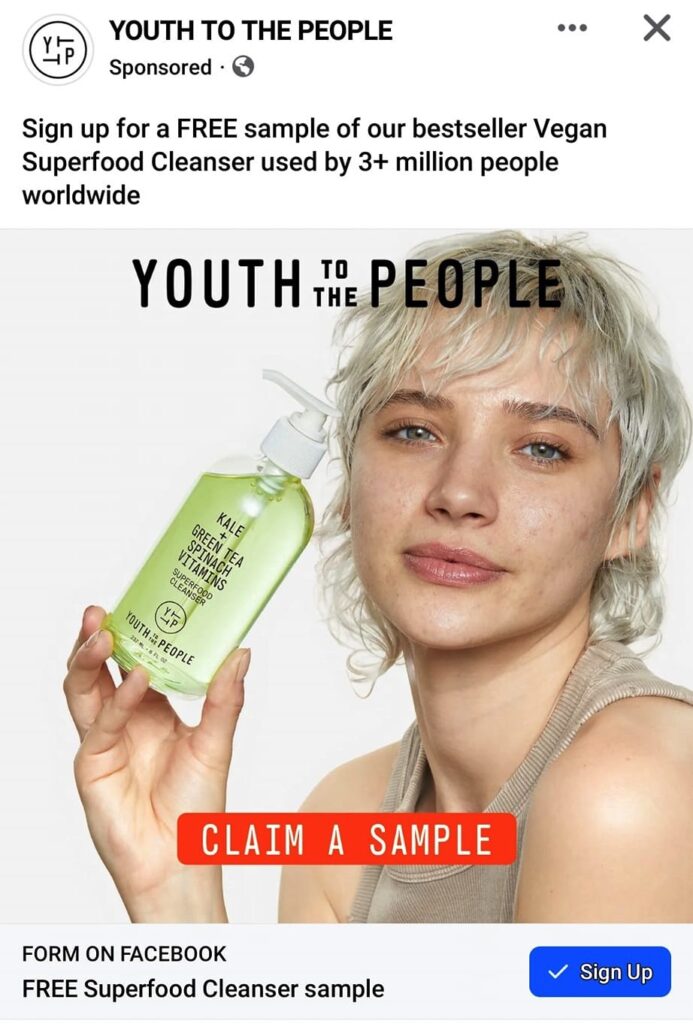 Be the first to get the latest freebies in your inbox