Last Updated on August 23, 2022
Be quick to snag possible free Ralph Lauren Cologne & aftershave samples in the UK.
You can find below all the past and most recent sampling offers by Ralph Lauren in the United Kingdom. Keep an eye out on this listing to snag the latest Ralph Lauren freebies available.
How to get free Ralph Lauren aftershave and cologne samples?
Ralph's Club Perfume for men
The Ralph Lauren brand launched a new Perfume for men: Ralph's Club. For a limited time, you can claim a free Ralphs Club Perfume sample to get by post.
NEW! Thru Facebook and Instagram – AVAILABLE
The brand is giving away free samples thru a sponsored Facebook post showing up to select people.
I invite you to go to the Ralph Lauren Fragrances page on Facebook. Follow and like the page, then engage with the brand by watching recent videos they posted, or liking posts. Keep an eye out for this ad to show up on your social feed.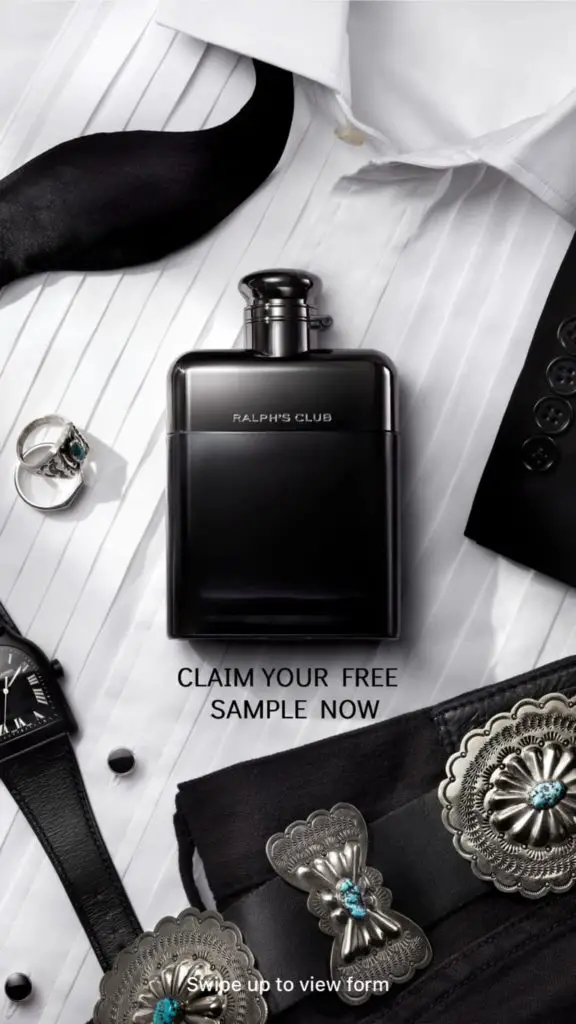 This is showing up to select users of Facebook and Intagram. For both men, and women, living in the UK. I'll let you know when I know more.
Thru SoPost – SOLD OUT!
Be quick to snag a free sample of Ralphs Club Cologne thru a direct link to a SoPost form. To get one, simply follow this link and fill out the form. Make sure to check your inbox for the confirmation email.
This is a direct link to form so it will not last for long.
Missed it? It's okay, there will be another sampling offer for this Ralph Lauren Cologne sample. Just keep an eye out on this post and I will make sure to ping you as soon as it's available.
Ralph Lauren Polo Cologne Intense – EXPIRED!
Ralph Lauren has a new advert popping up for select Facebook users. The post is offering free samples of the new Polo Cologne Intense for men.
Even though it's for men, it is showing up to women as well. The post is powered by a SoPost form. Thus, there's a possibility we manage to find a direct link. I will be updating this article if I find it.
As I mentionned above, there's no direct link for this at the moment. However, what you can do now is keep your eyes open while scrolling your Facebook news feed. Here is a snapshot of the post :
I suggest you also go over to the Ralph Lauren page on Facebook and follow them. Consider liking one or two recent posts as well. You never know what ends up working.
Allow push notifications so I can reach you quickly in case I get a direct link.
Be the first to get the latest freebies in your inbox