Last Updated on September 10, 2023
Discover a symphony of scents with a free Thomson Carter Shelby Lane sample.
Step aside traditional fragrances; there's a new scent in town! The iconic fragrance house, Thomson Carter, has launched its alluring 'Shelby Lane' fragrance.
Every fragrance tells a story, and Shelby Lane is no exception. Designed to capture the essence of elegance with a twist of modern allure, the scent invites wearers on a mesmerizing journey, and select UK residents are in for a treat thanks to this new sampling offer. Here is everything you need to know to claim this freebie.
How to order a free sample of Thomas Carter Shelby Lane Fragrance?
Thomas Carter is offering these samples to select UK residents on Facebook and Instagram. So, by simply scrolling through their Facebook or Instagram feeds, you can come across sponsored ads that allow you to request a free sample.
I suggest you follow these tips to help you in your journey:
Engage with Thomson Carter: Boost your chances of seeing the ad by following the Thomson Carter official pages, liking their posts, and even visiting their official website. This interaction often makes targeted ads more likely to appear on your feed.
Keep an Eye Out on Your Feed: The sponsored ads for the Shelby Lane sample are sprinkled throughout Facebook and Instagram. So, while browsing through your daily dose of posts and stories, watch out for the Thomson Carter ads.
Click and Claim: Once you spot the ad, it's a simple click-through process. Follow the instructions, provide the required details, and voilà! Your free sample will be on its way.
Here is a screenshot of the advert to help you identify it quickly: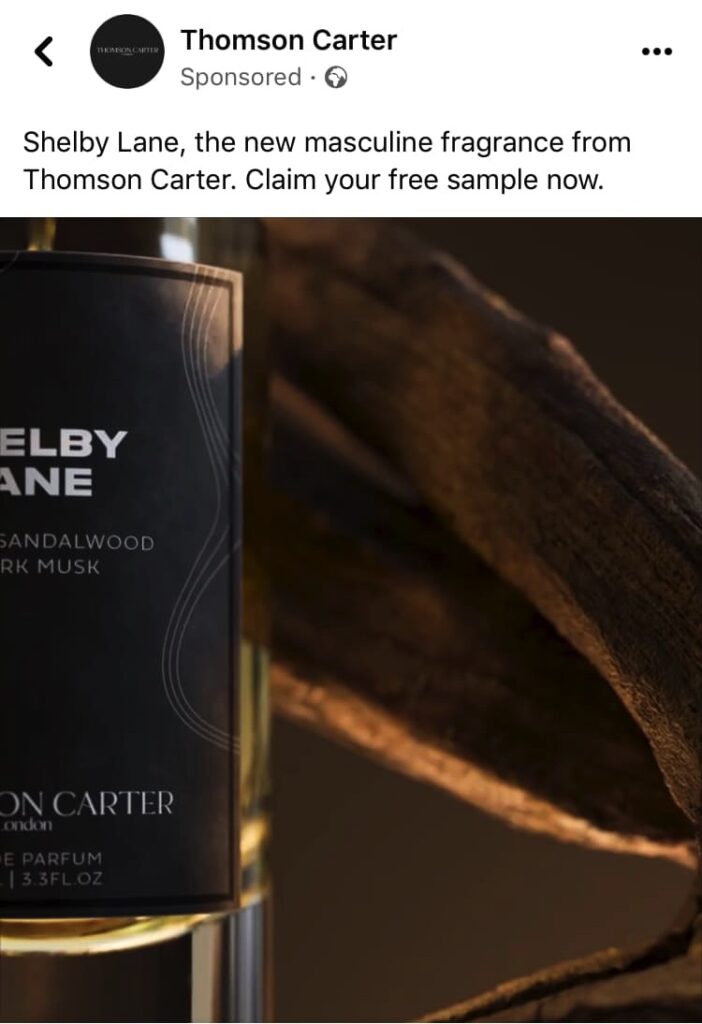 If you reside in the UK, seize this golden opportunity – who knows, Shelby Lane might just become your signature scent!
Be the first to get the latest freebies in your inbox