Last Updated on September 4, 2023
If you're aiming to stay fresh and confident all day, this offer is definitely for you. You can now claim a free Sure Antiperspirant Deodorant sample to add to your personal care arsenal without paying a penny.
Sure Nonstop Protection antiperspirant deodorant promises to deliver uninterrupted protection against sweat and odor. Its advanced formula works in sync with your body, ensuring you feel fresh even during the most intense moments. Let's dive into how you can score a free Sure antiperspirant Deodorant Nonstop Cotton Dry Aerosol 150ml sample.
How to claim a free sample of Sure Antiperspirant Deodorant?
Sure is offering these samples through a sponsored post on Facebook and Instagram. There is no direct link to the form, instead you need to find the sponsored post on your social feed.
To increase the chances of the Sure sample ad popping up in your feed, follow these steps:
Engage with Sure: Search for Sure's official page on Facebook and Instagram. Like their page or follow them.
Interact with the brand: engage with a few posts, and perhaps even visit their official website via the link on their profile.. This broadens the niche of interest the algorithm associates with your profile.
Search Relevant Terms: Input keywords related to "Sure deodorants", and "Sure Nonstop antiperspirant", in the search bar of your preferred platform (Instagram or Facebook). Engaging with related content tells the META algorithm you're interested in such products.
Here is what the ad looks like to help you identify it quickly.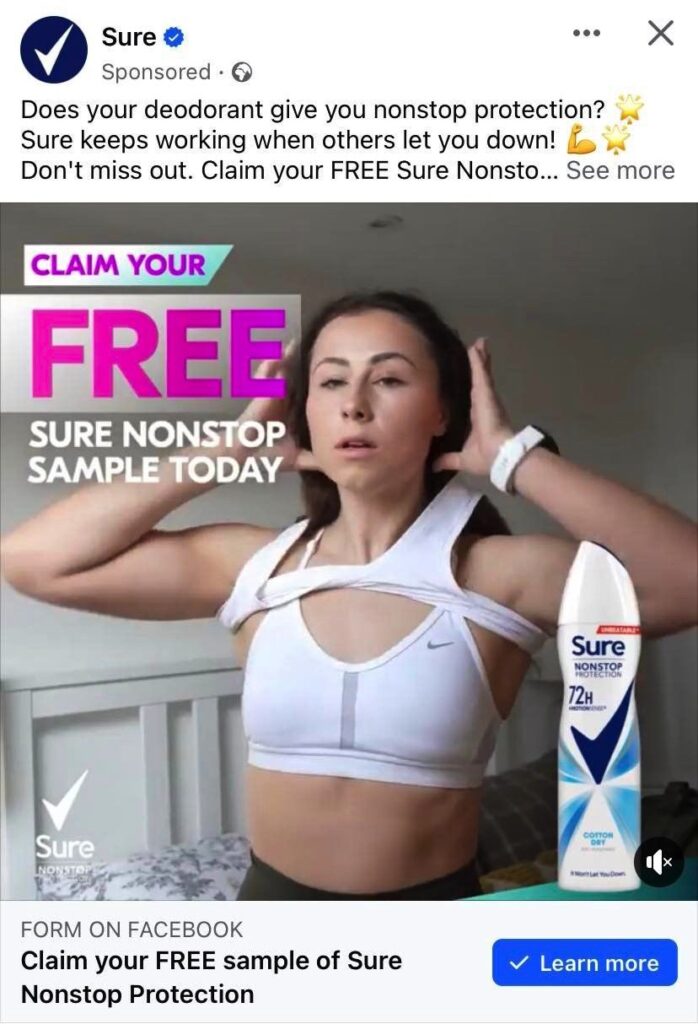 Once the ad appears, click on the button and it will lead you to a request form where you can fill out your details to claim the free sample.
Staying fresh has never been so easy, especially with brands like Sure offering trial versions of their best products. So don't miss out on this chance to experience the protection of Sure Nonstop Anti-perspirant Deodorant for yourself.
Good luck.
Be the first to get the latest freebies in your inbox