Last Updated on November 10, 2023
Here is a brand new offer for you to indulge in Parfums de Marly's Sensory Journey without spending a penny with this free Parfums de Marly sample pack.
Parfums de Marly, a brand synonymous with luxury and opulence, is offering an exclusive treat to a select few. If you're someone who values a unique olfactory experience, you're in for a delightful surprise.
The brand is generously giving away two samples of their latest perfume creations, including:
Parfums de Marly Althaïr Eau de Parfum
and Parfums de Marly Valaya
With a reputation for crafting exquisite and distinctive fragrances, this is an opportunity you won't want to miss.
So let's dive into how you can get your hands on these freebies.
How to claim your free sample package of Parfums de Marly fragrances?
This freebie is available for a limited time or while supplies last to select users on Facebook and Instagram sponsored ads. (Both UK and US residents) So, spotting their sponsored posts on Facebook and Instagram is like finding a golden ticket.
Here are a few tips and tricks to help you in your search:
Like and follow the Parfums de Marly page on Facebook or Instagram (the one you use the most or both, it's up to you)
Show interest in the brand by interacting with their recent posts, etc…
Use the search feature on Facebook, Instagram or the internet to look up keywords such as Parfums de Marly Althaïr, Valaya or Parfums de Marly Fragrances in general
This should be enough to signal to META algorithms that you are interested in the brand and its products, so you are more likely to see the sponsored ad with the sample pack.
As you scroll through your Facebook or Instagram feed, watch out for the Parfums de Marly sponsored post. It's adorned with their signature elegant perfume bottles set against a dreamy backdrop. Here is what it looks like: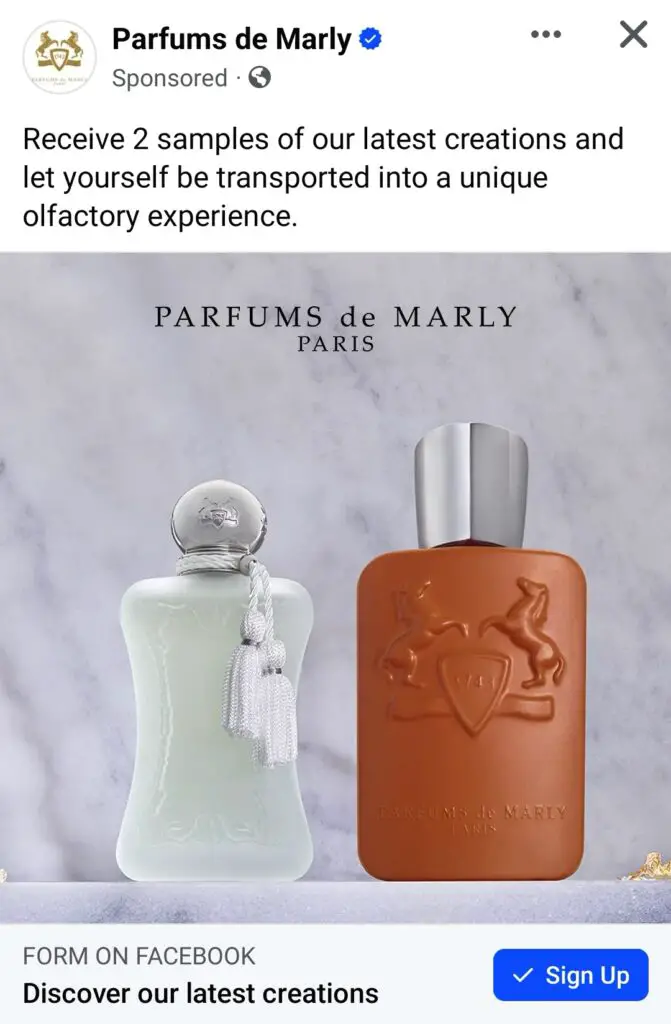 When you find the post, simply click on the 'Sign Up' button and you'll be directed to a dedicated form on Facebook. FIll out the form and wait for the confirmation email.
In a world dominated by fleeting trends, Parfums de Marly stands out with its timeless elegance.
Keep your senses alert and your eyes peeled for their sponsored posts.
Good luck to everyone.
Parfums de Marly page on Facebook
Currently available on Facebook and Instagram ads to both residents of the United States and the United Kingdom.
Be the first to get the latest freebies in your inbox