Last Updated on May 22, 2023
Hurry up to grab a free MZ Skin Micro Peeling Glow Essense sample while supplies last.
Discover the newest product by MZ Skin and offer your skin its youthful glow back.
MZ Skin Micro-Peeling Glow Essence is a revolutionary, new skincare product to use over the skin. It is a gentle, yet powerful AHA Cleanser that removes dead skin and delivers visibly brighter, more luminous skin. The skin is visibly rejuvenated, smooth, and glowing. You can get your hands on a free sample to test out gratis. Here is how.
How to get a free sample of MZ Skin Micro Peeling Glow Essense?
NEW! From Facebook / Instagram – AVAILABLE
Currently, MZ Skin has a sponsored post doing the rounds offering free samples of their Micro Peeling Glow Essense to select users. Here are a few tips and tricks to help you get the advert to pop up in your feed.
Follow and like MZ Skin page on Facebook and Instagram,
Engage with the brand as usual by liking recent posts, leaving comments, or watching recent videos.
You can also use the Facebook Search bar to look up the MZ Skin Micro Peeling Glow Essence product, or the internet
That's it. Once done, all you have left to do is keep your eyes peeled for sponsored posts from MZ Skin on Facebook and/or Instagram. As you can see below, that's the post you need to find to access the request form for this freebie.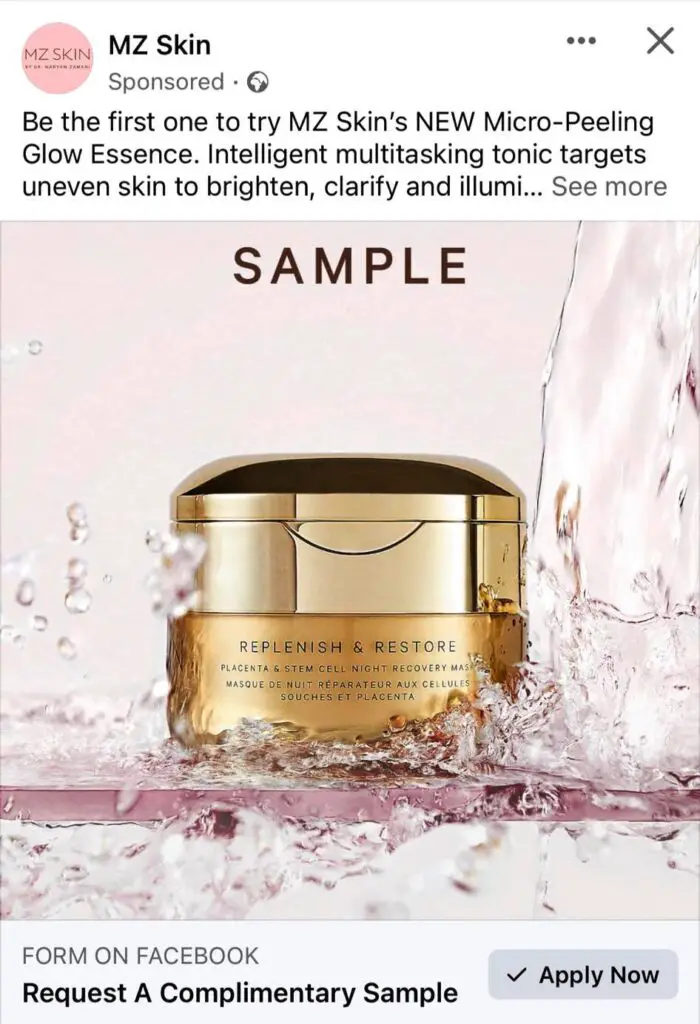 From Sampl – SOLD OUT
To score this freebie, all you need to do is CLICK HERE to go to the offer page on Sampl. Fill out the form and you should be good to go. All you have left now is to wait for the sample to be shipped by post.
This offer is available for a limited time only or while supplies last.
The MZ Skin Micro-Peeling Glow Essence removes dead skin cells. It also gently exfoliates the skin. The results are dramatically radiant and supple skin. Besides, it allows your other skin care to penetrate better and work better.
This product is suitable for all skin types including sensitive and combination skin
Be the first to get the latest freebies in your inbox