Last Updated on April 27, 2023
A new advert has been spotted! Be quick to possibly get a free Smashbox Primer sample to receive in the mail by regular post.
Currently, they are offering you the opportunity to get a free sample of Smashbox Primer to test. There are 3 different primers you can choose from. The free samples are offered using a sponsored advert on Facebook & maybe Instagram as well. So check out below how to make the advert show in your feed.
There is no direct link to the freebie online order form. However, there are a bunch of actions you can complete to make the ad show up in your social media feed.
How to get a free Smashbox primer sample by mail?
NEW! From Facebook / Instagram – AVAILABLE
If you want to get your mitts on a free Smashbox primer sample to test out, we suggest you finish these actions :
Like and follow the pages of Smashbox Cosmetics on social media (especially on Facebook and Instagram)
Engage with the brand by liking one or two of their recent posts, or leaving a comment maybe
Perform a search on the internet about the Smashbox Primers offered.
Visit the Smashbox website and look at the Primers sections
The idea here is to make algorithms understand that you are interested in the brand and the product. Thus, you will be eligible to see the advert
Once you see the advert on your social media feed (see picture below), just click on the sign up button to see a SoPost form.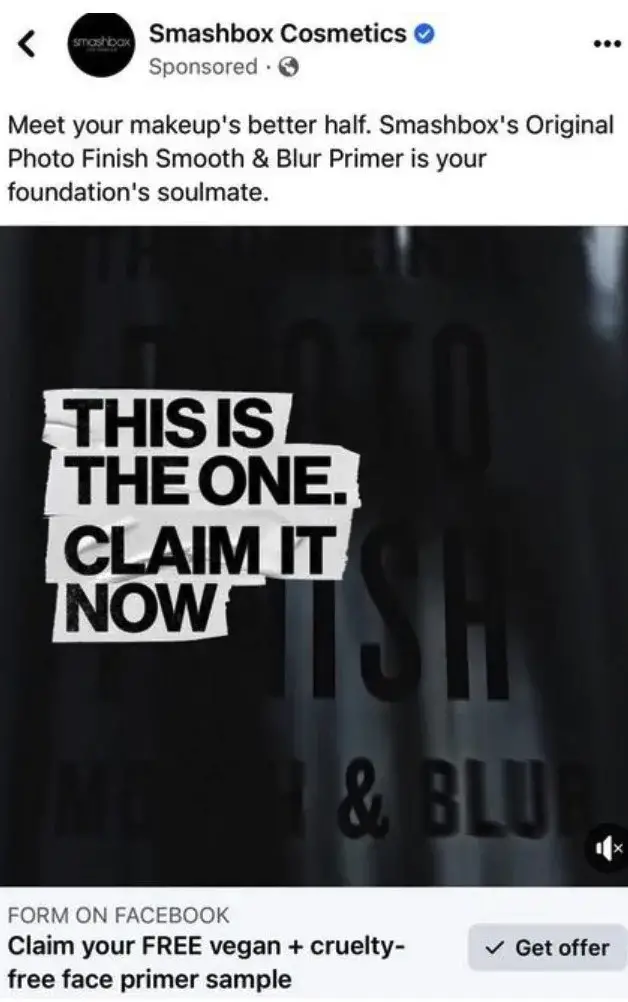 Once you click on the call to action button, you should be able to choose one of these free samples of Smashbox primers to receive in the mail.
The available Smashbox primers sampled thru this offer are :
Original Photo Finish Smooth & Blur Primer
Vitamin Glow Primer
Photo Finish Primerizer
Limit of 1 free primer sample per person.
Stay tuned for more free stuff.
Direct SoPost Link – SOLD OUT!
Hurry up to claim one of 5 Smashbox primers of your choice through a direct SoPost form. Simply click here to go to the form, choose your primer and complete the form.
Available for a limited time only or while supplies last.
UPDATE: it looks like the link shows sold out now. But don't worry, the sponsored advert with the form is still running on Facebook and Instagram. Read below to see how you can get it using that method. Good luck
Be the first to get the latest freebies in your inbox