Last Updated on September 25, 2023
This Halloween, while the goblins and ghouls roam the streets, Denzel's is making sure your furry friend doesn't feel left out of the festivities! Dive into a world of scrumptious, healthy Halloween treats tailored especially for our four-legged pals with this free Halloween Dog Treats offer from Denzels.
Denzel's, known for its commitment to all-natural, wholesome dog treats, is offering a spook-tacular Halloween surprise. If you're a dog parent residing in the UK, this is one Halloween treat you won't want your pup to miss!
Crafted with love, the wholesome Spooktacular Bones Treats are both delicious and nutritious, ensuring your dog has the best treats in town this spooky season. They are made with Turkey, Pumpkin & Apple
Read on to find out how to claim this freebie.
How to order free Denzel's Halloween Dog Treats?
Denzel's is giving away these freebies through a sponsored pop-up currently doing the rounds on Facebook and Instagram.
To increase your chances of seeing the exclusive ad and claim this freebie, simply follow the guide:
Go over to Denzel's page on Facebook and/or Instagram account and give it a follow
Engage with the brand's content by liking recent posts, commenting, etc…
Use the search bar on either Facebook or Instagram, and the internet to look up Denzel's Dog Treats
Once you complete these steps, simply keep an eye out on your Facebook and Instagram feeds. Denzel's exclusive Halloween treat ad will be making its spooky appearance soon.
For reference purposes, you can see how it looks in the picture below: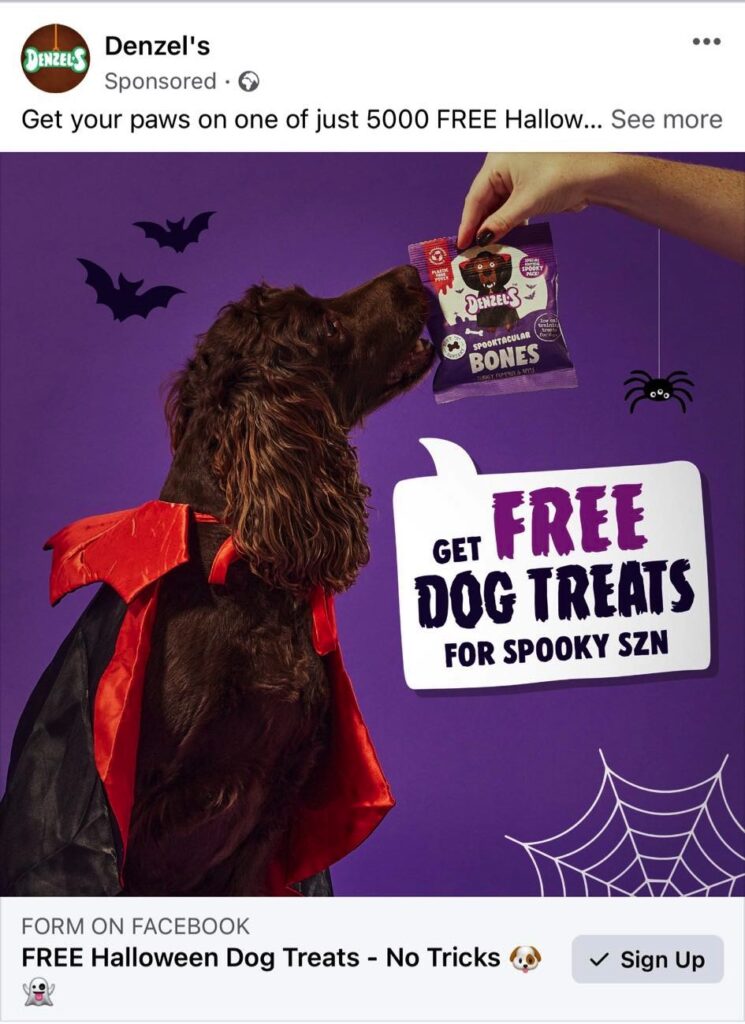 Once you spot the pop-up, click on it to access the request form. Filling it out is a breeze, and your dog's tail will be wagging in no time!
Check your email inbox for a confirmation email, and you're all set. Your Dog's Halloween treat from Denzel's will be on its way to give your dog a celebration!
So what are you waiting for to indulge your pup with free Denzel's Halloween Dog Treats? Get going before it's too late.
Best of luck to everyone looking for this freebie.
Stay in the loop
Don't want to miss out on the hottest freebies and free sample offers? Make sure you're always in the know by following us on our social media channels!
From flash giveaways to limited-time promotions, we've got your back. And for a direct line to all the best deals, subscribe to our newsletter. Never miss a free treat again!
📲 Follow Us: Facebook | Instagram | TikTok
💌 Subscribe: Click here to join our mailing list
Stay savvy, stay updated, and enjoy the best freebies coming your way!
Be the first to get the latest freebies in your inbox