Last Updated on February 13, 2023
Hot Freebie Alert! Fenty Beauty is giving away free Fenty Lipstick samples. Be quick to get one while supplies last.
The high-pigment and low-maintenance shades are designed to suit EVERYONE. Just one swipe delivers saturated, full-coverage colour with a semi-matte finish that never looks flat. Here is how to get your sample by post.
How to get a free Fenty Lipstick sample?
NEW! From Facebook / Instagram – AVAILABLE
Fenty Beauty is giving away free samples of their Icon semi-matte refillable lipstick to select users on Facebook and Instagram. To get it, you need to spot the sponsored advert. Here are a few tips to help you out.
Like and Follow the Fenty Beauty page on Facebook and Instagram if you haven't done so already
Interact with the page and like their recent posts, you can do the same with the Sephora page
Look up the Fenty Icon Lipstick on the internet
It looks like this advert is showing up to select users who:
Shown Interest in Beauty, Sephora, and more
Set their age between 18 and 35
This is just for this particular ad, there could be others with different targeting criteria such as a different age category or interest. But stay alert for future updates. And keep both eyes open while scrolling your social media feed.
There are different pictures so keep both eyes open for other variations.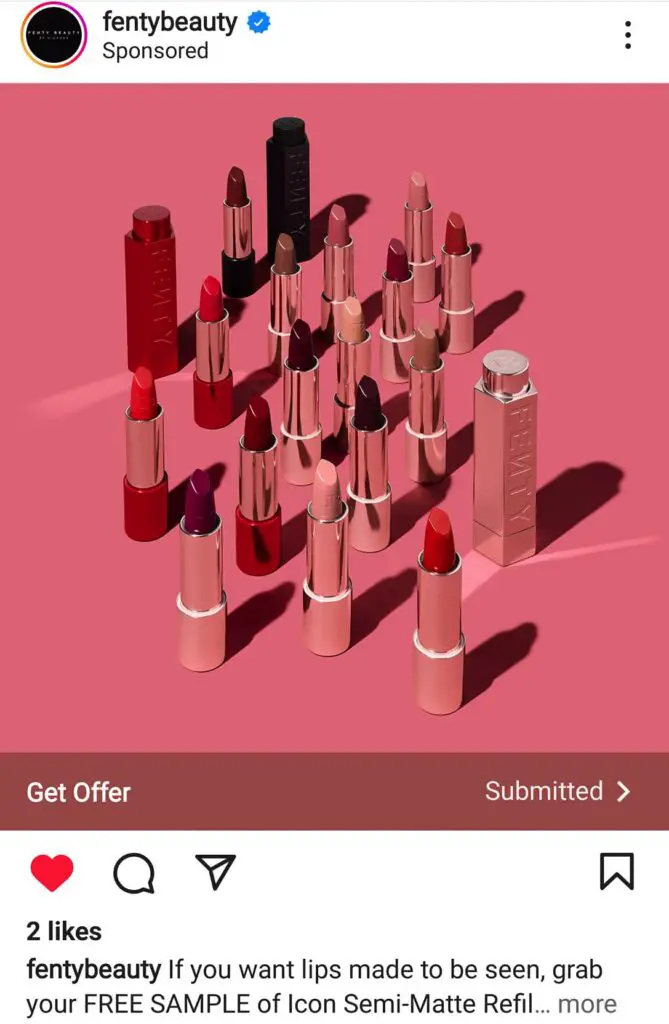 There are 10,000 samples available. They are distributed on a first-come, first-served basis. So speed is very important.
Let us know what you think about this freebie when you get your sample! We would love to hear from you!
Limit one sample per user.
Be the first to get the latest freebies in your inbox