Last Updated on November 29, 2021
HOT Freebie. For a limited time, you can score a free Christian Louboutin Lipstick sample by post. Here is everything you need to know to get the new So Glow Rouge Lip Colour.
Christian Louboutin Beauty is giving away free samples of Louboutin Glow Lipstick on a simple request. This product is available in 15 shades, each equally glowy, vivid and deeply moisturising.
Be as quick as a flash to hopefully land one in your mailbox.
How to get a free Louboutin Lipstick sample?
With Vogue Insiders – NEW!
NEW! Select Vogue Insiders members got an email from the platform to claim a free Louboutin Lipstick.
It's only for select registered members who matched with the Louboutin Lipstick. Registered members can check their email inbox to see if they received an email from Vogue. There you should find a unique link to claim your freebie.
Here is the email :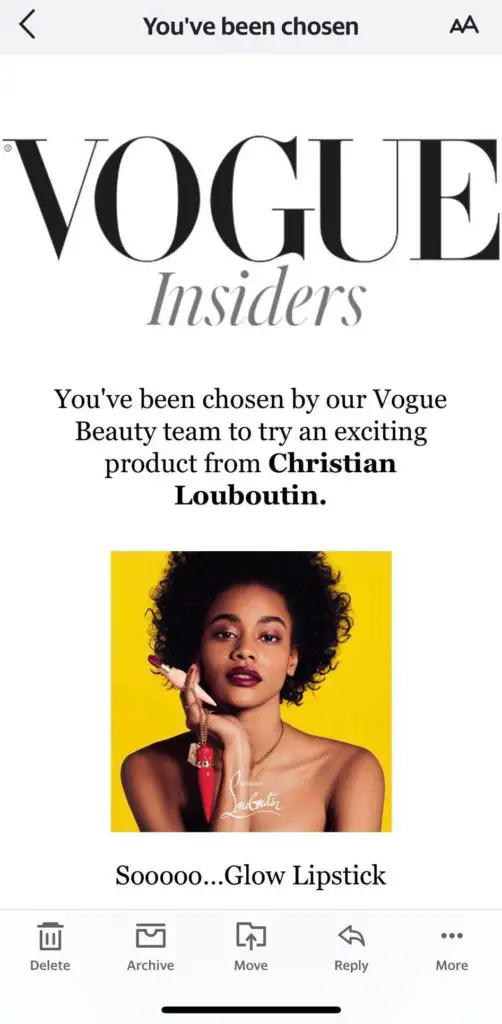 NOTE: Not everyone will be getting this. You could find something else or nothing at all. But sit tight, because there is always new freebies with the Vogue Beauty Insiders program.
You are not a member yet? I highly recommend you sign up for a free account. So, this way you won't miss out on future offers and free samples. You can read this guide for more info.
Thru Facebook / Instagram
Christian Louboutin is giving away the sample through a sponsored SoPost form doing rounds on Facebook and Instagram. I do not have a direct link for you at the moment. However, what you can do is follow the steps below to increase your odds of getting the advert to pop up in your social feed.
I suggest :
Like and Follow Christian Louboutin Beauty page on Facebook and Instagram
Interact with the brand by liking a few recent posts or watching a recent video they shared on their page.
Search the Louboutin Glow Lipstick and view it on their website
It's currently showing up to UK residents.
After this, just keep your eyes peeled while scrolling your social media feed. Here is what the popup looks like:
Once you spot it, hit 'GET OFFER' to fill out the SoPost form.
Also, since this is powered by SoPost, there might be a possible direct link in the future. So make sure you are subscribed to push notifications so I can reach you as soon as it's available.
Good luck.
Be the first to get the latest freebies in your inbox