Last Updated on May 10, 2021
Looking for a heads-up on free Sample Source Canada surprise freebies & samples in 2021? This is the right place for you to get updates and anything related to freebies and samples from Sample Source Ca.
In this article, I will be sharing all the emails and freebies I receive in my mailbox from SampleSource.com.
Sample Source is known for sending great surprise freebies and free samples to its VIP members every know and then. Other than their Spring and Fall Boxes, I mean. But that's another story because you have to claim those when they are available. Anyway, below are my emails or other member's emails. It's just to give you a headsup about what you can expect to get.
If you don't have an account yet, go to their portal and create your account. It's easy and free, yet very rewarding.
Sample Source Canada Surprise Freebies & Samples
Dove Hair Therapy Shampoo & Conditioner
More surprise freebies in the mail are coming! Check If you have received an email from Sample Source Canada on 10th May, 2021. If you did, you can expect free Dove Hair Therapy Shampoo & Conditioner samples.
If not, you don't need to worry. You will match with other samples for sure.
Nestle L'Atelier Chocolate Bar
On 3rd of May, 2021 Sample Source sent out emails to select VIP Members. In 5 to 10 Business days, they will have received a free Nestle L'Atelier Chocolate Bar. This is not a sample, but a full-size product.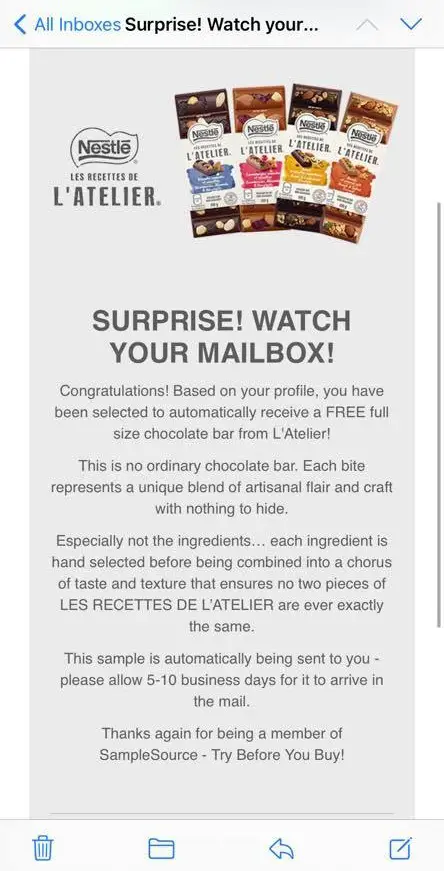 Tim Hortons Granola Bars sample from sample Source Canada
On April 26th SampleSource sent emails to select VIP members to let them know that a free sample of Tim Hortons Granola Bars have been shipped to their home address in Canada. Check your emails to see if you got this freebie.
Sunlight Detergent and Snuggle Finisher samples
Another surprise freebie from Sample Source is available. Some members will receive Sunlight & Snuggles samples in the mail within a few days. (as of April 19th, 2021)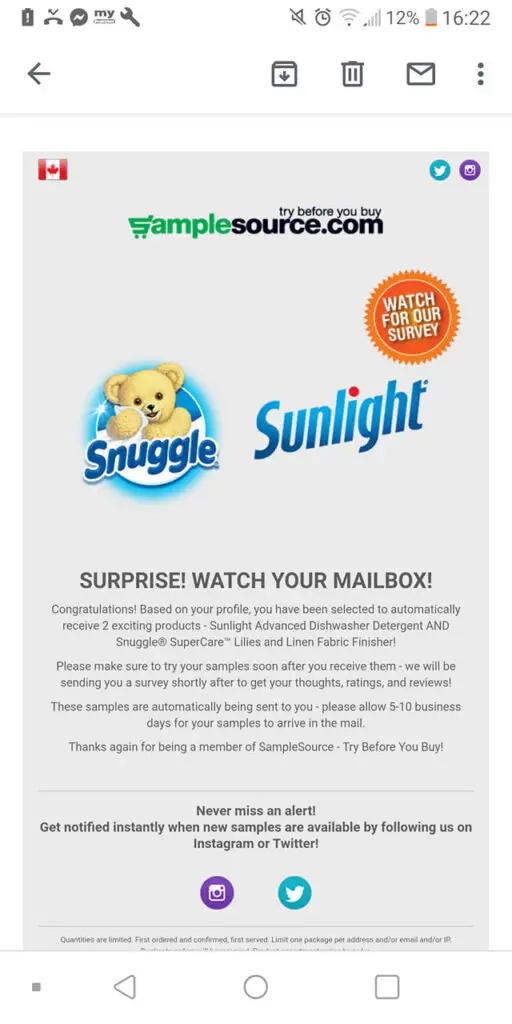 Shortly after the email, like 2 days later, I got the freebies in the mail.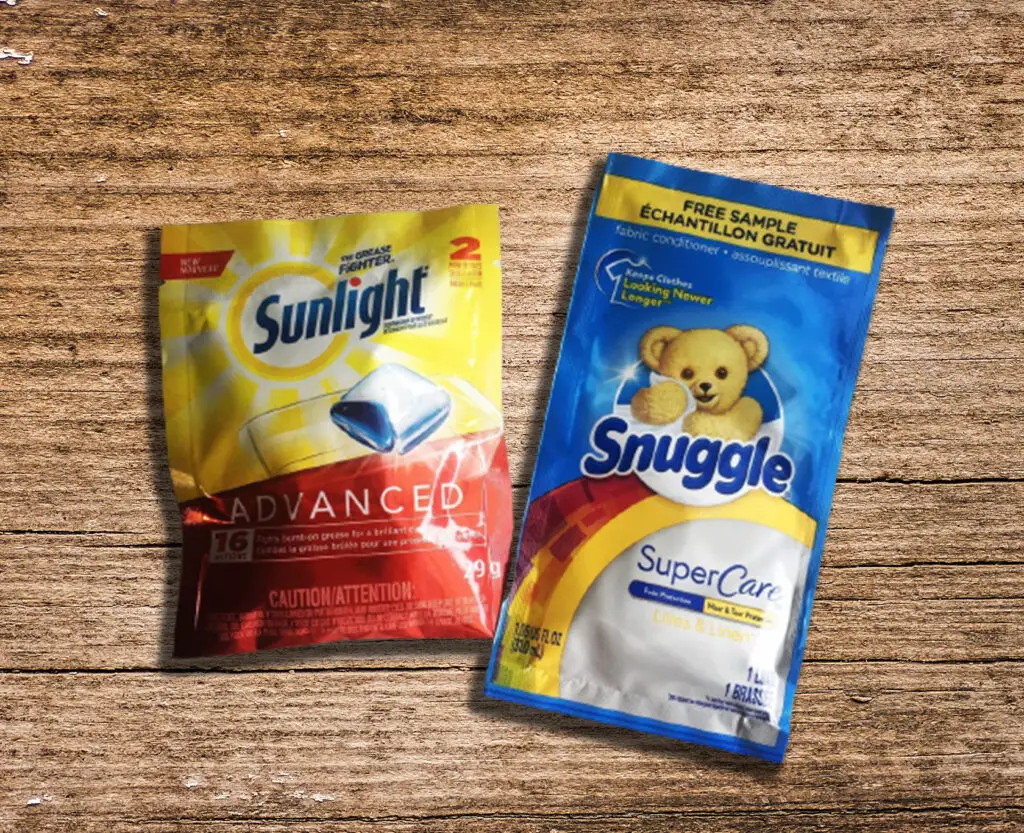 Nescafe Gold sample kit
SampleSource VIP members run to check out your email inbox. On April 16th I got this email below from SampleSource to inform me that they have shipped some more free samples to my house. This time, it's a Nescafe sample kit that includes 3 coffee freebies :
Free Nescafe Gold Espresso Roast Original sample
Nescafe Gold Espresso Roast Intenso sample
Free Nescafé RICH Intense Roast sample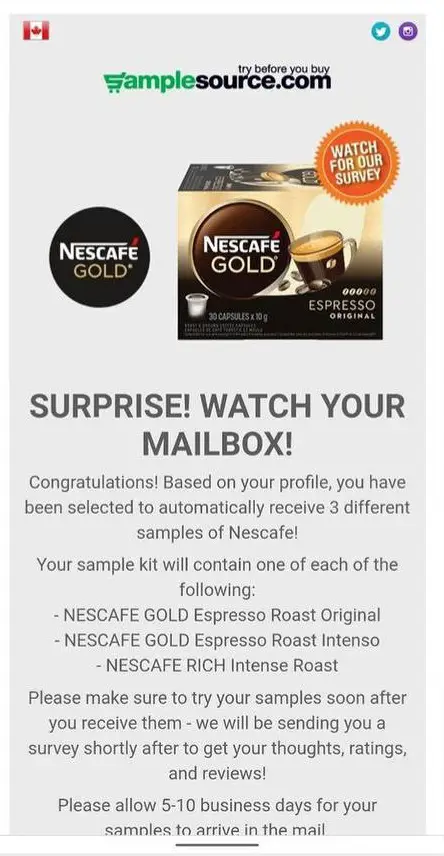 The samples should arrive to destination on about 5 to 10 business day. So check out your inbox if you got this or something else maybe.
Received, see picture below.
Sensodyne Sensitivity & Gum Toothpaste Sample
On April 6th, 2021 I got an email from SampleSource stating that based on my profile, I have matched with a Sensodyne toothpaste product. So, they shipped a trial size to try gratis. Check your emails or subsribe to SampleSource to get started.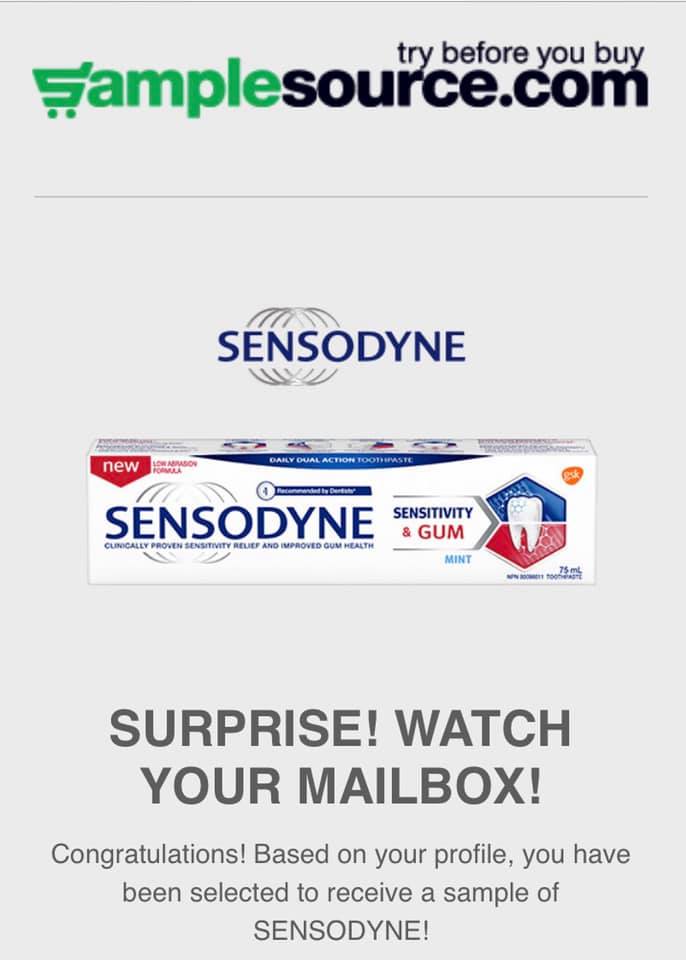 How to get free samples & freebies from SampleSource?
Unfortunately, if you are not a member of Sample Source as of yet, you can't get the samples I'm sharing below because they only send an email after they ship the sample. Hence the surprise part. However, what you can do is sign up with them and fill in your profile info to match with samples, and start receiving freebies in the mail regularly, including the SampleSource Bi-annual Box filled with samples and coupons.
If you are a member of SampleSource already, I invite you to check your email to see if you have received the same emails or maybe other product samples. Usually, you don't have to apply or sign up for their freebies and samples (other than the 2 bi-annual SampleSource boxes). If you match with a sample, they just ship it to the address you have provided in your profile.
Be the first to get the latest freebies in your inbox