Last Updated on September 23, 2023
A fragrant opportunity has blossomed for fans of Yves Saint Laurent's beauty products! Thanks to a social media campaign spotted by keen-eyed users, you can now grab a free YSL MYSLF Perfume sample.
MYSLF Eau de Parfum is the newest addition to Yves Saint Laurent Fragrances and it's for men. It's a perfume that encapsulates the essence of elegance and style that YSL is renowned for.
This perfume promises to leave a lasting impression with its unique blend of notes, embodying sophistication and allure. So what are you waiting for to score a free sample? Here are all the details and the method to get it.
How to claim a free sample of the new YSL MYSLF Perfume?
NEW! From Facebook / Instagram – AVAILABLE
This offer is available on both Facebook and Instagram, so get ready to immerse yourself in this luxurious scent!
So whether you're an Instagram aficionado or a Facebook fan, here's how you can snag this offer:
Like the YSL Beauty Page: Search for YSL Beauty on Facebook or Instagram and hit the like button.
Follow YSL Beauty: Ensure you're following their page to stay in the loop.
Engage with Their Posts: Like a bunch of their posts to increase the chances of the sponsored ad popping up in your feed.
Search, Search and search: Use the Facebook or Instagram search bar and the internet to look up the new YSL MYSLF Eau de Parfum
Once done, keep an eye on your Facebook feed and be on the lookout for the sponsored ad offering the free sample. Here is what it looks like.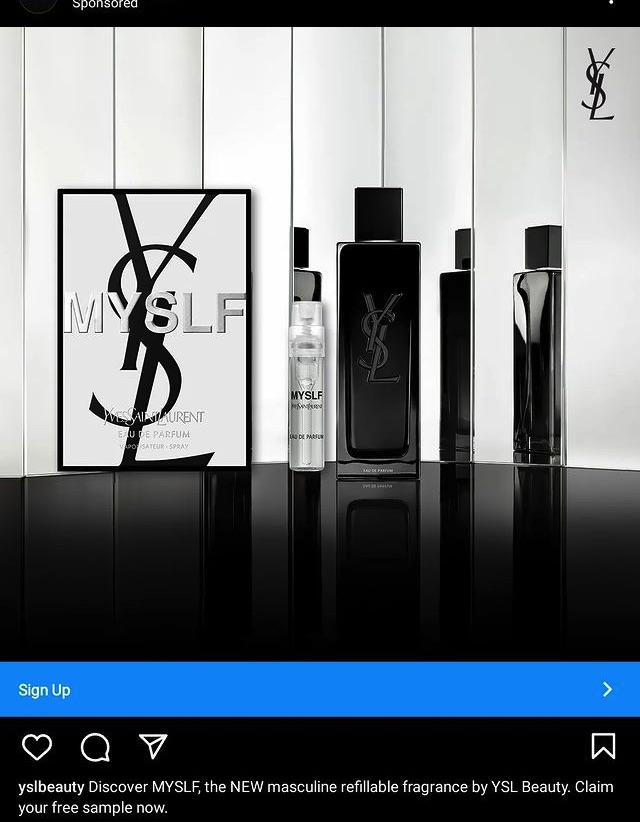 Once it does pop up in your feed, just hit the sign up button and proceed to ordering the samples by completing the SoPost form.
By following these simple steps, you could soon be indulging in the sophisticated scent of MYSLF Eau de Parfum.
Remember, this campaign is time-sensitive, so don't delay in engaging with YSL Beauty on Facebook and Instagram. Your free sample could be just a click away!
Good luck to everyone.
Be the first to get the latest freebies in your inbox