Last Updated on September 10, 2023
The glitz, the glamour, the luxury – nothing spells sophistication quite like YSL Beauty. And now they have an offer that will make your day (and your lips) shine a little brighter. If you're active on social media, particularly on platforms like Facebook, Instagram, or TikTok, you're in for a treat. Here's your chance to grab a free YSL Lip Gloss sample.
The beauty buzz on today's social media channels is palpable. Several eagle-eyed users have spotted a YSL Beauty sponsored post offering the new Lip Gloss Stick sample. If you're as beauty-obsessed as we are, you know that offers like these can be like gold dust. So, when you see it, don't hesitate! Act swiftly. So let's dive into how to get your hands on this freebie.
How to order a free sample of YSL Lip Gloss Stick?
YSL Beauty is giving away these samples through a sponsored post on Facebook and Instagram. While the process isn't set in stone, several users have had luck following these steps:
Follow YSL Beauty: Whether on Facebook, Instagram, or both, ensure you follow the brand. This might increase the chances of their promotional content appearing on your feed.
Engage with the Brand: Dive deep into their social media pages. Like multiple posts (at least five or more). Brand engagement often enhances the algorithm's likelihood of showing you related content.
Search for the Product: Take a moment to look up the YSL Lip Gloss on the Facebook / Instagram Search bar or the internet. This simple action can sometimes prompt social media platforms to show related ads on your feed.
Stay Active: The more active you are, the more likely you'll see the sponsored post offering the free sample.
Here is a screenshot of what it looks like for reference: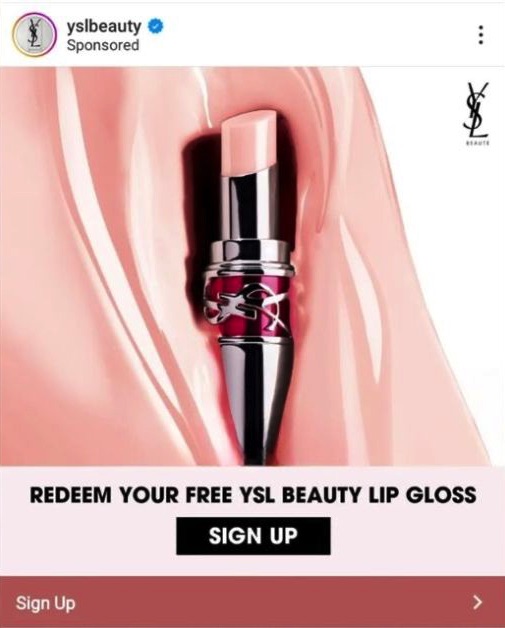 Once you've successfully found the sponsored post, click on the 'SIGN UP' button and check your email for confirmation.
Sampling luxury products, especially from brands as esteemed as YSL, is a joy in itself. When the shimmering gloss graces your lips, remember, it's not just about the product but the journey of discovering it together.
Here's to sharing, caring, and wearing lip gloss that makes heads turn!
Good luck.
Be the first to get the latest freebies in your inbox