Last Updated on January 17, 2023
Discover the NEW Tom Ford Ombre Leather perfume for free.
Tom Ford is giving select users the chance to score a free Tom Ford Ombre Leather sample. Be quick to seize this offer and get your freebie in the mail.
You might be a bit surprised at the price of Tom Ford Ombre Leather, but it is worth every penny. This fragrance is a sensual blend of modern and classic notes that beautifully adorn the skin with fresh woody undertones and just a touch of musky sweet allure.
Like most Tom Ford fragrances, this one is also unisex. It's suitable for both women and men.
Here is how you can get a sample of the new Ombré Leather fragrance.
How to receive a free Tom Ford Ombré Leather sample in the mail?
The brand is offering these Tom Ford perfume samples thru sponsored posts. They are showing up to select users on Facebook and Instagram. Which means that there is no direct link to the form. However, there is a bunch of tasks you can complete to increase your odds of getting it to pop up on your social feed. Shall we begin? Here are my suggestions:
Like and Follow the Tom Ford Beauty page on Facebook, and follow them on Instagram if you use it.
Engage with the brand by liking recent posts, watching stories, leaving a comment or watching a recent video they have shared
Visit the Tom Ford website
Below is a snapshot of the post you should be on the lookout for.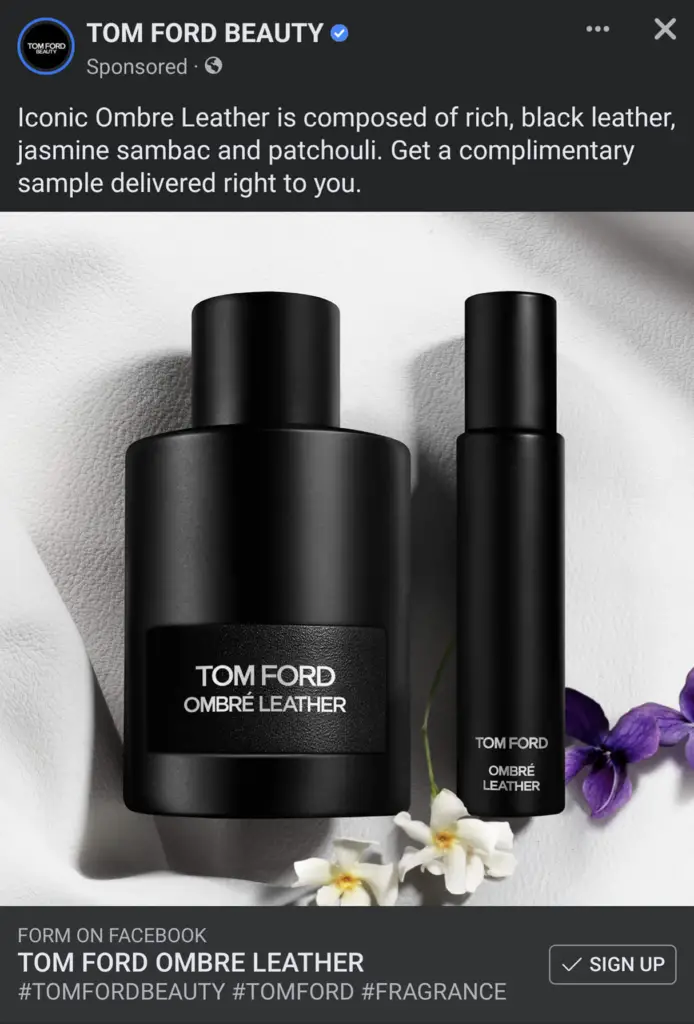 I will make sure to update you with any further instructions or a possible direct link with SoPost.
Good luck.
Be the first to get the latest freebies in your inbox