Last Updated on September 18, 2023
Attention, fragrance aficionados! You can now claim a free Tom Ford Café Rose sample while supplies last.
Delving deep into a labyrinth of dark roses, Tom Ford Café Rose transports you into a world where the spicy warmth of Patchouli and floral notes of Roses meet the creamy richness of coffee, harmoniously serenading with the deep allure of Sandalwood and exotic Frankincense.
This fragrance redefines rose perfumes, blending them into a sultry, luxurious scent that's both contemporary and timeless. And now you can get it free to try it before you decide to buy. Here is how below.
How to order a free sample of Tom Ford Café Rose Fragrance?
The brand is giving away this freebie on TikTok. So, to secure a free sample of the mesmerising Café Rose Eau de Parfum by Tom Ford, simply follow the instructions below.
Follow TOM FORD Beauty: Begin by following TOM FORD Beauty's official TikTok account. This not only helps in receiving brand updates but might increase your chances of spotting the sample giveaway ad.
Engage with their Content: Make sure you interact from TOM FORD Beauty account and with content that revolves around their fragrances. This sends cues to TikTok's algorithm, making it more likely for you to come across the ad.
Use TikTok's Search Feature: Key in searches related to "TOM FORD Café Rose". Engaging with content from these searches can also increase the likelihood of the sample ad appearing on your feed.
As you swipe through TikTok, remain vigilant. The TOM FORD ad can pop up any time. Here is a screenshot of what the sponsored Reel looks like so you can identify it as quickly as it appears: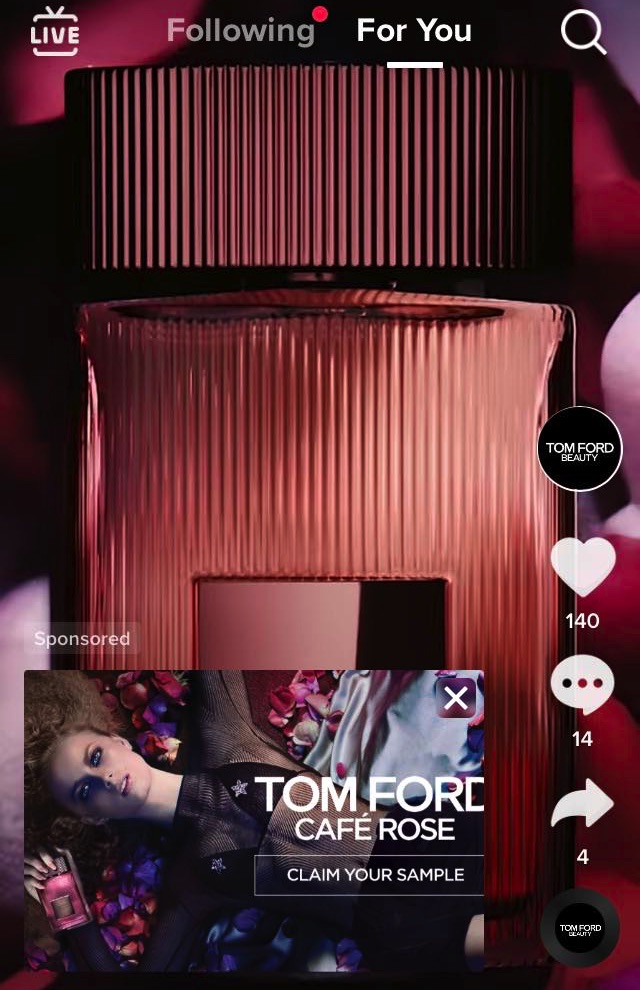 As soon as you spot the ad, click on it and follow the directions to get your free sample. Remember, they're available while stocks last!
I will keep you posted regarding a possible direct link to the request form or any other updates.
Here's to hoping you catch the ad in time!
Be the first to get the latest freebies in your inbox