Last Updated on November 15, 2023
Golden hour, every hour? Absolutely possible! For those who are always in search of that perfect sun-kissed glow, you can now score a free Tanologist Face + Body Drops sample. That's right, the coveted brand known for its next-generation self-tan, is offering free samples of their Face + Body Drops to select users.
Ready to radiate with a naturally tanned aura? Read on to find out the details about this freebie and how to claim a sample.
How to score your free sample of Tanologist Face + Body Drops?
Tanologist is giving away these samples through a sponsored post on Facebook and Instagram. So, to claim yours, you need to find the sponsored ad on your feed. For that, simply follow the steps below:
Begin by following Tanologist on Facebook or Instagram
Engaging by liking, sharing, and commenting on Tanologist's posts can amplify your chances of seeing the Face + Body Drops sample ad on your feed.
Use the search bar on these platforms and look for terms like "Tanologist", "Tanologist Face + Body Drops", or "Self-tan". Engaging with related content might just cue the sponsored ad for the sample offer.
For reference, here is what the sponsored post with the free sample looks like: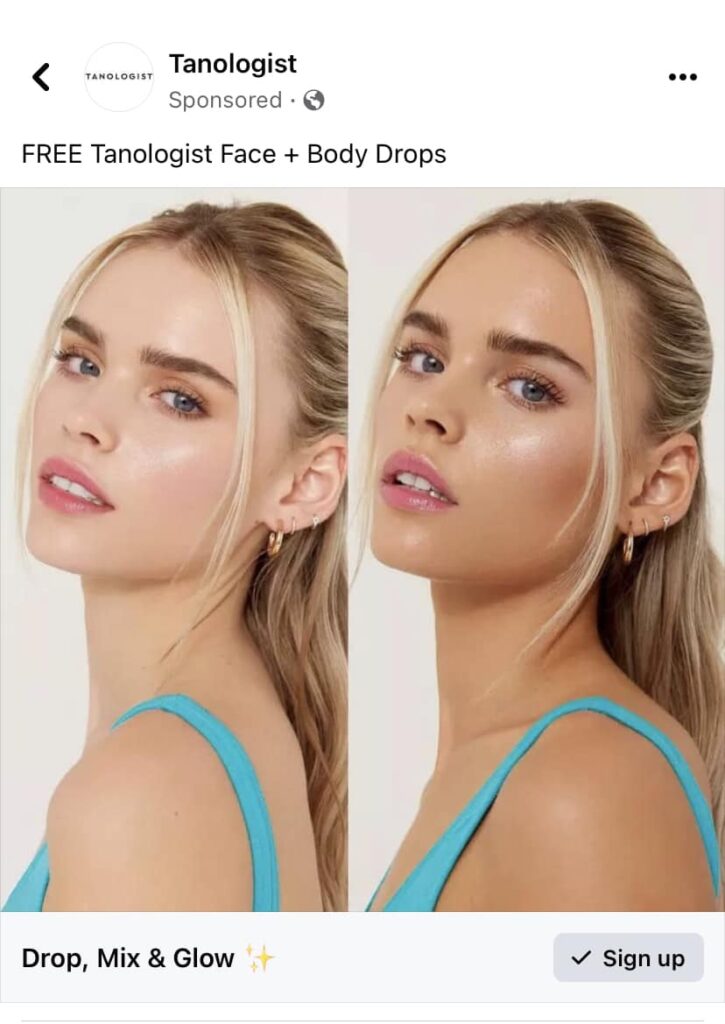 Once you come across the Tanologist sponsored post showcasing the Face + Body Drops sample, make sure you click on it straight away. Fill out the form and wait for your confirmation email.
Once all set, expect your freebie in the mail within a week or two.
Remember, beauty freebies like these are hot commodities and may run out in the blink of an eye.
Available for select users only.
Best of luck to all of you!
About Tanologist Face + Body Drops
Tanologist's Face + Body Drops are the ultimate secret weapon for a customizable, luminous tan, minus the sun damage. Formulated to be mixed with your daily moisturizer or body cream, these drops provide a streak-free, odourless tan that's tailored just for you.
Whether you want just a hint of sun or a deep bronze, the control is in your hands. Plus, with hydrating ingredients, your skin will be thanking you for the extra glow and nourishment.
So, for all the glow-getters, make sure you're actively scanning your Facebook and Instagram feeds, and grab this offer while it lasts!
Be the first to get the latest freebies in your inbox