Last Updated on November 20, 2023
How about a free Mutha serum sample? Good news! You can get exactly that thanks to this new offer.
Mutha is giving away free samples of its premier No. 1 serum directly to your mailbox! This is a golden opportunity to experience Mutha's highly acclaimed serum, which is making waves in the beauty world.
Mutha No. 1 serum is made with a highly stable form of Vitamin C (THD), so it will help you enhance your skin's firmness while boosting collagen production. Moreover, the serum boasts a composition of 97% natural ingredients, ensuring that what you're putting on your skin is as close to Mother Earth as possible.
Curious to see if this elixir is worth the hype and its usual $140 price tag? Mutha has made it easy for you to find out. Here is how.
How to claim a free sample of Mutha No. 1 Serum?
The brand is giving away these samples through a sponsored post on Facebook and Instagram. So log in to your account and your path to trying this serum could be just a few clicks away.
Here's how you can snag your free sample:
Start by showing some love to the Mutha Facebook page or Instagram account with a 'follow.'
While you're at it, make sure to like a couple of their recent posts
Visit the Mutha website and check out the serum there
Use the search bar on Facebook or Instagram and look up related keywords, such as 'Mutha Serum'
That's it. Now simply keep a keen eye on your Facebook or Instagram newsfeed.
Look for a post similar to the screenshot provided here, featuring the No. 1 serum with an enticing "FREE Sample" badge.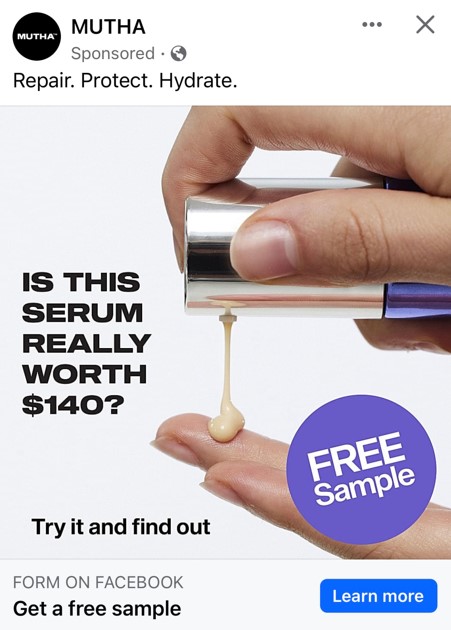 It might be an immediate surprise, or it could take a few hours or days, but patience is key!
The offer is available selectively, so not everyone may have it right away.
Available for a limited time or while supplies last to select users.
Be the first to get the latest freebies in your inbox