Last Updated on September 13, 2022
Get a free Moroccanoil Treatment sample in the mail. Be as quick as a flash to snag this best-selling Morrocanoil Hair Treatment freebie with Send Me A Sample US. Available while supplies last.
The Original MOROCCANOIL TREATMENT is an iconic, top-selling product of the brand. It is infused with antioxidant-rich
Argan oil helps hydrate and nourish hair. Use to smooth frizz and flyaways, detangle, condition, and boost shine
by up to 118% from the first application.
Send Me A Sample is giving away 10,000 free samples on a simple request. Here is how to get yours.
How to get free samples of Moroccanoil Treatment in the mail?
NEW! Thru Facebook / Instagram – AVAILABLE
There is a new sponsored advert from Morrocan Oil doing rounds on Facebook and Instagram. The sponsored post is showing up to select US residents on their social feeds. To get the sample, complete the steps below and keep an eye out on the adverts popping up on your Facebook or Instagram feed.
Like and Follow Morrocan Oil page on Facebook or Instagram
Interact with the page : like a couple of recent posts, leave a comment, or watch stories and videos
Lookup the Morrocan Oil Treatment Oil on the internet or the Facebook Search Bar
Here is a screenshot of what the advert you need to find to get this sample looks like.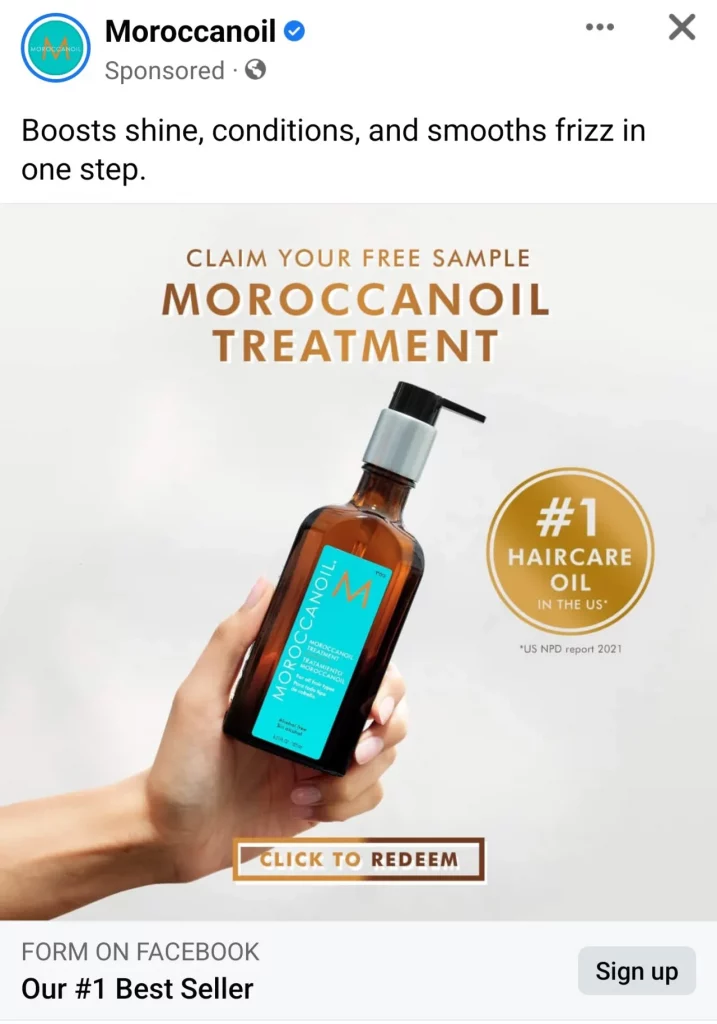 Moroccanoil Treatment is a multitasking, argan oil-infused hair treatment and styler that fights frizz, improves manageability, and conditions, boosts shine, and more.
From Send Me A Sample US – SOLD OUT!
Just ask your Google Voice Assistant or Alexa for a sample to get your free sample shipped in the mail within the United States of America. Say "Ask Send Me a Sample for Moroccanoil", verify your details and order. Follow this link to the freebie offer page on SendMeASample.com to learn more about it and get details on how to order it
To get this freebie, you need to be a registered member of SendMeASample and have linked your account to either your Alexa or Google Assistant App on your Mobile device. If you are not a member as of yet, you can hop in to start receiving awesome samples every now and then. Click here to register, it's completely free and without hassle.
Limit of 1 free Moroccanoil sample per Send Me a Sample user, and 3 per physical address.
Open for residents of the US only, via Send Me A Sample sampling platform.
Available from 04.08.2022 to 05.30.2022, or until 10,000 samples have all been claimed.
Be the first to get the latest freebies in your inbox