Last Updated on May 11, 2023
Get a free Moroccanoil Treatment sample in the mail. Be as quick as a flash to snag this best-selling Morrocanoil Hair Treatment freebie while supplies last.
The Original MOROCCANOIL TREATMENT is an iconic, top-selling product of the brand. It is infused with antioxidant-rich
Argan oil helps hydrate and nourish hair. Use to smooth frizz and flyaways, detangle, condition, and boost shine
by up to 118% from the first application.
MoroccanOil is giving away tons of free samples with a simple request to residents of North America. Here is how to get yours.
How to get free samples of Moroccanoil Treatment in the mail?
NEW! Thru Facebook / Instagram – AVAILABLE
There is a new sponsored advert from Morrocan Oil doing rounds on Facebook and Instagram. The sponsored post shows up to select users on their social feeds. To get the sample, complete the steps below and watch for the adverts popping up on your Facebook or Instagram feed.
Like and Follow MorrocanOil page on Facebook or Instagram
Interact with the page: like a couple of recent posts, leave a comment, or watch stories and videos
Lookup the Morrocan Oil Treatment Oil on the internet or the Facebook Search Bar
Once you've done this, sit back, relax, and watch your social media feed. The sponsored ad offering the free sample should pop up within a few minutes, hours, or days. Just remember to be patient – good things come to those who wait. Here is what the advert looks like to help you identify it quickly.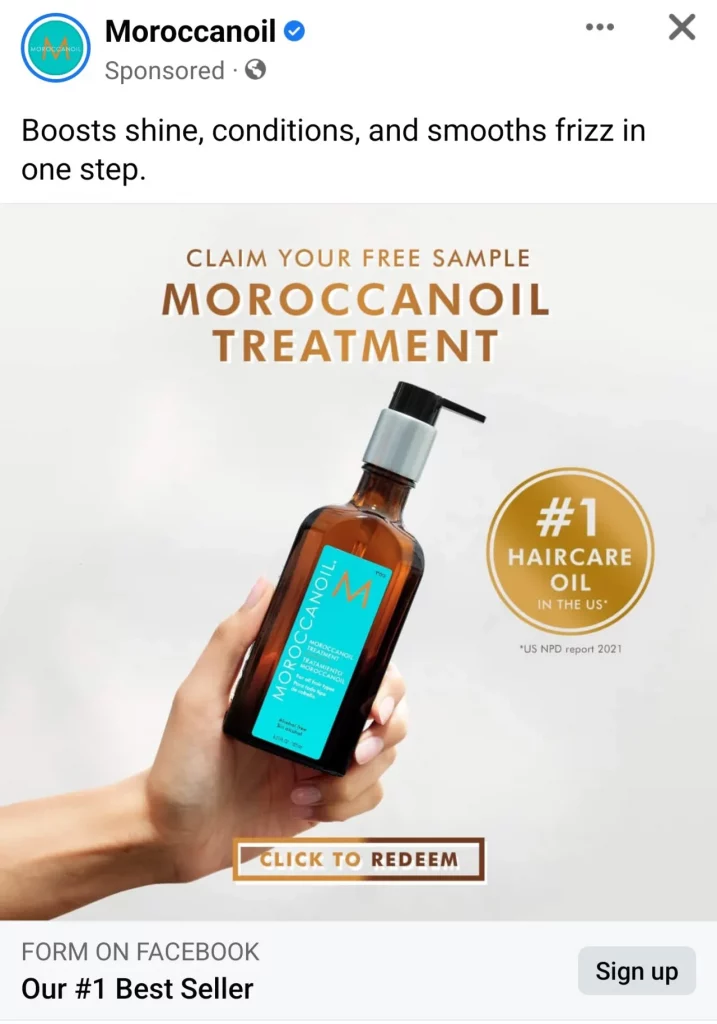 When you spot the advert, click on the 'SIGN UP' button and fill out the form to receive your sample in the mail.
This offer is currently available to select users on Facebook and Instagram. So keep your eyes open!
Moroccanoil Treatment is a multitasking, argan oil-infused hair treatment, and styler that fights frizz, improves manageability, and conditions, boosts shine, and more.  Follow the steps above to increase your chances of seeing the sponsored ad in your feed and claim your free sample. Remember, this offer is available only for a limited time and while supplies last, so act fast and enjoy all the benefits for your hair without spending a cent.
Be the first to get the latest freebies in your inbox