Last Updated on November 23, 2023
Notice to all the hair enthusiasts! Moroccanoil, the beloved name that resonates with pure nourishment, is sprinkling some freebie magic your way! This time, you can claim a free MoroccanOil Hydrating Styling Cream sample.
Why let your hair settle for ordinary when you can gift them the ultimate hydration? Moroccanoil's Hydrating Styling Cream is not just about moisture, but it also offers the goodness of Argan oil and other hair-loving nutrients.
If you're interested in getting your hands on this freebie keep on reading.
How to claim a free sample of MorrocanOil Hydrating Styling Cream?
MoroccanOil is giving away these samples through a sponsored post currently doing the rounds on Facebook and Instagram. So, to add this hydrating marvel to your haircare ritual, simply follow the instructions below.
Like the MoroccanOil page on Facebook or Instagram
Engage with MorrocanOil content (Like recent posts, leave a comment or watch recent videos or stories)
Lookup the MorrocanOil Hydrating Styling Cream on the Facebook/Instagram Search bar and the MorrocanOil's website
Once you finish these steps, keep your eyes peeled for the Moroccanoil sponsored post on your Facebook and Instagram feed.
Here is a screenshot of what it looks like.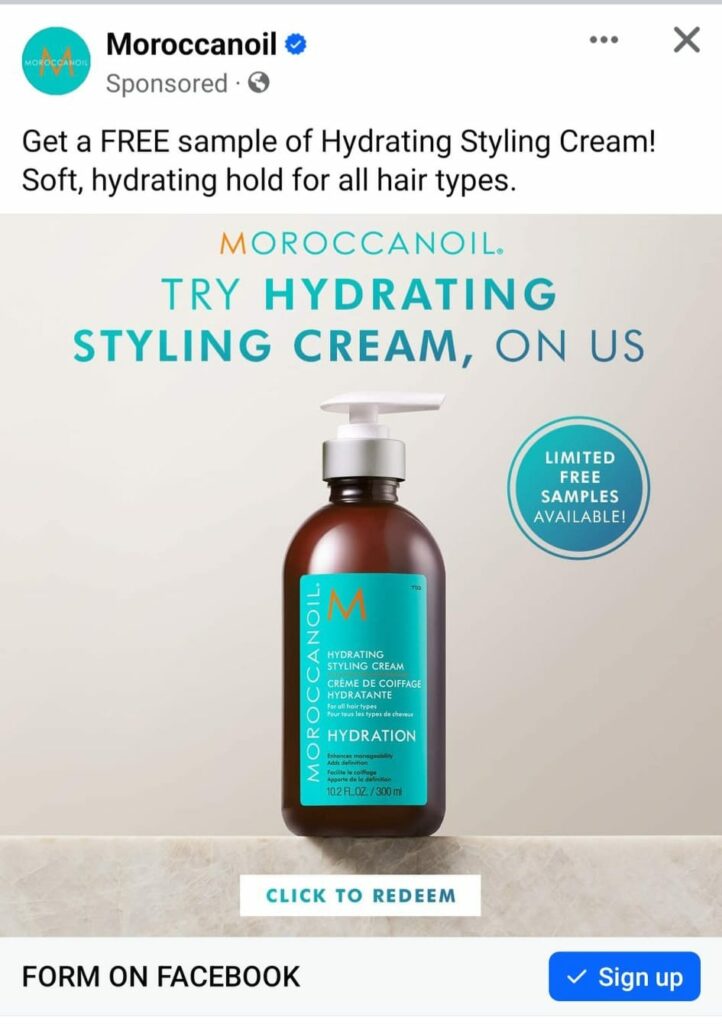 Found the ad? Great! Simply click on the "Sign up" and you'll be whisked away to the sample form. Fill in the necessary details and voilà! Your sample will be on its way.
Word to the wise: This offer won't last forever. With limited free samples up for grabs, it's a race against time.
So, when you spot that ad, click without delay!
So, are you ready to transform your hair game with Moroccanoil's Hydrating Styling Cream? Dive in and drench your strands in pure, hydrating bliss!
NOTE: This article simply conveys the information about the freebie offer. To get the sample, you'll need to sign up directly through Moroccanoil's promotional post on Facebook or Instagram.
Currently showing up as an ad to residents of the US and Canada.
Be the first to get the latest freebies in your inbox