Last Updated on September 13, 2023
In an era where skincare enthusiasts are leaning towards botanical beauty, Grown Alchemist has been at the forefront, meticulously blending the power of natural ingredients with rigorous scientific principles. Seize their latest offering to try a free Grown Alchemist Day Cream sample.
The Grown Alchemist Skin Renewal Day Cream hydrates, rejuvenates, and protects, all at the same time. This day cream is perfect for those aiming for a dewy, youthful glow, without the intervention of harmful chemicals Interested? Find out below how to take advantage of this chance to experience its magic through free samples.
How to receive a free sample of Grown Alchemist Skin Renewal Day Cream?
Both Facebook and Instagram are the platforms where Grown Alchemist has chosen to engage with its audience. So, as you browse through your daily feeds or stories, stay on the lookout for Grown Alchemist's sponsored ads.
Here are some tips and tricks to increase your odds of triggering this ad to show up in your feed:
Engage and Interact: Boost your chances by actively engaging with the Grown Alchemist pages. Follow their official accounts on Facebook or Instagram, like, share, and comment on their posts. Such interactions often increase the probability of targeted ads showing up on your feed.
Search to find: Use either the Facebook or instagram search bar to look up the Grown Alchemist Day Cream, or the internet
Seize the Opportunity: Once you spot the ad, don't hesitate! Click on the link, fill in the necessary details, and patiently wait for the sample to show up in your mailbox.
Here is a screenshot of the ad offering the sample on Facebook :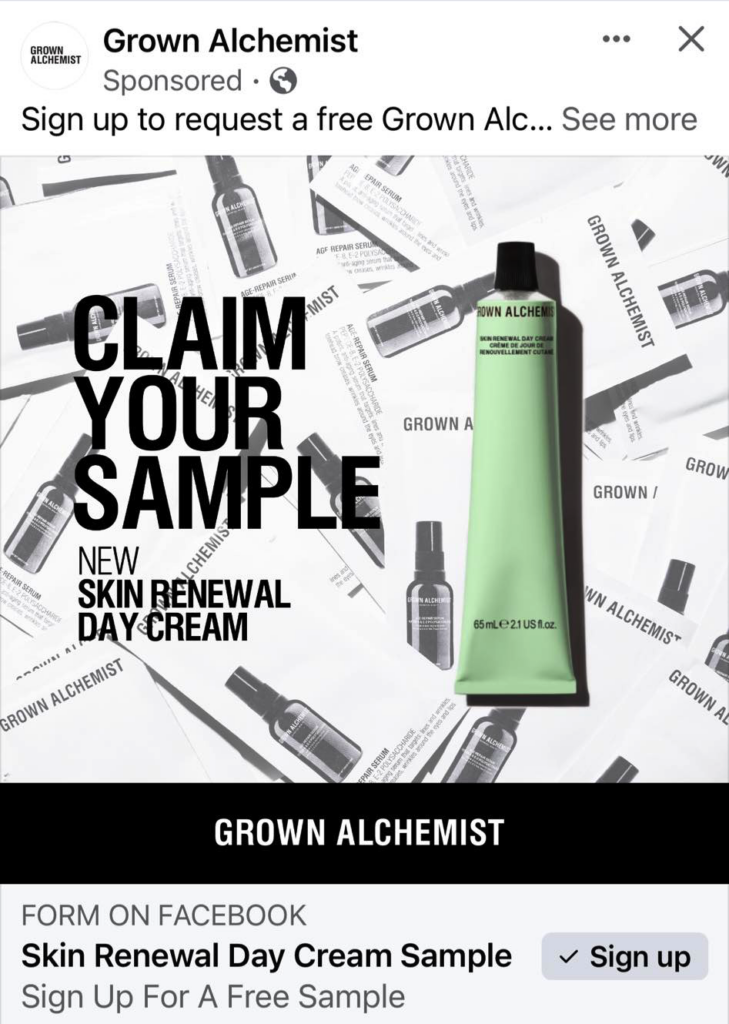 Remember, good things don't last long, especially when they're free. If radiant, renewed skin is on your wishlist, now's the time to act.
Good luck to everyone.
Be the first to get the latest freebies in your inbox