Last Updated on September 26, 2023
Attention, Dunkin' enthusiasts! The brand known for giving your mornings a much-needed boost is back with a delightful treat. If you've been seeking a little extra warmth and sweetness, Dunkin' Donuts has the perfect pick-me-up for you. For a limited time, enjoy a free Premium Sips Reward at Dunkin' Donuts.
This offer is valid for their new Ice Spice MUNCHKINS® drink or choose from a small, medium, or large frozen drink or Signature Latte- hot or iced.
Ready to dive into the details? Keep reading!
How to claim your free premium drink at Dunkin Donuts?
Claiming your free Premium Sips Reward at Dunkin' Donuts is as easy as a tap on your phone. Simply follow the instructions below.
Online
If you're surfing the web, simply head to the Dunkin' Donuts website using the button below, and log into your account.
Once logged in, navigate to the promotions section and enter the promo code: MUNCHKINS23
After this, your free Premium Sip offer will be activated.
Via the Dunkin' App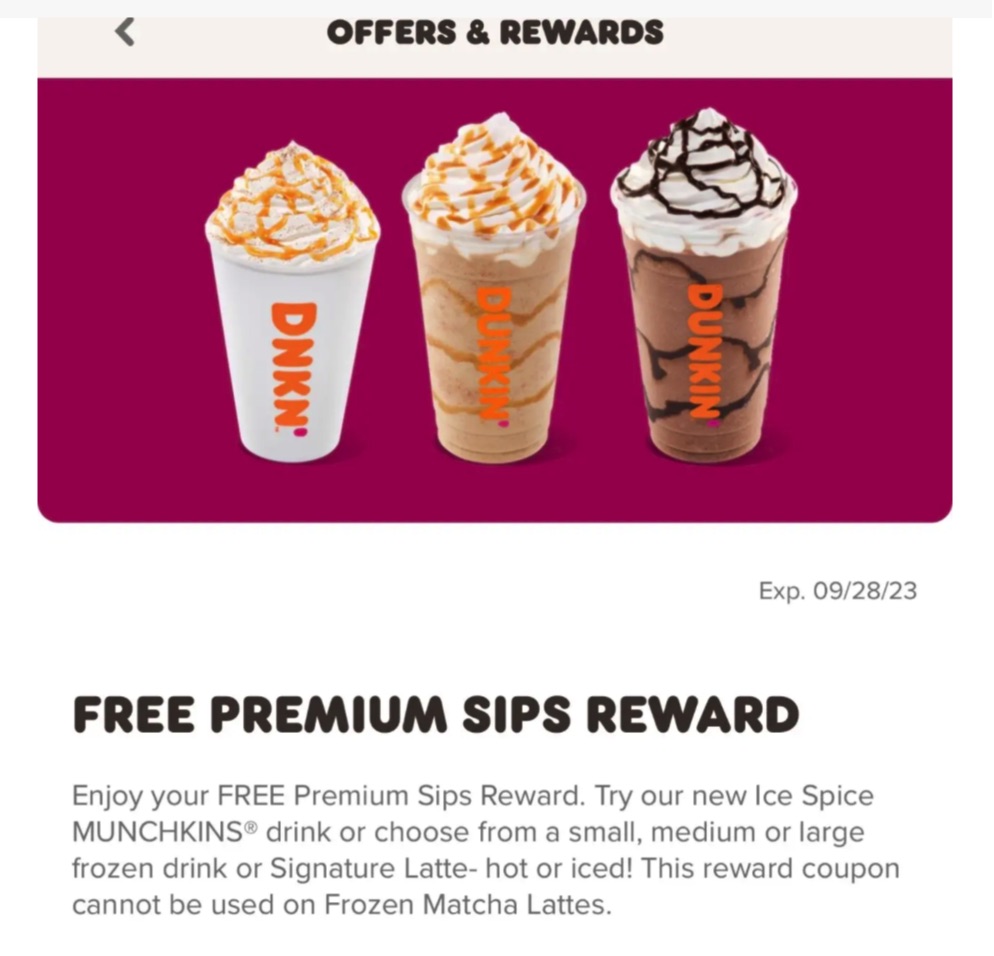 For those who have the world of Dunkin' at their fingertips via the app, open it and click on the 'Offers' tab. Scroll to the bottom, and you'll find a section to enter a promo code.
Punch in MUNCHKINS23, and voila! Your offer for a free drink will be activated.
This offer is available until September 28, 2023.
Things to Remember
Make sure you have a registered Dunkin' Donuts account. If you don't, it's a quick and easy process to sign up.
The offer is subject to terms and conditions, and availability might vary across outlets.
Promo codes are a limited-time magic spell. Use them while they're active!
This coupon is NOT valid on Frozen Matcha Lattes.
So there you have it — a sip of luxury without the price tag. Dunkin' Donuts continues to show love for its loyal community with such delightful offers.
So, whether you're team coffee, tea, or something frothy and fancy, your next drink at Dunkin' promises to be extra special.
Go on, claim your treat, and make your day a Dunkin' day!
Be the first to get the latest freebies in your inbox