Last Updated on September 23, 2023
It's the season of falling leaves, pumpkin spice, and cozy mugs of coffee. To celebrate this beautiful time of year, Dunkin Donuts is introducing a mega giveaway that fans of the brand simply cannot ignore. Read on to find out everything you need to know to participate in the Dunkin' Fall Festival Sweepstakes.
Dunkin' Fall Festival Instant Win Game 2023
Here's What's Brewing
From now until November 1, 2023, Dunkin Donuts is hosting an extravagant fall giveaway. With a pool of enticing prizes like:
1,500 Dunkin' At Home Extras Pumpkin Mugs,
42,042 DD Gift cards,
… And much more, this is a festival you wouldn't want to miss.
Want to try your luck? Head over to their promotional page (link provided below) and simply follow the steps to get started.
The Prizes
1. Sweepstakes:
Six grand prizes are up for grabs, each being a $1,000 check.
2. Daily Member Instant Win:
21,021 Dunkin' Donuts Promo eCards ($8.00 value each)
50,000 Coupons for a 25% discount on Dunkin' K-Cup® pods and a 20% discount on select coffee makers from Keurig.
An exclusive 20% off coupon for purchases from www.frankfordcandy.com. (5,000 Winners)
3. Prize Wheel Member Instant Win:
1,500 Dunkin' At Home Extras Pumpkin Mugs.
40,000 x Dunkin' At Home Extras Loyalty Program Points ranging from 25 to 100 points.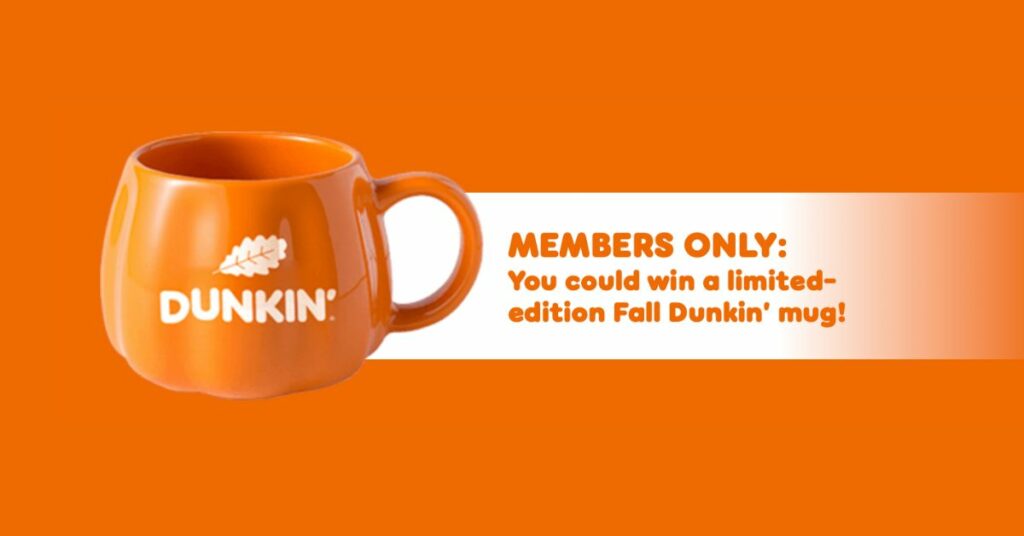 4. Non-Member Instant Win:
20,021 Dunkin' Donuts Promo eCards ($5.00 value each)
Same Keurig and Frankfordcandy.com offers as for Daily Member Instant Win.
Giveaway Rules
No purchase is required to enter this giveaway.
Open to all legal residents of the 50 U.S. & D.C., who are at least 18 years old.
Some games are exclusive to members of the Dunkin' At Home Extras Loyalty Program.
The offer has limitations on quantities, so it's a race against time and luck!
After winning, the wait for your freebie can be up to 8 weeks, so hang tight.
For detailed information on odds, free method of entry, and prize descriptions, it is advised to check the official rules on the Dunkin Fall Festival Sweepstakes page. (See link below)
How to enter the Dunkin Festival Instant Win Game?
Fall is all about warmth, family, and gratitude. Dunkin Donuts is spreading the love with its Fall Festival giveaway. So, whether you're a pumpkin spice aficionado or just a Dunkin fan, there's something for everyone. Dive into the festive season with Dunkin and stand a chance to win some delightful treats. Here is how:
Simply head over to the promotional page for this Giveaway using the link at the bottom of the page
Log in with your account or Choose to play as a Guest
Follow the instructions to find out if you are a winner!
The Dunkin' Fall Festival Sweepstakes closes on November 1st, 2023.
Good luck to everyone.
---
Disclaimer: This article is for informational purposes only. All trademarks mentioned belong to their respective owners. The prize distribution and rules are as per the terms and conditions specified by Dunkin Donuts.
Be the first to get the latest freebies in your inbox