Last Updated on September 8, 2023
Attention all beauty enthusiasts! Clinique is dropping a not-to-be-missed opportunity. If you've been yearning for a fresh, radiant, and healthy-looking skin, this might just be your moment to score a free Clinique skin routine sample pack.
Clinique has launched a new sampling offer that is catching the eyes (and clicks!) of many. The promise? A complimentary sample of their legendary 3-step skin routine. Including:
Clinique All About Clean Liquid Facial Soap,
Clinique Clarifying Lotion Twice A Day Face Exfoliator
Clinique Dramatically Different Moisturizing Lotion
This triad has been the secret behind many a flawless face, and now you have the chance to induct it into your own beauty regimen. Interested? Here is how to claim your sample pack.
How to claim a free sample pack of Clinique 3-step Skin Routine?
Since this freebie is available as a sponsored post on Facebook and Instagram, then you should follow the usual instructions to help you find the ad on your social feed. I recommend:
Visit Clinique's Official Page: Make your way to Clinique's official page on your preferred social media platform (Facebook or Instagram)
Engage: Begin by following their account. To make the magic happen, interact by liking 4-6 of their recent posts. A little love goes a long way!
Search: Use the Facebook or Instagram serach bar to look up Clinique Skin Routine or the internet
That's it, now keep your eyes peeled! Within a few hours to a couple of days, the coveted sponsored ad should grace your feed. Here is what it looks like: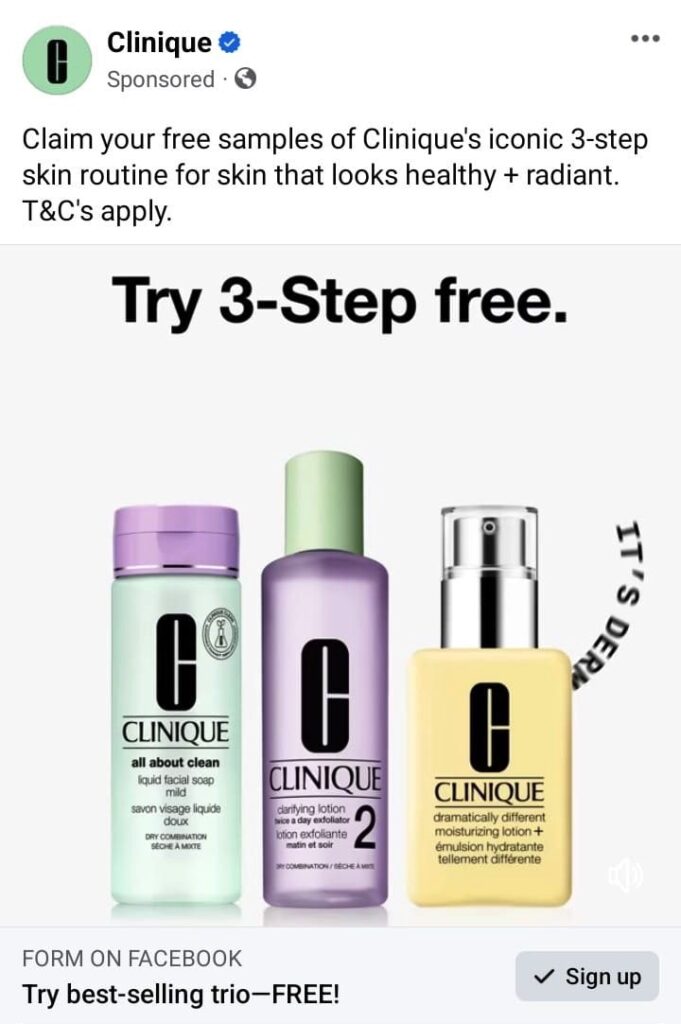 Once you spot the ad, hit the 'get offer' button to access the request form. Fill in your shipping details as prompted and you're all set.
After successfully signing up, a confirmation email should land in your inbox within minutes. This is your assurance that Clinique's iconic 3-step routine samples are on their way to you.
As stated in their ad, your samples should arrive in a few weeks, all set to transform your skincare routine.
This offer is available for a limited time only or while supplies last.
Currently showing up on Facebook and Instagram to select users who are residents of the United States.
Good luck.
Be the first to get the latest freebies in your inbox