Last Updated on September 8, 2023
Snacking for kids just got a whole lot healthier and tastier with this new free CLIF Kid ZBar sample. Don't miss out on this opportunity to introduce your child to a delicious and nutritious snack this Back to School season.
CLIF Kids ZBar Protein is crafted with the perfect blend of nutrition and taste to keep your young ones energized. As children engage in various physical and mental activities, they need a snack that not only fills their tummies but also provides the necessary nutrients for growth and development. This bar promises to do just that! So let's dive into how you can score this freebie.
How to order a free sample of CLIF Kid ZBar?
CLIF Kid is giving away this freebie through a sponsored post on Facebook and Instagram. So to get one, you need to spot the ad. There is no dicer link but as with most sponsored posts, there are a few tips to help you find it:
Go to the CLIF Kid official page on Facebook or Instagram and follow them
Engage with their content (Like, comment, etc…)
Search for the CLIF Kid ZBar to increase the likelihood of the offer popping up on your timeline.
Once you're done, keep an eye out for this sponsored post offering the sample as shown in the picture below.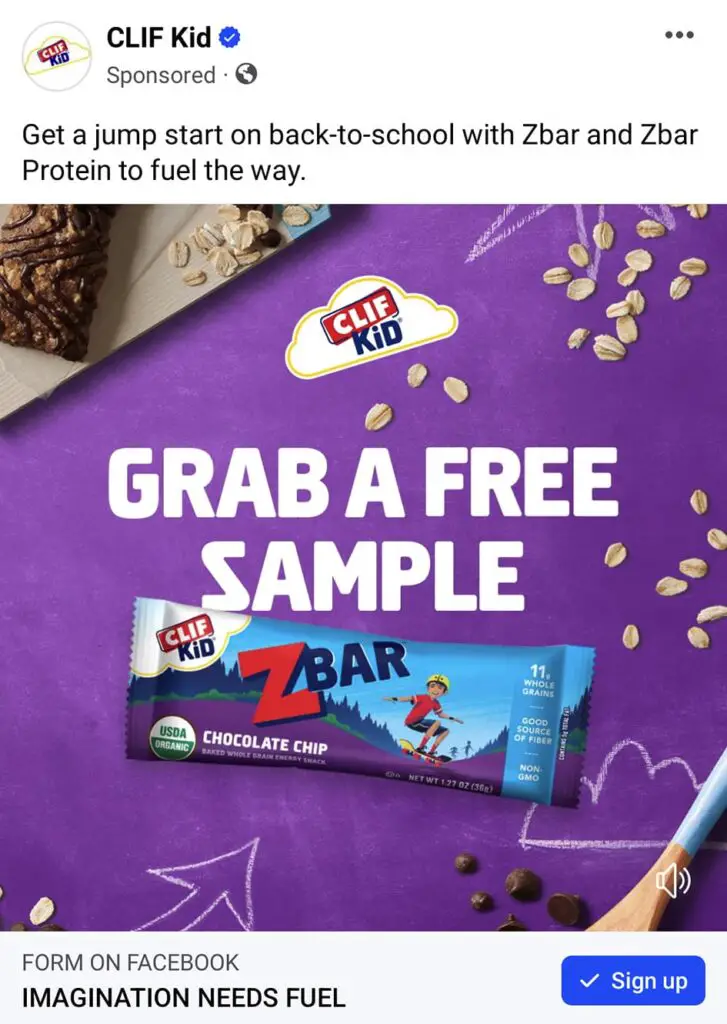 Once you spot the sponsored post, follow the instructions, and await your delicious sample!
Be the first to get the latest freebies in your inbox