Last Updated on November 1, 2023
Charlotte Tilbury is one of those brands that continually wow us with their innovative products, and now they're set to enchant again with a freebie offering of their latest treasure: a free Charlotte Tilbury Magic Body Cream sample.
The Charlotte Tilbury Magic Body Cream melts away dryness as it seeps deep into your skin, providing intense hydration without any stickiness. Besides, since it's infused with hyaluronic acid, it ensures your skin retains moisture, giving it a fresh and radiant glow and so many other great benefits.
The Magic Body Cream also reduces the appearance of cellulite and stretch marks leaving you with smoother skin.
Without further delay, keep on reading to find out how to claim this amazing freebie.
How to receive a free sample of Charlotte Tilbury Magic Body Cream?
If you're eager to try out this game-changing body cream, the process is straightforward:
Simply click on the 'Go to Offer' button below to head to the SoPost form
Fill out the form with the required detains and submit it
Await the magic to arrive at your doorstep!
This is a fantastic opportunity for skincare enthusiasts to experience the magic of Charlotte Tilbury without any commitment, courtesy of Bloomingdale's.
But as with all good things, this offer won't last forever. So, hurry and claim your sample today!
This offer is available for a limited time only or until they run out of supplies.
Open to residents of the US.
NOTE: The link goes on and off a lot. So keep trying if it says sold out, or you can go directly to Bloomingdale's website. Type Skincare and check the results for a sponsored ad that offers this sample as you can see in the picture below.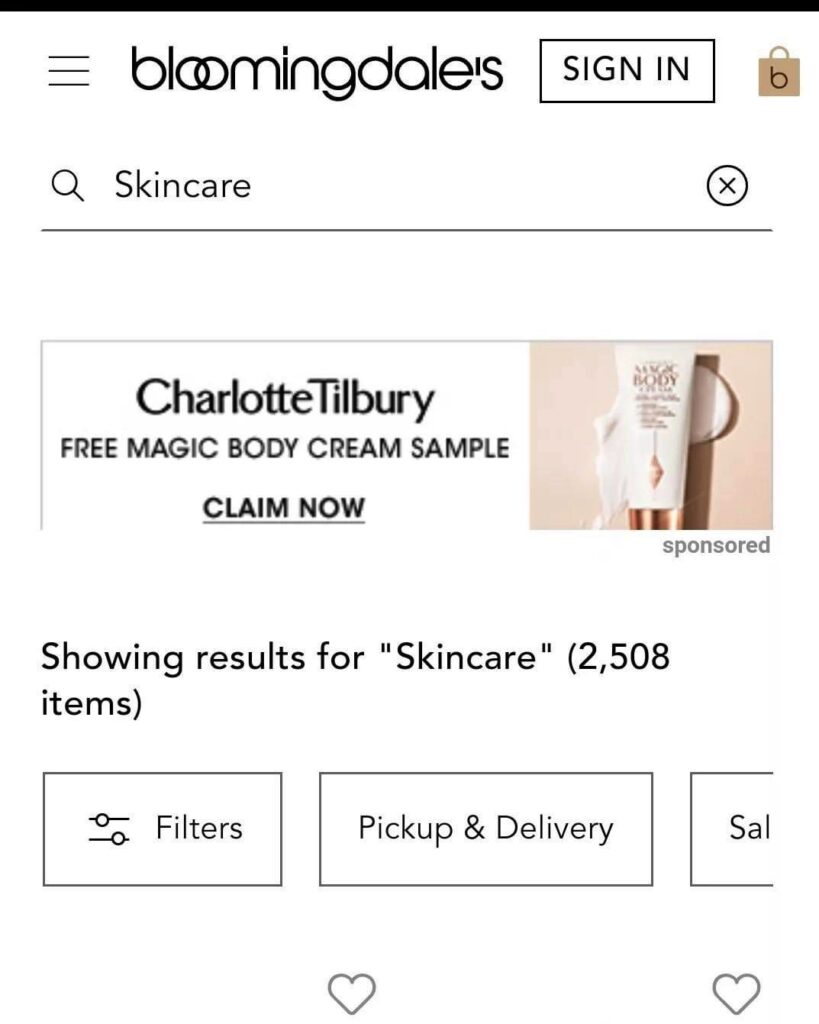 Be the first to get the latest freebies in your inbox