Last Updated on November 8, 2023
Quickly, snag a free Bioderma Atoderm balm sample while supplies last.
Bioderma has a new freebie for you. For a limited time, you can claim a free sample of Bioderna Atoderm Intensive balm, which is a great product to keep your skin deeply hydrated and restore its glow.
Read on to find out how to claim this freebie.
How to get free samples of Bioderma Atoderm balm ?
Bioderma is giving away this freebie through sponsored posts on Facebook and Instagram. So, to get your free sample of Bioderma Atoderm Intensive Balm, I invite you to follow the steps below:
Make sure to follow the Bioderma page on Facebook and Instagram
Engage with Bioderma's posts by liking, viewing videos or reels, and commenting.
Use the search function on Facebook and Instagram to search for Bioderma Atoderm Balm.
Visit and view the product on the Bioderma website to help algorithms understand you are interested in it.
That's about it. After this, all you have left to do is stay vigilant and eep scrolling through your feeds and look out for a sponsored post from BiodermaUSA.
It might take a bit of time, so don't lose hope if you don't see it immediately. Here is what it looks like: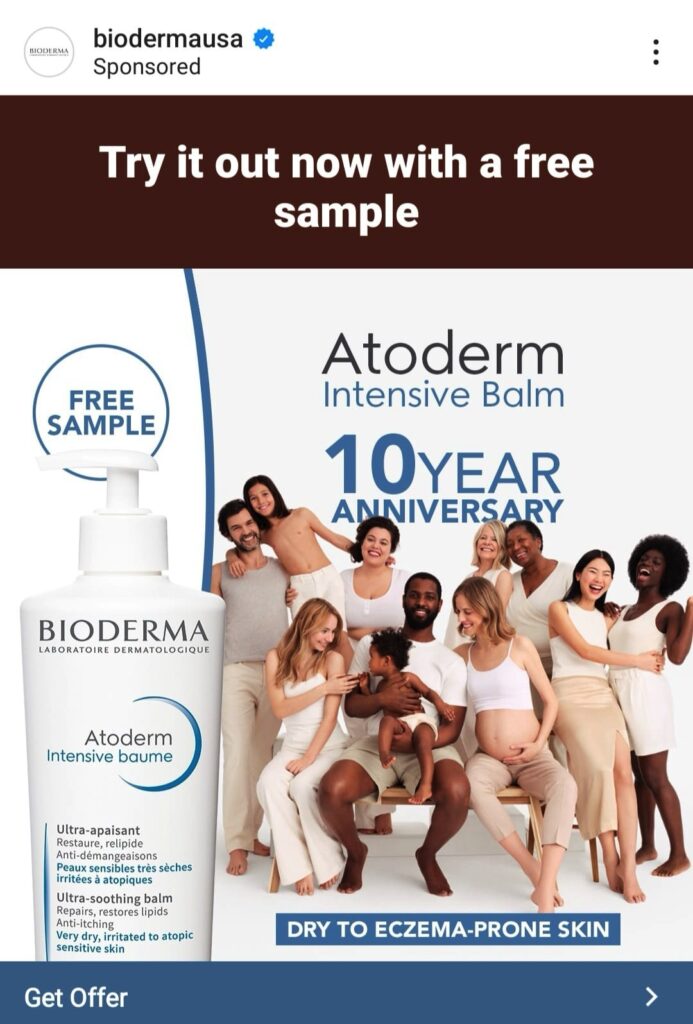 Stay in the loop for updates if you missed it.
This offer is available for select users on Facebook and Instagram only.
Be the first to get the latest freebies in your inbox