Last Updated on October 23, 2023
Are you in the constant hunt for products that promise healthier, nourished hair and a rejuvenated scalp? Well, guess what? This is your chance to score a free Aveda Overnight Scalp Renewal Serum sample.
Whether you have an oily, dry, or combination scalp, this serum is designed to cater to everyone. Its lightweight texture ensures no residue is left behind.
Here's what you need to know to claim this freebie.
How to claim a free sample of Aveda Overnight Scalp Renewal Serum?
NEW! From Facebook / Instagram – AVAILABLE
Aveda is now giving away free samples of their Overnight Scalp Renewal Serum through sponsored posts on Facebook and Instagram.
To score this freebie and receive your Aveda Scalp Solutions Serum in the mail, all you need to do is follow the instructions below:
Like and follow the Facebook page of Aveda and/or Instagram account, depending on the one you use the most)
Engage with their content: Like five or more of their recent posts, or engage with the brand on social media by leaving a comment or watching videos and reels.
Use the Facebook or Instagram search bar to look up keywords such as Aveda Serum, Aveda Overnight Scalp Renewal Serum…
Visit the Aveda official website and check the Overnight Scalp Renewal Serum there
As you can see in the picture below, this is what the sponsored post looks like: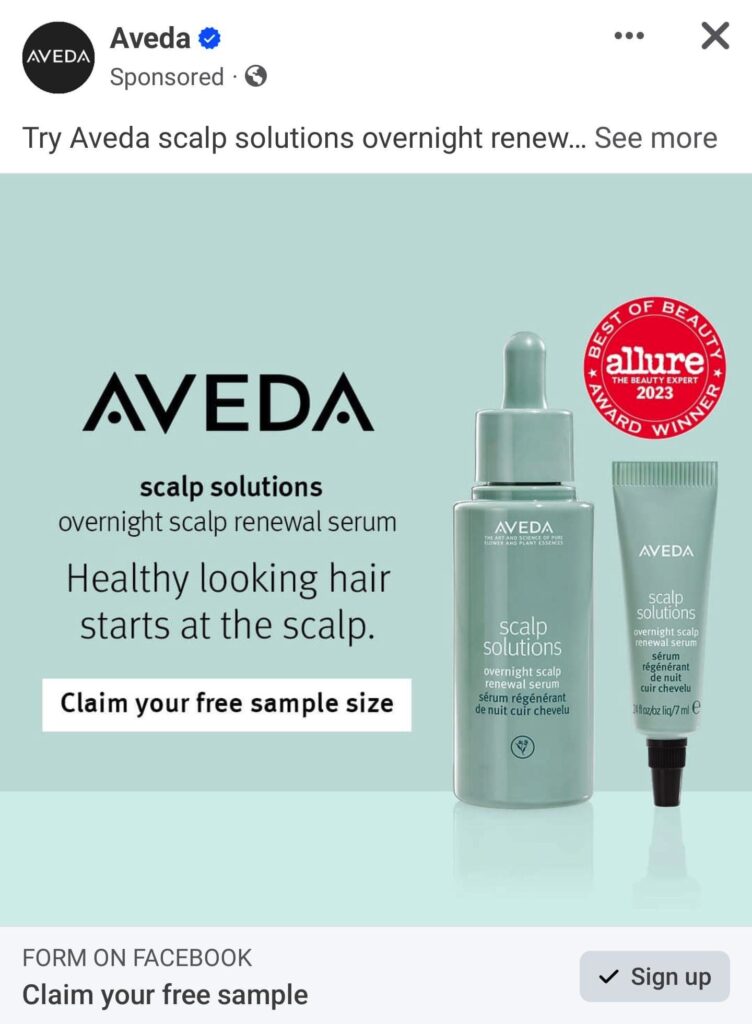 When you find it, be quick to click on the 'SIGN UP' button and fill out the form with the required details to receive your sample in the mail.
This offer is available for a limited time only or while supplies last.
Additionally, it is currently showing up for select users on Facebook and Instagram who meet the targeting criteria set by the brand.
Don't miss out on this opportunity to give your hair and scalp the care they deserve.
From SoPost – EXPIRED!
UPDATE: This link is no longer working, but follow the steps above to get the sponsored post to pop up in your feed and sign up for a sample. It still works that way.
This freebie is now available to claim through SoPost. Follow the steps below to get yours.
Click on the button below to go to the offer page on SoPost.
Scroll down to the SoPost form and fill it out with the required details
Submit the form, and voila! Your sample will be on its way.
This free sample offer won't last forever, so be quick and grab yours now.
By grabbing a free sample, you can test the product to see if it works for your scalp type without spending a dime. So what are you waiting for?
Good luck to everyone.
Be the first to get the latest freebies in your inbox