Last Updated on November 23, 2023
If love trying out new scents, here's some exciting news for you. Philipp Plein has unveiled a brand new masculine fragrance called NO LIMIT$, and the best part? They're giving away free samples to select users…
That's right, keep on reading to find out how to claim your free Philip Plein NO LIMIT$ sample.
How to order a free sample of Philip Plein NO LIMIT$ Fragrance?
NEW! From TikTok – AVAILABLE
Philip Plein is giving away these samples through TikTok sponsored ads.
Meaning there is no direct link to the form, you need to follow the instructions below and wait for the ad to pop up in your feed.
Let's dive into how you can do that.
Open the TikTok App on your Smartphone and go to Philip Plein account
Follow the brand's account and engage with their TikTok videos… Engagement mean anything related to watching, like, commenting, or sharing their videos to signal to TikTok's algorithm about your interest in the Philip Plein brand.
Use the search bar to look up for keywords like "Philipp Plein", "NO LIMIT$". ( Make sure to check out the results you get, sometimes the sponsored ad is found right there in the TikTok Results search)
So that's about it. You need to understand that TikTok's ad-serving algorithm is based on user behavior, interests, and other factors. It might take some time before the ad pops up in your feed. Just keep enjoying the content and keep an eye out for it.
Here is a screenshot of what it looks like so you know what you are looking for.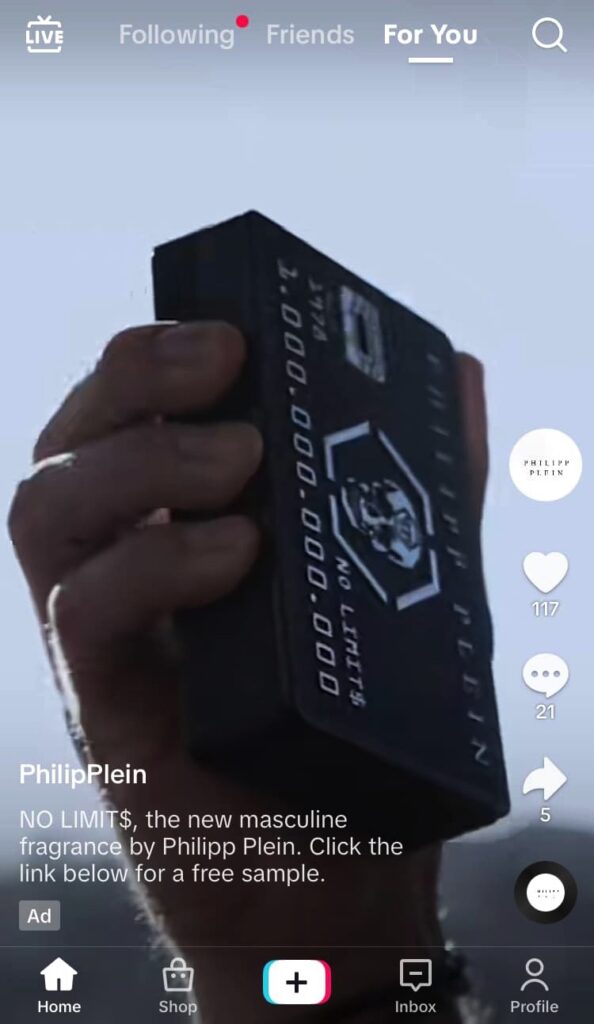 Once you see the ad, click on it to access the request form. Fill it out and wait for your freebie to be shipped in the mail.
This offer is currently showing up to select users on TikTok who are residents of the United Kingdom.
These samples are available for a limited time, so be sure to grab yours while the offer lasts.
This is a fantastic opportunity to try out a luxurious new scent without any commitment.
Happy TikToking and enjoy the fresh notes of NO LIMIT$ by Philipp Plein!
While you're at it, you can check out this list of all available freebies on TikTok, this way, you can search for several ads instead of just one.
Be the first to get the latest freebies in your inbox