Last Updated on June 20, 2022
A new Cologne for men by Prada just hit the shelves. To celebrate the launch of the new perfume for men, the brand is giving away a free Prada Luna Rossa Ocean sample. Try the new fragrance for free.
There are several ways you can get this freebie. In this article, I will be keeping track of it and updating the post regularly.
The top ones are the most recent offers and they are more likely to be available.
How to get a free sample of Prada Luna Rossa Aftershave cologne for men?
NEW! Thru Odore
There is a new Odore link to grab a sample of Prada Luna Rossa aftershave in the UK. To get yours while supplies last, CLICK HERE and simply fill out the form with the required details. Please note that the campaign goes on and off a lot. So if it says that the campaign is paused, retry at a later moment.
Amid ELLE Magazine – Possibly expired!
The form to sample the Prada Ocean cologne is showing up on a specific page on Cosmopolitan magazine. So, to receive your free Prada Luna Ocean sample, I invite you to go to this page on ELLE Magazine page.
Keep scrolling the page and keep an eye out for sponsored posts coming up. One of them is offering samples of Prada Luna Rossa Cologne for men. Here is how it looks like: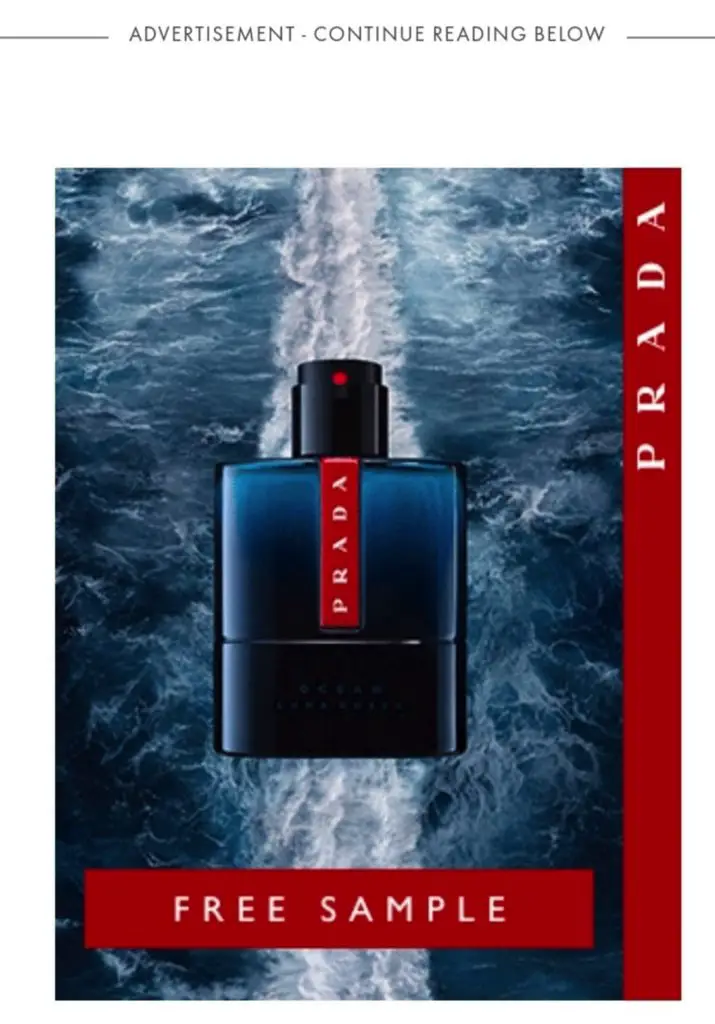 This is currently available for residents of the UK only thru Cosmopolitan Magazine. It's a form powered by SoPost so proceed as usual to fill out the form. Also, check for confirmation email.
Prada Luna Rossa Carbon sample thru direct link to form – SOLD OUT!
Available thru a direct link to the Odore form. Hurry up and follow this link here to the form. Fill out the form to receive your freebie by post.
If the link doesn't work for you, you can try to access it from my Instagram story here.
Amid article on Women's Health Mag – Sold out
NEW! The Prada Ocean Fragrance samples are now available amid a page on Womens Health Mag. Follow this link and scroll up and down until you find it.
Valid for a short period of time or while supplies last. Keep an eye out for this article for future updates and a possible direct link to the form.
I'm not sure if everyone gets this, so keep me posted if you please. Thanks.
Be the first to get the latest freebies in your inbox