Last Updated on August 7, 2023
In a world bustling with reminders, notifications, and to-do lists, sometimes the most heartfelt gestures are the unexpected ones… those that are done "just because." Jo Malone London is tapping into this sentiment in a delightful way and offering you the chance to get a free Jo Malone Just Because Gift Box… But what makes this offer truly special? It's not just about treating yourself but also spreading the joy.
Inside this meticulously crafted gift box, recipients will discover a Jo Malone cologne in a 30ml bottle, offering you the chance to dive into the brand's opulent aromatic experience. And Jo Malone's generosity doesn't end with self-indulgence. As part of this unique campaign, you can also choose to send a "Just Because" Gift Box to a friend or loved one. It's an invitation to make someone's day, to let them know they're thought of, cherished, and appreciated, all without a specific reason. After all, isn't the idea of celebrating someone "just because" the most heartfelt of them all? So let's just dive into how you can sign up for your free Gift Box.
How to sign up for your free Jo Malone Just Because Gift Box?
From Facebook / Instagram – AVAILABLE
The Jo Malone London is running up this campaign through sponsored ads on Facebook and Instagram. So to be able to sign up for one, you need to keep an eye out on your social feed. But before, you can follow the tips and tricks below to help you increase your odds of seeing the advert.
Like and follow Jo Malone London on Facebook and/or Instagram account
Engage with their content: Like their posts, watch recent videos or reels, etc… This interaction can increase your chances of seeing their sponsored posts in your feed.
Explore their website and view some of their products pages. This engagement can further enhance the visibility of their sponsored ads.
That's it, after this, as you browse through your Facebook and Instagram feeds, watch for the sponsored posts from Jo Malone London promoting the Just Because Gift Box offer. Here is a screenshot of what it looks like.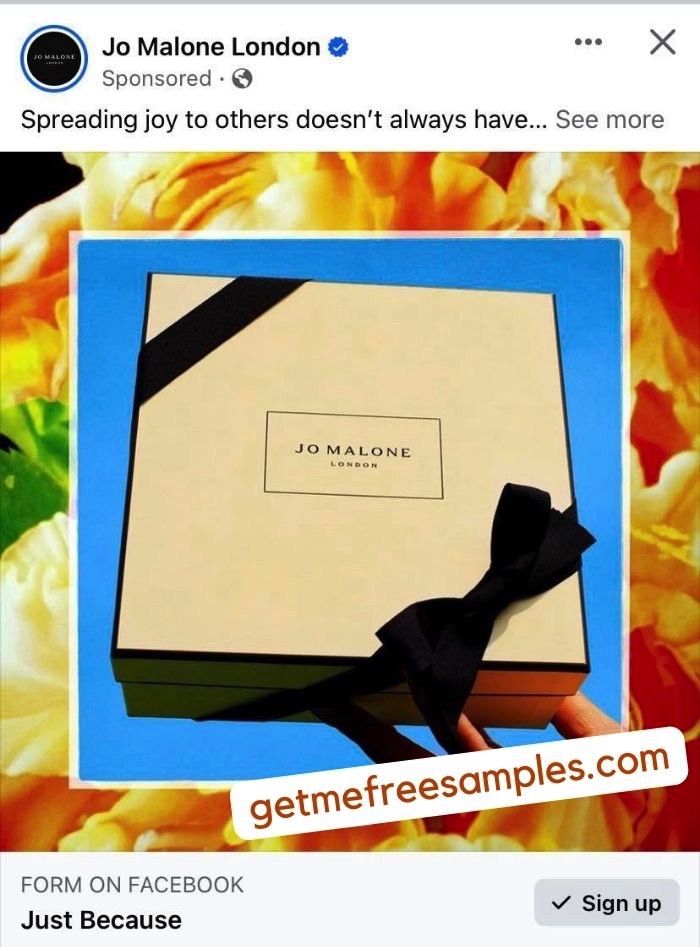 Once you spot the ad, follow the link to select your preferred Jo Malone cologne in 30ml, and one for your friend, then sign up for your gift boxes.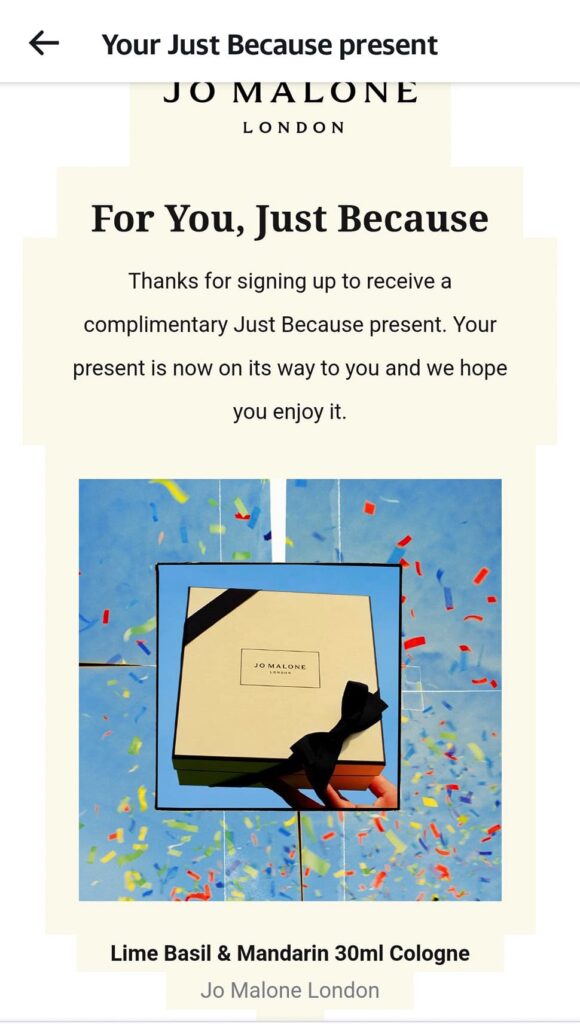 Please note that the Just Because Present Box form Jo Malone is available to select users on Social Media, who live in the US, Canada, the UK, Australia, and other countries.
The "Just Because" campaign is more than just a fragrance giveaway. It's a nod to the simple, unplanned acts of kindness that often mean the most. So, if you've been looking for a sign to indulge in a luxury fragrance or to surprise a dear friend with an unexpected gift, this is it. Dive into Jo Malone's aromatic universe and let the power of "just because" lead the way.
This offer is available for a limited time only or while supplies last.
Be the first to get the latest freebies in your inbox