Last Updated on October 4, 2021
Today is a good day for the pirate in all of us. Enjoy a free Captain Morgan and Cola sample gratis while supplies last.
Send Me A Sample UK is now giving away free samples of the new Captain Morgan and Cola drink.
How to get a free sample of Captain Morgan and Cola ?
To receive this freebie, simply ask your voice assistant for one by saying "Ask Send Me a Sample to tell the Captain I'm in the lobby". You can use either Alexa or Google Assistant App on your mobile as usual.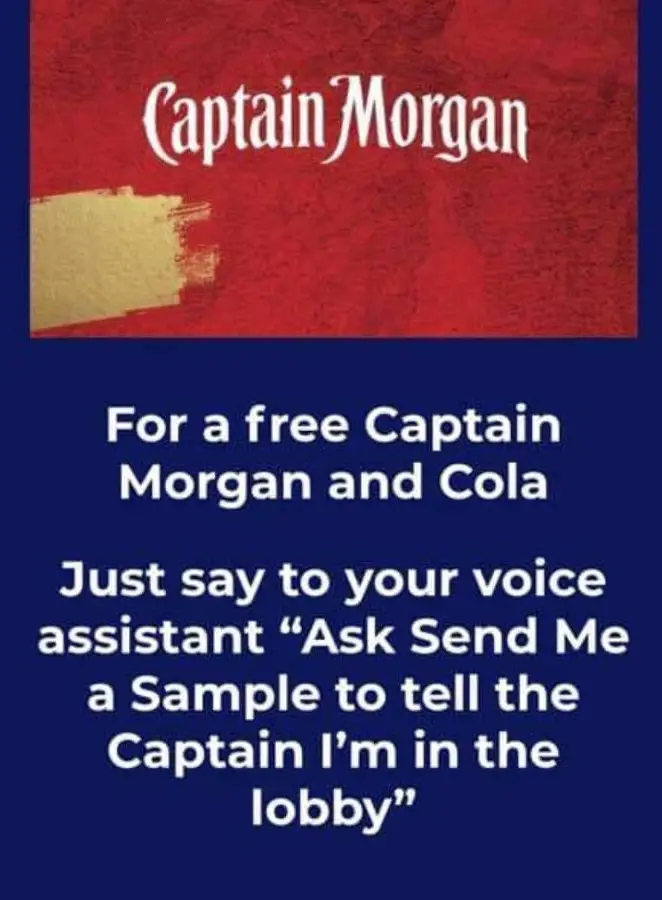 If you are not a registered member of Send Me A Sample UK, you can sign up for free and link your account to your voice assistant to get started.
This sample is available until the supplies run out. So be quick to snag one.
Available to select residents of the UK only. Please note that this might not be available to anyone.
Click here for the full list of Send Me A Sample UK offers.
What is Captain Morgan and Cola?
The Captain Morgan and Cola drink is a new delicious drink blending Captain Morgan's Rum and refreshing cola for you to enjoy.
With the sweetness of cola and the rich, spiced rum flavor signature of Captain Morgan, this mix is sure to please any one who enjoys a good rum and cola.
Be the first to get the latest freebies in your inbox