Last Updated on September 18, 2023
Taking the plunge into the world of fragrances or looking to add another star to your collection? Either way, this is your chance to score a free Burberry Goddess Fragrance sample while supplies last.
Boots is giving you the chance to try the free samples of the NEW Burberry Goddess Eau de Parfum and the classic Burberry Hero Eau de Parfum. So let's dive into how you can claim this freebie before it's too late.
How to order a free sample of Burberry Goddess Fragrance?
NEW! On TikTok – AVAILABLE
Right now, Burberry is using TikTok to offer its magnificent Goddess Fragrance samples.
Here is how to potentially get your Burberry Goddess Fragrance sample via TikTok:
Follow Burberry on TikTok: Start by searching for Burberry's official TikTok account and give them a follow. This will help ensure that their posts and promotional ads appear on your For You Page (FYP).
Engage with Burberry's Videos: As you scroll through TikTok, if you come across any Burberry content, make sure to like, comment, and share. The platform's algorithm is more likely to show you brand-related promotions if you engage with their content.
Search for Burberry Fragrance Content: Use TikTok's search feature to look for hashtags or videos related to Burberry Goddess fragrance. Engaging with these can increase your chances of being targeted with the sample ad.
Keep an eye on sponsored posts: As you're using the App, pay attention to the sponsored posts. Burberry's Goddess Fragrance sample promotion could pop up at any moment.
Here is a screenshot of the sponsored post: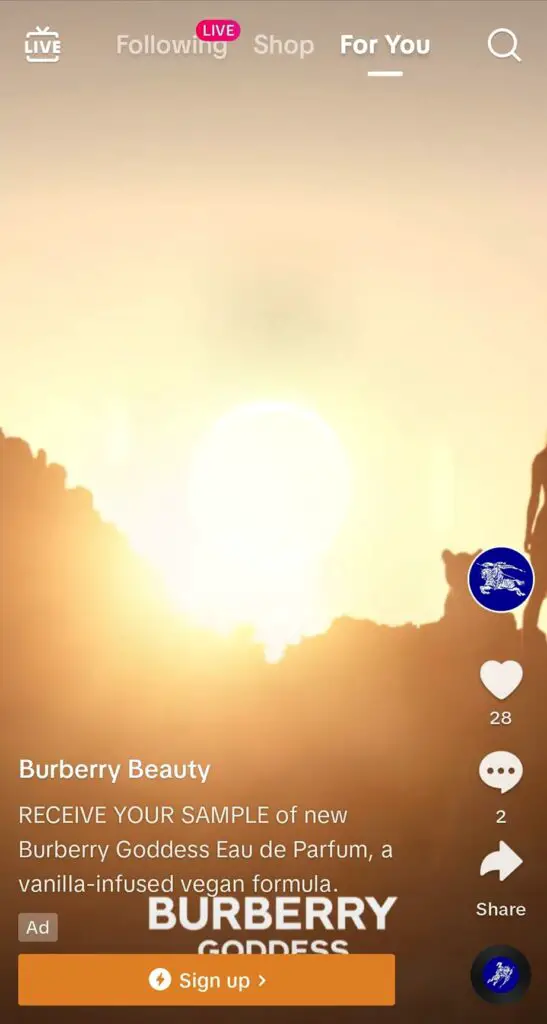 Like other platforms, the demand for these samples is high. So if you're lucky enough to spot the ad, click on it as soon as you can to claim your sample.
Given the interactive nature of TikTok and its algorithm-based content delivery, consistently showing interest in Burberry and fragrances can heighten your chances of coming across this fabulous offer. So, make sure you're active and alert on the app.
Good luck.
From Facebook / Instagram – AVAILABLE
To ensure you don't miss out on claiming the free Burberry Goddess Fragrance sample via social media platforms, here's how to increase your chances of having the sponsored post pop up on your Facebook or Instagram feed:
Follow Burberry on Social Media: Given that Burberry Beauty is distributing the samples, following and interacting with their official pages on Facebook or Instagram can also make the free sample ad more likely to appear on your feed.
Interact with Burberry Content: Engage with Burberry Beauty pages by liking, sharing, or commenting on their posts. This signals to the platform's algorithms that you have an interest in Burberry products.
Use Relevant Keywords: In the search bar, use keywords related to fragrances, Burberry, or even specific names like "Burberry Goddess" This could possibly trigger ads related to those interests.
Visit the Burberry Website: Platforms like Facebook and Instagram utilize web browsing history (through cookies) to curate ad content. By visiting the Burberry website or browsing their products online, you increase the chances of seeing ads from them on your feed.
Once you're done, simply keep an eye out for the advert as shown in the picture below to show up on your social feed.
If you spot the ad, click on it promptly! These samples are limited and can run out quickly.
Remember, even with these tips, there's no guaranteed method to make specific ads appear immediately. However, these actions will increase your chances of being targeted for related promotions. Good luck.
From Boots – SOLD OUT
UPDATE: The offer from Boots may have run out, but keep your spirits high and eyes peeled on your social media feeds to capitalize on the Facebook and Instagram offer while it lasts!
To score this freebie, CLICK HERE to follow the link to the offer page on Boots. Fill out the form with your details and submit it.
This offer is available for a limited time only or while supplies last. So act fast!
Don't miss out on this limited-time offer to acquaint yourself with these masterpieces from Burberry, all thanks to Boots. Dive deep into a world where each note tells a story, and let your senses revel in it.
Open to residents of the UK.
About the new Burberry Goddess Eau de Parfum
Step into an olfactory realm where the spirit of femininity reigns supreme. The Burberry Goddess Eau de Parfum is an ode to the divine feminine that resides within every woman. It's an intricate blend of lush florals and delicate undertones that inspires reverence. Each spritz is a reminder of one's innate grace, power, and beauty.
Be the first to get the latest freebies in your inbox