Last Updated on August 22, 2023
With a mission to make luxury accessible to all, BlackPoint Perfumes has curated an array of fragrances that resonate with the essence of high-end designer perfumes but are available at a fraction of the cost. And now, you can claim a free BlackPoint Perfumes sample to try and see for yourself.
Whether you are new to the world of perfumes or a connoisseur looking for your next signature scent, BlackPoint Perfumes offers a chance to explore their collection through free samples. You can enjoy the luxury of designer-inspired fragrances without spending a penny. So let's dive into how to claim your freebie.
How to order free samples of BlackPoint Perfumes?
This freebie offer is available to residents of the United Kingdom through sponsored posts on Facebook and Instagram. So, you need to make the ad pop up in your feed to be able to sign up for it. I recommend you follow these steps:
Visit BlackPoint Perfumes on Social Media: Head over to BlackPoint Perfumes' official Facebook page and Instagram and follow them
Show interest in the brand: Interact with BlackPoint Perfumes content on Facebook and/or Instagram. You can either like posts, leave comments, etc…
Search for the BlackPoint Perfumes: Perform a quick search on either the internet or directly the Facebook / Instagram search bar and engage with the results
After that, simply keep an eye out for sponsored posts coming your way. Here is a screenshot of the one you need to spot.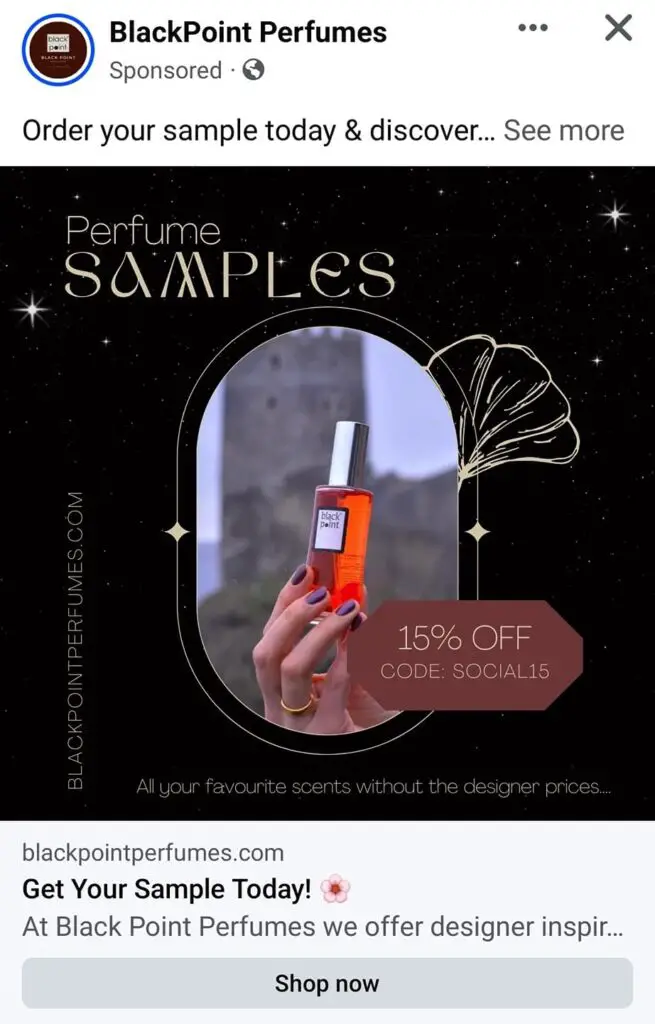 Once you've completed the necessary steps, sit back and wait for your sample to arrive.
The offer is limited to residents of the United Kingdom, so ensure that you meet the eligibility criteria.
Take advantage of this incredible opportunity and discover the world of affordable, designer-inspired fragrances before you decide to buy.
Good luck.
Be the first to get the latest freebies in your inbox