Last Updated on June 19, 2023
Good news for all women out there! Always is currently offering a special deal on their Cotton Protection line. For a limited time, you can score a free Always Cotton sample pack with a coupon.
Always Cotton Protection is designed to provide maximum comfort and protection during your period. With a 100% organic cotton top sheet, it ensures softness and breathability, making it gentle on the skin. Now, you have the chance to try it out for free, courtesy of Always. Here is how to get your coupon by post.
How to get a free pack of Always Cotton Protection?
This fantastic offer is available via sponsored posts on Facebook and Instagram. But how can you make sure you don't miss out? Here's a step-by-step guide to increasing the chances of these ads appearing on your social media feed:
Follow Always: Start by following the official Always UK & Ireland pages on Facebook and Instagram. Engage with their posts – the more interaction, the better.
Visit the Always Website: Head over to the official Always website. This visit signals your interest in the brand to social media algorithms.
Use the Search Bar: Type "Always Cotton Protection" into the Facebook and Instagram search bars. This action increases your chances of seeing related ads.
That's it. Here is a screenshot of what the advert looks like to help you recognize it easily.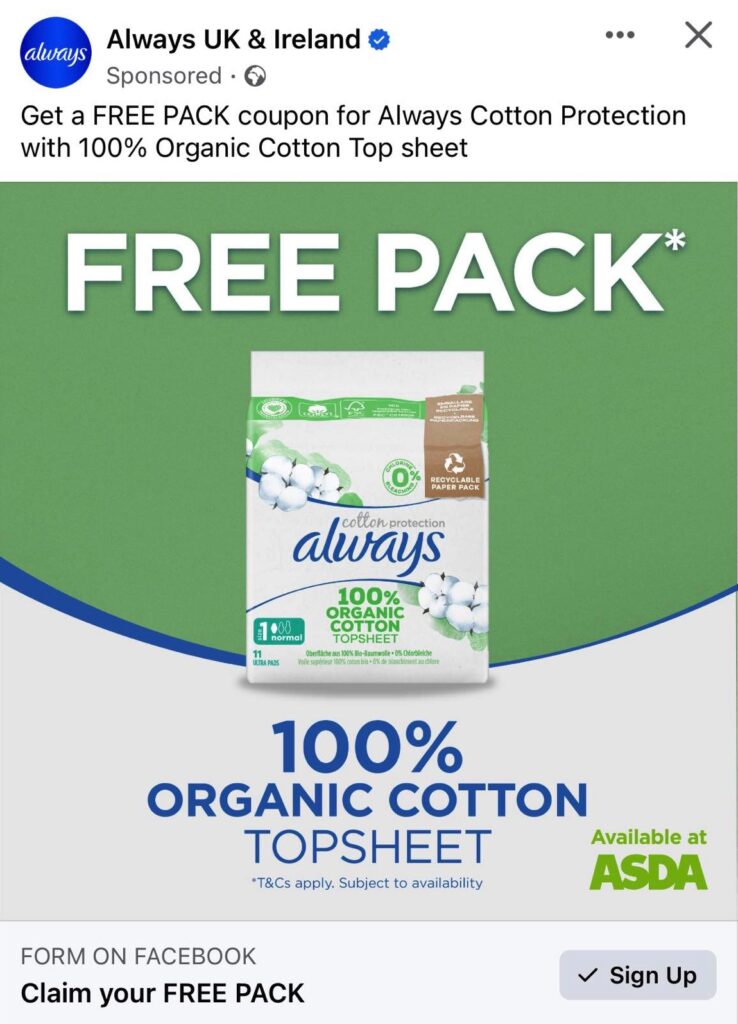 Once you find it, click on the 'SIGN UP' button. Fill in the required information to receive your coupon for a free pack of Always Cotton Protection with 100% Organic Cotton Top Sheet.
You can use the coupon at any ASDA store near you.
This offer is available for a liitd time only or while supplies last.
Open to select residents of the United Kingdom only on Facebook and Instagram. Stay tuned for a possible direct link.
Be the first to get the latest freebies in your inbox