Last Updated on November 2, 2021
A new Sampler program is on. The NetParents Sampler program samples are so lit.
The NetParents.org launched a new freebies program in partnership with Sampler.
NEW! New Samples available as of November 2, 2021
UPDATE on November 2, 2021: The NetParents Sampler program sent out emails today announcing that starting on November 2nd, 2021, more free samples will be available. So make sure you check it out using the link below.
New samples available include :
Viva La Juicy Neon Eau de Parfum
Blue Elephant Canada – Red Curry Sauce
Hello Fresh (Bonus Offer)
Biolage Colourlast
Cetaphil
Teapigs
Olivieri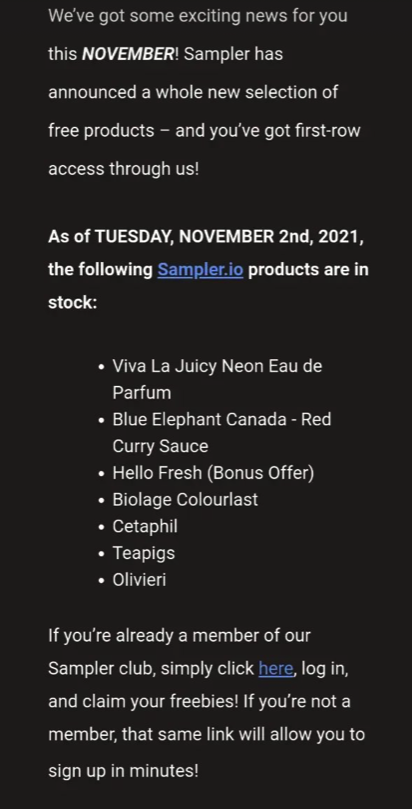 NetParents Sampler Program
Join the Net Parents Sampler Program for the chance to receive free samples and exclusive offers from several partners and brands we all know and love.
If I understood correctly, the free samples offered are for families, including:
Free Baby samples and products from brands like Huggies, Similac…
Free Skincare samples for parents from brands like Guerlain, BullDog Skincare for Men,
Snacks, sweets and brakfast for the whole family from brands such as KIND, Nesquick, Cheerios
Free samples of household cleaning items, such as Affresh Dishwasher Cleaner Tablets
I applied for the program and these are the samples I snagged (I'm in Canada)
Free Nesquick Vanilla Syrup (Coupon to redeem in-store)
Bulldog Skincare for men
Explore Cuisine High Protein, Organic Pastas!
Free Affresh Dishwasher Tablet samples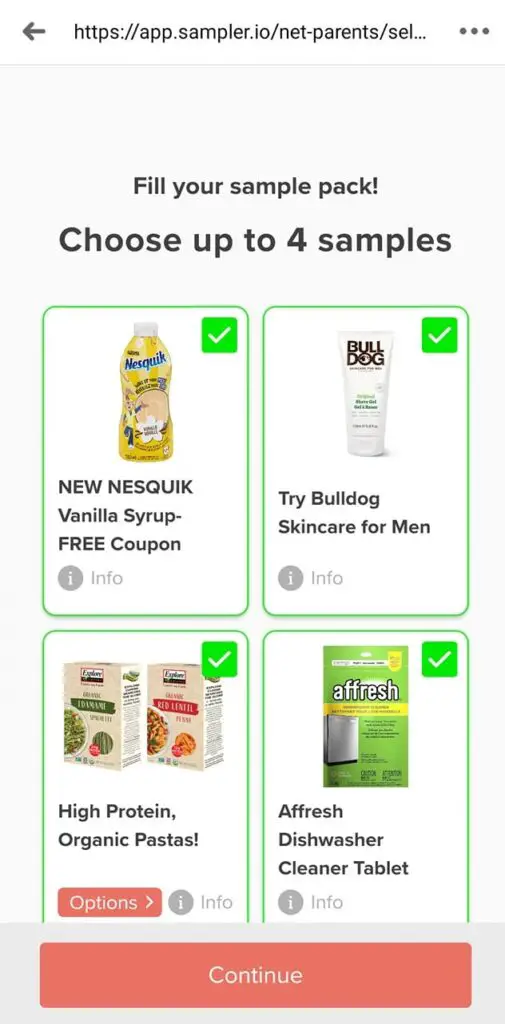 How to join the NetParents Sampler Program and get tons of free samples for the whole family?
To join the NetParents Sampler program and get freebies and samples for the whole family, I invite you to go over to the sampling program page located here.
Log in with your Sampler account and answer a quick quiz. Check your dashboard for samples you are eligible for. The sample may show up for you instantly or take up a couple hours or days. Be patient.
New to Sampler.io? You can get started (for free!) by following this detailed guide I made.
The Program is only open to individuals who are legal Canadian residents physically residing in Canada or legal U.S residents physically residing in the United States (including the District of Columbia). And aged 16+ at the time of registration to this program.
Did you join the program? What did you get? Don't hesitate to share with me and the rest of the community. You can either leave a comment in the comments sections below or send me a private message. It's always a pleasure to hear from you guys.
Be the first to get the latest freebies in your inbox