Last Updated on June 6, 2022
Here, here, you can grab a free Narciso Rodriguez Musc Noir For Her sample to try gratis.
For a limited time, Narciso Rodriguez is giving away free samples of Musc Noir Rose For Her Perfume for women to select residents of Canada.
The Narciso Rodriguez Musc Noir Rose For Her Eau de parfum is an enticing fragrance for women. Its composition is woodsy, floral, fruity and musky. It has a mesmerizing scent of African Orange flower, Osmanthus and Bergamot that persists throughout the fragrance. With a heart of Musk and Amber, this Eau de Parfum finishes on Vetiver, Vanilla and Patchouli.
For Her is a crowd pleasure since its initial launch in 2003 and with its diverse versions. You can grab a free sample of the newest one – Musc Noir Rose – by mail to try out. Here is how.
How to receive a free Narciso Rodriguez Musc Noir Rose For Her sample in the mail?
NEW! With TopBox Circle – AVAILABLE
TopBox Circle has a new offer for residents of Canada. You can score a free sample of Narciso Rodriguez Musc Noir Rose the new fragrance with a simple request. To get the sample, CLICK HERE and fill out the form.
UPDATE: You can also try going to the Facebook post on Narciso Rodriguez page here and clicking on the 'GET OFFER' button directly.
NOTE: The link goes on and off quite a lot. So be patient and stay in the loop for updates. As you know, TopBox Circle freebies have a tendency of being very unstable, but it eventually works. So stay tuned by following me on Instagram, allowing push notifications or subscribing to emails. This way I can easily reach you the second the link is working again.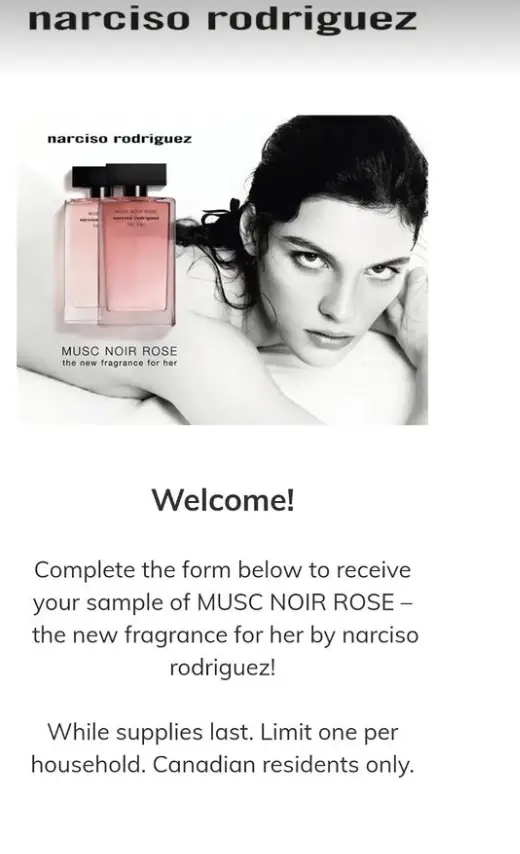 Thru Facebook / Instagram
Narciso Rodriguez is offering this freebie through a sponsored post on Facebook and Instagram. Which means that there is no direct link to the form. However, there are a few actions you can complete to increase your odds of getting the form to show up in your social feed.
Let's begin with these instructions:
Like Narciso Rodriguez Parfums page on Facebook and follow on Instagram if you have an account
Engage with the brand by liking a couple of recent posts, or leaving a comment
Watch a recent video they shared on their page
Look up the Narciso Rodriguez For Her Perfume on the internet, especially on the official website of the brand
After that, just keep your eyes peeled while scrolling through your social feed. Hopefully, if your profile matches the targeting criteria set up by the brand, you will see the ad. Thus, be able to claim a sample.
Here is a snapshot of what the post looks like. There could be other variations so stay sharp.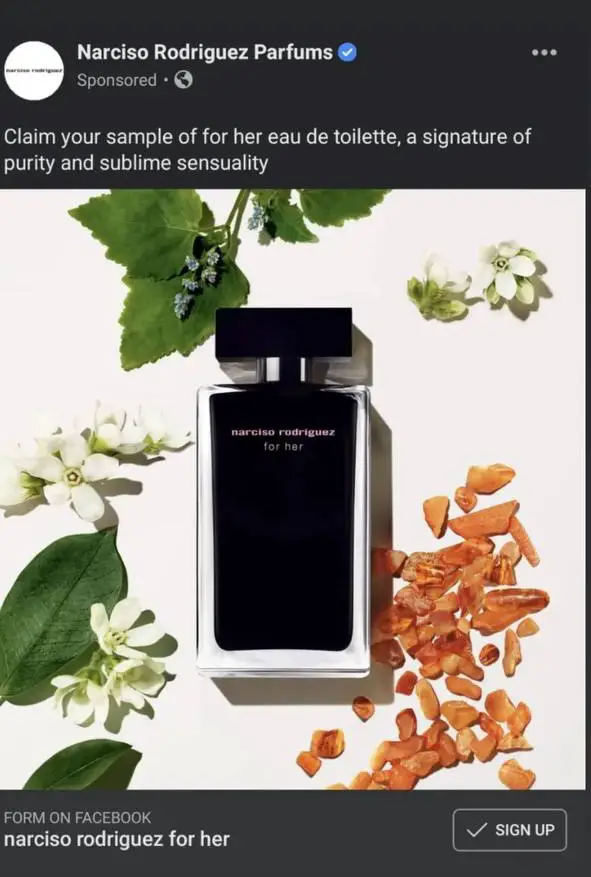 Once you see it, simply click on the 'SIGN UP' button on the bottom right to see the request form. Fill it out and wait for your sample to be shipped in the mail.
This is currently available to residents of Canada only.
Stay tuned for more updates on this offer and other free perfume samples in Canada.
Be the first to get the latest freebies in your inbox