Last Updated on August 16, 2023
Now, exclusively you can score a free Grown Alchemist Facial Cleanser sample while supplies last.
Grown Alchemist's Gentle Gel Facial Cleanser isn't just another face wash… It's rather a symphony of carefully chosen, natural ingredients that both cleanse and soothe the skin. The Grown Alchemist Cleanser formula has purity in mind. It is formulated to provide a deep clean without stripping the skin of its natural oils, ensuring your face remains hydrated and balanced. The gel formula makes it suitable for all skin types, including those with sensitive skin, giving everyone a chance to indulge in its refreshing feel. So get your free sample to judge by yourself. Read on to find out how.
How to claim a free sample of Grown Alchemist Facial Cleanser?
From Facebook / Instagram – AVAILABLE
Getting your hands on this skincare treat is a breeze. Simply scroll through your Facebook or Instagram feed and watch out for the Grown Alchemist ad offering the free sample. It's designed to be eye-catching, so you won't miss it. And to help you increase your odds of getting it to show up in your feed, I suggest you follow the instructions below:
Like and follow the Grown Alchemist page on Facebook or Instagram
Interact with their social media accounts to show interest in the brand and their products
Use the search bar on Facebook and Instagram to look up Grown Alchemist Gentle Gel Facial Cleanser. This little trick can work wonders in bringing their sponsored post right to your fingertips.
Visit their website and view the product there
Now that you're done, it's time to let the magic happen. All you have left to do is keep an eye out for sponsored posts on your social media feed. Here is what it looks like: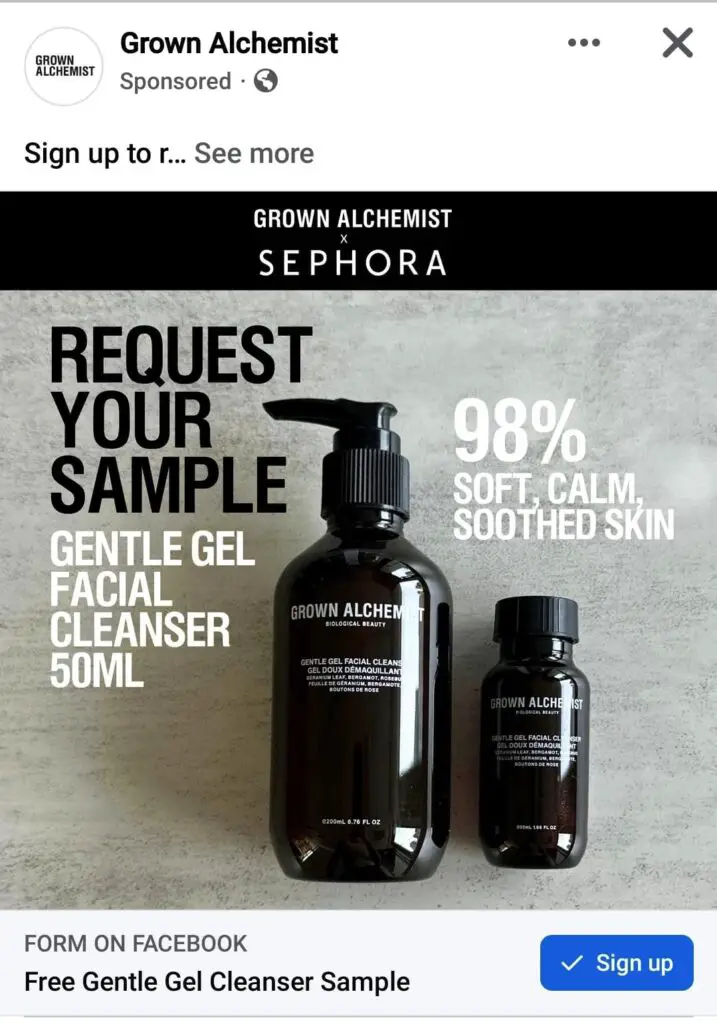 UPDATE: There is another advert but this one is for a free Grown Alchemist Hydra Restore Facial Cleanser sample. You can get either one so keep your eyes open.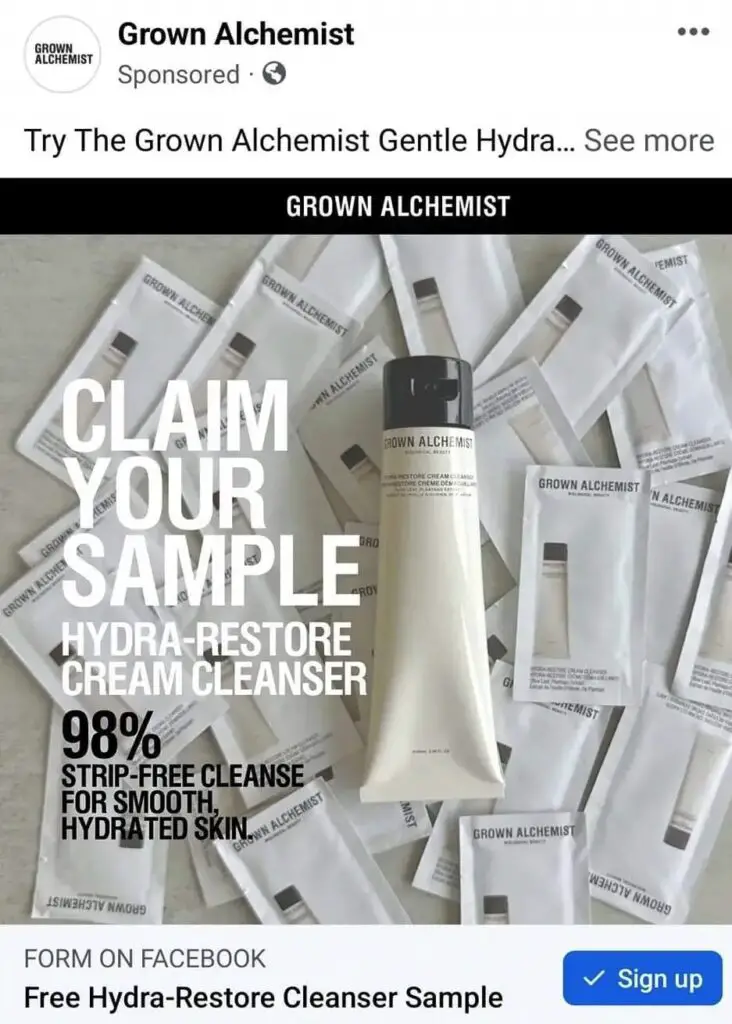 Once you spot the ad, click on it to be directed to a special landing page. Here, you'll be prompted to fill in your details, ensuring the sample reaches you. It's that simple! But remember, popular products like these tend to see a surge in demand. So, when you spot the ad, act promptly to ensure you secure your sample.
Happy sampling!
Be the first to get the latest freebies in your inbox