Last Updated on April 20, 2021
Update: as of April 20, 2021 Veet Canada has shared a post on their Facebook page with a direct form to claim a free Veet Sample Box, plus a $5 Veet Coupon.
To get a Veet Wax Strips sample & coupon, I invite you to follow this link to the Facebook post. Click 'SIGN UP' at the right corner of the post to see the form appear for you. Pop up your details in there or auto-fill with Facebook. But, make sure you verify your info if you chose the auto-fill option.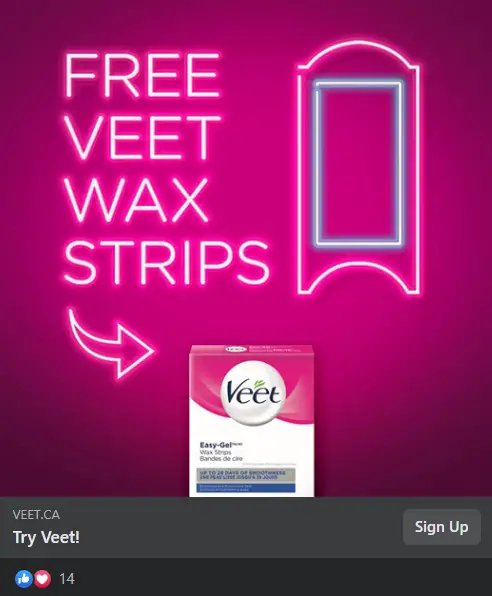 Valid for Canada, while supplies last only.
How to get free Veet samples in Canada?
If you want to claim your Veet Easy-Gel Wax Strips Sample Box while the supplies last, simply follow this easy step-by-step guide we have made for you (Read update above)
That's everything you need to do. We hope you can get it in time.
Don't hesitate to share this offer with your friends and family through social media to help us spread the word about it. We would appreciate it.
This sampling campaign is only available for people living in Canada.
You could subscribe to our newsletter to make sure you receive more free samples and freebies in your inbox before anyone else. It's spam-free, promise!
Have a great day :)
Previous updates on Veet samples in Canada
New offer for Veet samples in Canada. Click this link to the sampling page on the Veet Canada website. Scroll down to the bottom of the page and sign up to get your free Veet Sample Box by mail + coupons!
You can also follow the steps below to receive veet samples through a sponsored Facebook ad. (expired)
Hot days are coming! To help you get the best of the spring weather, Veet Canada is launching a sampling campaign, through which they are offering Canadian ladies a Veet Easy-Gel Wax Strips Sample Box to try for free.
The Veet Easy-Gel Wax Strips product claims it can offer you smooth and hair-free legs up to 28 days. Well, that's some serious claims right there. I mean, who wouldn't want that?
[Expired] First of all, you need to understand that this sampling opportunity was announced through a sponsored Facebook ad. This means they are only offering samples to people who have shown an interest in Veet Products already. There is no direct link to it. But, if you follow our instructions, you can manifest it into your Instagram or Facebook feed. The idea here is to make it clear to Facebook Algorithms that you are one of these people. Thus, see the ad, and apply for the freebies.
Start by clicking on the "Get this free sample" button below to get redirected to the official page of Veet Canada. Then, complete these actions :
Like VeetCanada page on Facebook if you haven't already
Follow VeetCanada on Instagram if you haven't already
Go browsing in the Veet Canada website and check out wax strips
Like Veet Canada posts on Facebook and Instagram
Once you are done with that, close all your Facebook and Instagram browser tabs or refresh them. If you are using a mobile app, then close it and restart it. Then scroll your Facebook or Instagram feed and you should be able to see it.
This is what it looks like (see picture below).
Once you see this ad, click on the sign-up button present there, and provide your valid personal data and valid shipping details to receive your Veet Wax Strips samples by mail.