Last Updated on June 13, 2023
Great news for select Sample Source Canada members. The scent masters at Glade are partnering with Sample Source Canada to deliver thousands of their PlugIns Scented Oils right to Canadian doorsteps – for free! We can already imagine the refreshing and invigorating atmosphere these PlugIns will create in your homes. So as of now, SampleSource has sent thousands of free Glade PlugIns already.
I received an email today stating so. If you are a member of Sample Source CA, you can check your inbox to see if you have matched this freebie. If you got the email, it means that your Glade PlugIns Scented Oil. Besides, the sample is already being shipped to your doorsteps.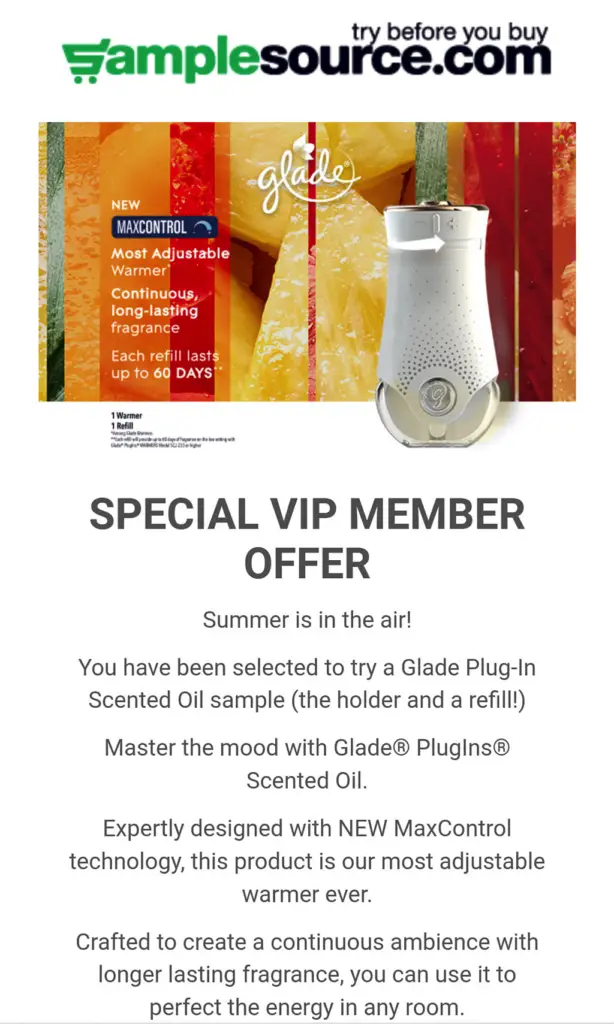 What if You Haven't Received an Email?
Did you scour your inbox but found no email? Don't fret. If you're a SampleSource member but didn't receive this news, it simply means you didn't match with this specific freebie. However, don't let that dampen your spirits. SampleSource continually churns out exciting freebies and samples – stay tuned for future offers that align with your preferences!
If you are not a member already, you can register with them to get started on receiving surprise freebies and samples in the mail. Click here to join SampleSource.com
Be the first to get the latest freebies in your inbox