Last Updated on April 8, 2021
Be quick for a chance to snag a free Drink Well Infused Lemonade while supplies last.
Drink Well Canada has a new advert running and showing up to select Canadian residents on Facebook. Stay alert while scrolling your Facebook feed for a possible free can of Drink Well Hibiscus Infused Lemonade Vodka Beverage. Spot the sponsored post to claim a coupon good for one free can in select LCBO stores in Canada.
How to get a possible free Drink Well Hibiscus Infused Lemonade Beverage?
There is no direct link for this freebie. However, there are a few things you can do (that worked out for other users), including:
After performing these actions, what you have left to do is keep scrolling your social media feed as usual while keeping an eye out for the sponsored post to pop-up. Here's a snapshot of what the post looks like. There are several variants, one of them is the picture I used to illustrate this article. So it could be anything really. Just pay attention to your feed.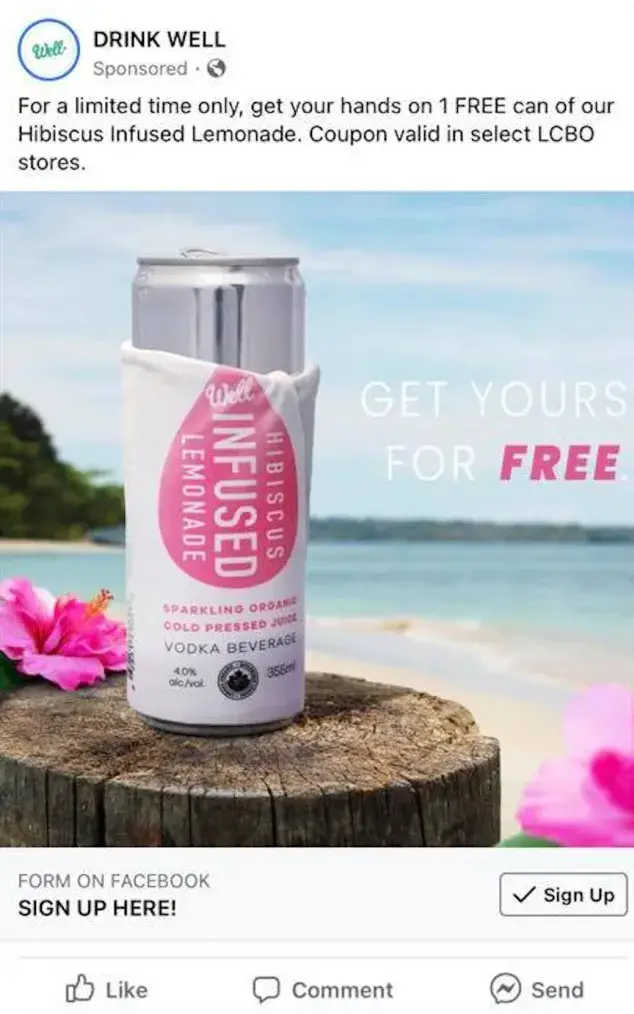 Let me know if you were able to get this freebie.
Valid for residents of Canada only, and available for a limited time, until they run out of stock and stop the post.
Be the first to get the latest freebies in your inbox