Last Updated on September 26, 2023
Notice to all the Sample Source members, especially the proud pet parents among you – there's a purr-fect treat for your cats… a free Feline Greenies Dental Treats sample.
As we all know, dental health is paramount, even for our whiskered companions. Feline Greenies Dental Treats not only provide a delicious snack for your cat but also help in keeping their teeth clean.
And right now, select users can sign up for a free sample so let's dive into the details.
How to claim a free sample of Greenies Dental Treats for Cats?
If you're an existing SampleSource member, rush to your email inbox! Based on your prior interactions and profile responses with SampleSource, you might have been chosen as a VIP member eligible for this exclusive free sample.
Being chosen as a VIP doesn't mean the sample is guaranteed. It's crucial to respond promptly to secure your Greenies Dental Treat for Cats sample.
Remember, Sample Source reserves these delightful freebies only for selected members. So, if you're among the chosen ones, expect your cat's treat to arrive in just a few days.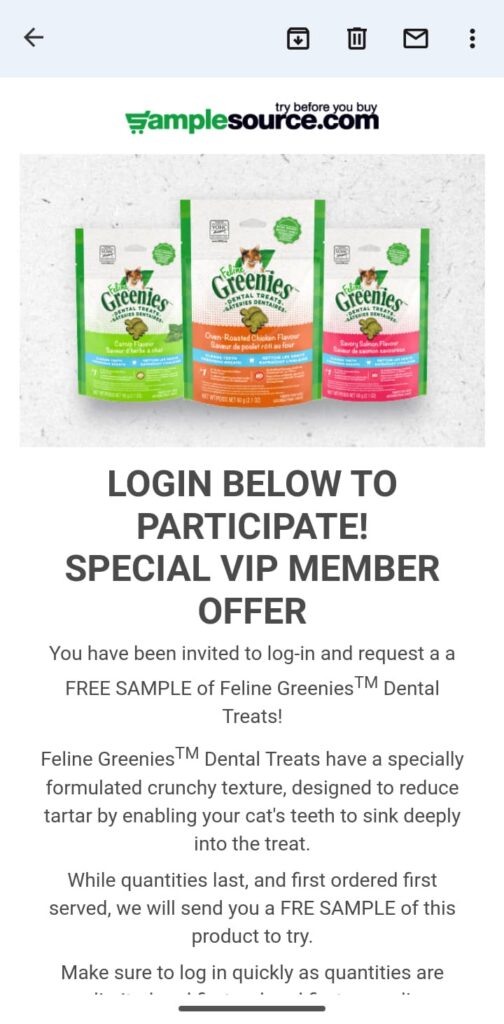 Not a SampleSource Member Yet? If you've been missing out on these fantastic offers, it's time to jump on board. Registering with SampleSource is simple. Go to their website and set up your account to be in the running for future freebies and the infamous Sample Source Box!
So what are you waiting for? Go check if you received your email to sign up for this freebie… And for those not yet members, join in, for a world of freebies awaits!
Good luck to everyone.
Be the first to get the latest freebies in your inbox