Last Updated on November 13, 2023
How would you like to try a free Smashbox foundation sample without paying a cent? Well, rejoice! Smashbox Cosmetics is debuting their innovative new foundation. And they are offering free samples of their Always On Skin-Balancing Foundation.
Whether you're dealing with oiliness, dry patches, or the everyday stress of urban life, the new Smashbox foundation is designed to adapt to your skin's needs. The product aims to balance and beautify with every application.
To try it for free, simply keep on reading.
How to claim a free sample of Smashbox Always On Skin-Balancing Foundation?
Smashbox is giving away these free samples through a sponsored ad on TikTok to select users.
Getting your hands on this complimentary offering is simple, all you need to do is follow the steps below:
Watch for the Ad: Keep an eye on your TikTok feed for the sponsored post from Smashbox.
Engage: Once you spot the ad, tap on the "Claim Your Free Sample" option.
Fill in the Details: Provide your shipping information as prompted to secure your sample.
Here is a screenshot of what the advert looks like: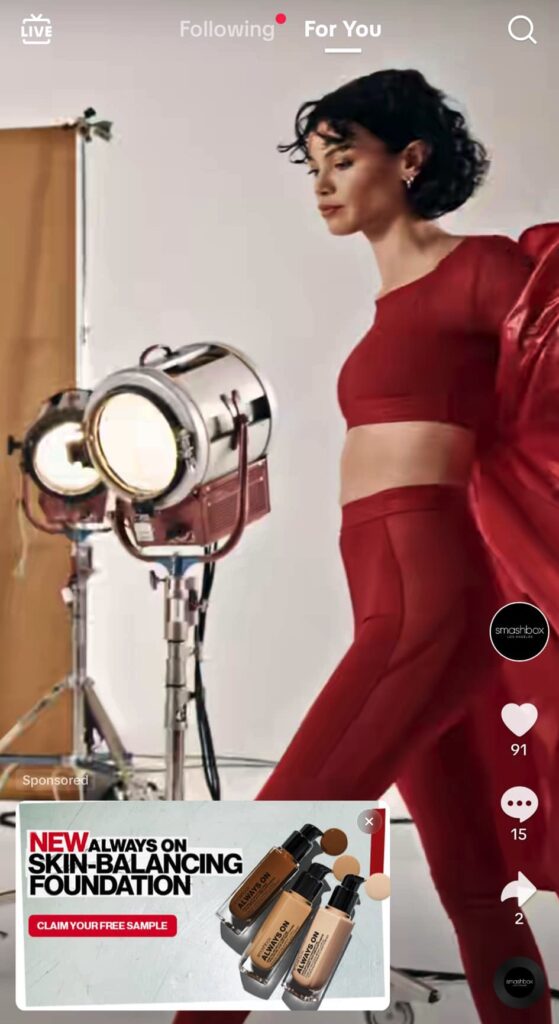 To increase your odds of seeing the ad on TikTok, make sure you abide by these criteria:
Follow Smashbox on TikTok: Seek out the official Smashbox TikTok account and hit 'Follow'. This increases the likelihood of their ads showing up on your feed.
Engage with their content: Scroll, like, comment, and share Smashbox content on TikTok. This signals to the algorithm about your interest in such products, making it more likely for the Smashbox ad to be displayed to you.
Use the Search Feature: Search for terms like "Smashbox Foundation" on TikTok. Engaging with content related to these search terms might nudge the algorithm to present you with their ad offering the sample.
Don't miss out on the chance to revolutionize your beauty routine with Smashbox.
Stay vigilant on your TikTok app, and get ready to experience the perfect balance for your skin with this exciting new product!
Be the first to get the latest freebies in your inbox