Last Updated on November 15, 2023
Are you ready to transform your hair care ritual? RG Cosmetics is currently offering a fantastic opportunity to rejuvenate your hair with a free RG Pataua Hair Mask sample.
This rich and nurturing hair mask is crafted to restore vitality and shine to your tresses, infusing them with the essence of natural Pataua extracts.
How to claim a free sample of RG Cosmetics Pataua Hair Mask?
RG Cosmetics is giving away this freebie through sponsored posts on Facebook and Instagram. So, to get yours, you need to keep an eye out on your Facebook and Instagram feeds for the RG Cosmetics sponsored post.
Follow the suggestionns below to increase your chances of seeing the ad on your feed:
Follow the RG Cosmetics on Facebook and/or Instagram
Interact with the page (Like recent posts, or leave a comment on their posts)
Look up the RG Cosmetics Hair Mask on the internet or the Facebook/Instagram search bar
Once you find the ad, click on the 'Sign up' button. This will redirect you to the RG Cosmetics campaign page where you can complete your details.
Here is a screenshot of what the advert looks like: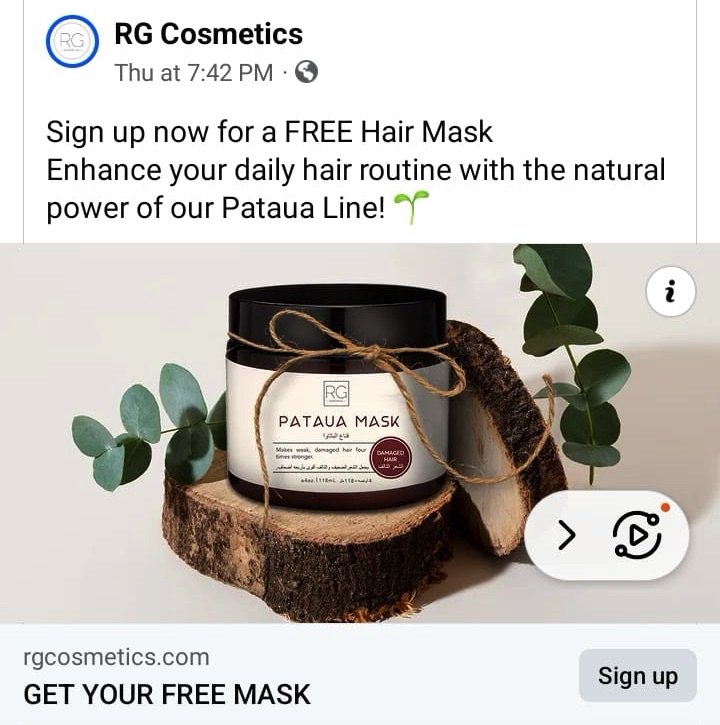 This offer is a must-grab for anyone looking to up their hair game with a touch of nature's best. Don't miss out on your chance to score this freebie.
After filling out the form, submit your request. Sit back and wait for your sample to arrive, and get ready to pamper your hair like never before.
Availability is while supplies last. Offer valid for residents where the campaign is advertised.
Be the first to get the latest freebies in your inbox