Last Updated on August 9, 2022
Grab a free PINCHme sample box every sample Tuesday and even more. Learn more about it and how to join the Pinch Me sampling platform to start receiving amazing freebies in the mail.
You can sign up here. Set up your profile and you will get samples immediately.
PinchMe August Sample Tuesday – 8/9
This month's Sample Tuesday will start for selected members at 9 am EDT on Monday 8 August 2022. Log in to your account to claim samples before they go out of stock.
The regular Sample Tuesday will start TUE 8/9 at noon ET.
UPDATE: The August Sample Tuesday is Live. Check your accounts to see what free samples you can get.
Click here to go to PINCHme.com.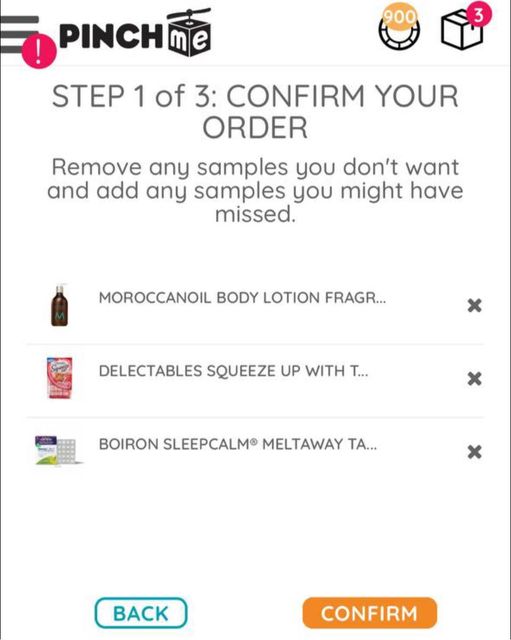 A Sneak Peek of August's FREE Samples:
Clorox® Disinfecting Mist
Moroccanoil Body Lotion Fragrance Originale
Moroccanoil Protect & Prevent Spray
Delectables Squeeze Up with Tuna & Salmon
StressCalm by Boiron
SleepCalm by Boiron
Acidil® Meltaway Tablets
Eva NYC Tone It Down Blonde Leave-In Cream
Eva NYC Tone it Down Blonde Shampoo & Conditioner
Camilia Teething Drops
Patak's® Simmer Sauces
The Inkey List Glycolic Acid Exfoliating Scalp Scrub
Hill's Science Diet Adult Sensitive Stomach Pouches
Sneak Peek of samples that will be available on the PINCHme July Sample Tuesday include:
The Good Patch Relief Patch,
COLDCALM By BOIRON
Clorox Disinfecting Wipies
Other samples include:
Eva Tone It Down Shampoo & Conditioner
Eva Brass to Sass Shampoo & Conditioner
Crunchmaster Avocado Toast Crackers 100% Free Gratuity Coupon
Temptations Creamy Purrrr-ée Lickable Cat Treats
Organic Valley Flavored Creamer 100% Free Gratuity Coupon
Camilia Teething Drops
FlowerPower Feminine Health
Bahlsen Choco Leibniz Milk Biscuits
Skylar Honeysuckle Dream Rollerball
Verb Ghost Dry Conditioner
Dr. Zenovia Scar Gel
Previous PINCHMe samples included:
Moroccanoil Hair & Body Fragrance Mist
Biotrue® Hydration Boost Eye Drops
Eva NYC Lift Off Volume Shampoo & Conditioner
Camilia Teething Drops
Bahlsen Choco Leibniz Milk Biscuits
Head & Shoulders Supreme Nourish and Smooth Shampoo and Conditioner
Bella Morsels in Sauce
Compeed® Advanced Blister Care
ILIA Lip Wrap Reviving Balm & Lip Wrap Treatment Mask
A variety of Nivea Lotions
Ivory Baby Foaming Wash & Shampoo
Huppy Peppermint Toothpaste tablets
Eva NYC Lift Off Volume Shampoo and Conditioner
DR. Zenovia Skin Care INFLAM-AGING Night Repair Treatment
and more.
NEW Samples available
As of June 28, 2022 there are some new samples available for you to claim on PINCHme. Log in to your accounts and claim them while supplies last.
The new samples include :
Lesserevil Peanots Himalayan Pink Salt,
Algenist Triple Algae Eye Renewal Balm
Biotrue Eye Drops
and more…
Click here to go to PINCHme.com.
What is PINCHme?
PINCHme is a sampling platform that introduces all kinds of product to potential customers thru free samples. It allows customers to try out free samples of different types of products, based on their profiles and preferences.
How does PINCHme Work?
As a user, you can sign up for free and build your profile over time. This can be done by answering questions and taking quick surveys every now and then. Thanks to the information you provide, the PINCH Me team is able to recommend you free samples that matches your needs and interests. Thus, every month, you will be able to receive a PINCHme sample box in the mail filled with free samples and coupons. It's all free and you do not have to pay a cent.
Every month, the platform makes new partnerships with brands and has a specific amount of free samples to offer. The campaign go live on the second Tuesday of each month, between 12pm EST to 9am.
Is PINCHme Legit?
The answer is yes. PINCHme is a legit sampling platform that has been around for quite some time now. The platform gives away tons of free PINCHme sample boxes every month. I have received some myself and I can assure you it is legit. No credit card required, and no shipping fees.
Be the first to get the latest freebies in your inbox