Last Updated on September 10, 2023
Gentlemen, ever had that moment when you wished for a subtle and effective solution to maintain the hue of your hair? Look no further because Just For Men has a delightful surprise for you. You can now claim a free Just For Men Control GX Shampoo sample to try.
Just For Men has been a stalwart in men's grooming for years, and their Control GX Shampoo is a game-changer. Designed for those looking for subtle gray reduction, it's a gradual hair solution for the modern man. This sampling opportunity is perfect for those who've been thinking of trying it out or are just curious about the buzz. So let's dive into the details.
How to claim a free sample of Just for Men GX Grey Reducing Shampoo?
The brand is giving away these samples to select users on Facebook and Instagram through ads. So, follow the instructions below to increase your chances of seeing the sponsored ad with the sample request form:
Connect with Just For Men: If you haven't already, give a thumbs up to the Just For Men Facebook Page by visiting this link or their Instagram account
Boost Your Chances: After liking the page, engage with their content! Drop a few likes, or sprinkle some comments. Your active engagement could amplify your chances of having the free sample offer appear on your feed.
Stay Vigilant: After interacting with their posts, keep an eye on your newsfeed over the next few hours. With a little luck and some META algorithm magic, the exclusive offer should pop up.
Here is a screenshot of the ad you should be keeping an eye out for. This will help you make sure you're nabbing the right deal when you see it.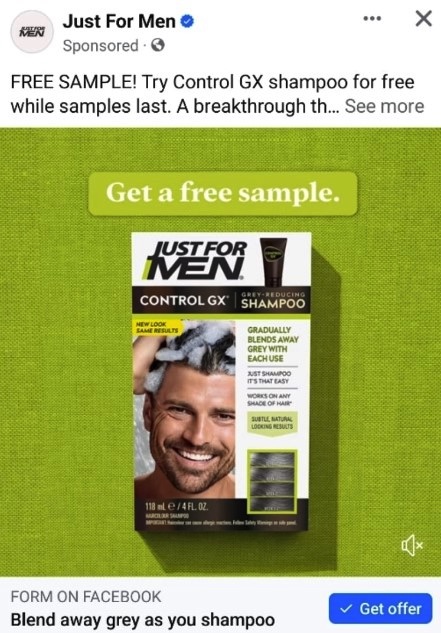 Once you spot it, simply click on the 'GET OFFER' button and complete the request form on Facebook or Instagram to receive your freebie in the mail.
This offer is available for a limited time on Facebook and Instagram to US residents.
So, if you've been mulling over a hair color solution that is both gradual and natural-looking, this might be your golden (or should we say, gray?) opportunity.
Happy sampling!
Be the first to get the latest freebies in your inbox