Last Updated on August 29, 2023
If you're in the US and have a little one at home or know someone who does, this is an offer you don't want to miss out on. Take a moment and perk up because there's a delicious treat waiting for your little one – a free Gerber Yogurt Melts sample.
Gerber, a trusted name in baby food, is giving away samples of their delightful Mixed Berries Yogurt Melts. Perfectly sized for little fingers and packed with the goodness of real yogurt and fruit, these melts are a treat both in taste and nutrition. So let's dive right in so you can get yours promptly.
How to claim a free sample of Gerber Mixed Berries Yogurt Melts?
You won't find a direct link to this freebie. Instead, it's making a sneaky appearance as a sponsored ad on Facebook and Instagram. But, you can follow the tips and tricks below to increase your odds of spotting this offer right in your social feed:
Spread some love: Show them some love by liking a few of their posts. This will increase your interaction with the brand, which might just prompt their ad to show up on your feed.
Quick Search: Head over to the Search bar and search for "Gerber Yogurt Melts". This action often triggers related ads to show up in your social media feeds.
After completing the above steps, take a deep breath, reopen your Facebook and Instagram, and patiently wait. Keep an eye out on both your feed and stories for that enticing ad. Here is what it looks like to help you recognize it quickly.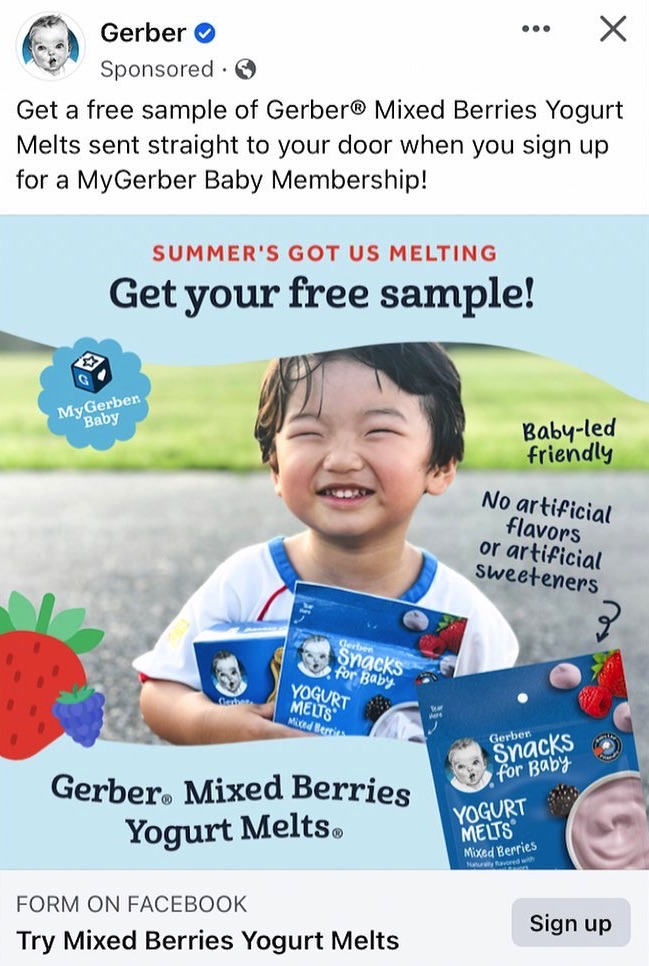 Once you find it, click on the 'SIGN UP' button and fill out the form. Your little one will thank you for it.
With a blend of interaction and a sprinkle of patience, you could get your hands on this delightful treat for your munchkin. Remember, it's available only for US residents, so if you spot it, grab it! And, of course, let your parent-friends in on the secret too.
Happy hunting, and here's to delightful munching moments with Gerber!
Be the first to get the latest freebies in your inbox