Last Updated on September 10, 2023
Have you been on the lookout for a refreshing drink that doesn't just quench your thirst but offers a plethora of health benefits too? Look no further! Through an exclusive offer available on Facebook and Instagram sponsored ads, you have the chance to grab a FREE Doctor D's Sparkling Probiotic Drink.
Gone are the days when drinks were just about flavor. With wellness at the forefront of consumer minds, beverages like Doctor D's are revolutionizing the way we think about our drink choices. Unlike traditional kombucha which often carries a strong vinegar-like taste, Doctor D's promises a delightful sip without compromising on the health benefits.
How to claim a free can of Doctor D's Sparkling Probiotic Drink?
NEW! After Rebate with Go to Aisle
To get your hands on a full rebate for one Can of Doctor D's Sparkling Probiotic Drink, simply follow the steps below:
Enter your number: Go to the offer page on Go to Aisle and enter your number to receive your rebate link
Buy Doctor D's Drink In-store: Locate a store near you using the Doctor D's store locator and purchase one Doctor D's Sparkling Probiotic Drink
Text Your Receipt: Take a snap of your paper receipt and text it.
Get Cash Back: Within 24 hours, you'll be reimbursed for the cost of one carton via Venmo or PayPal.
This rebate offer is available for a limited time only, so act quickly to seize it.
Open to residents of the US only.
From Facebook / Instagram
It's simple! Keep an eye on your Facebook and Instagram feeds for sponsored ads promoting this exclusive offer. Once you spot it, follow the instructions to claim your free can of Doctor D's Sparkling Probiotic Drink. There is no direct link to the offer, but luckily for all of us, there are tips and trips to help you encourage the algorithms to serve you the ad. I suggest:
Like and follow Doctor D's Sparkling Probiotic Drink page on Facebook or Instagram. This increases the chances of their ads appearing in your feed.
Engage with their posts by liking, commenting, or sharing, whatever you prefer.
Search for Doctor D's Sparkling Probiotic Drink on the Facebook or Instagram Search Bar or the internet
That's it, after that, keep your eyes peeled on your social feed. Here is what the sponsored post looks like.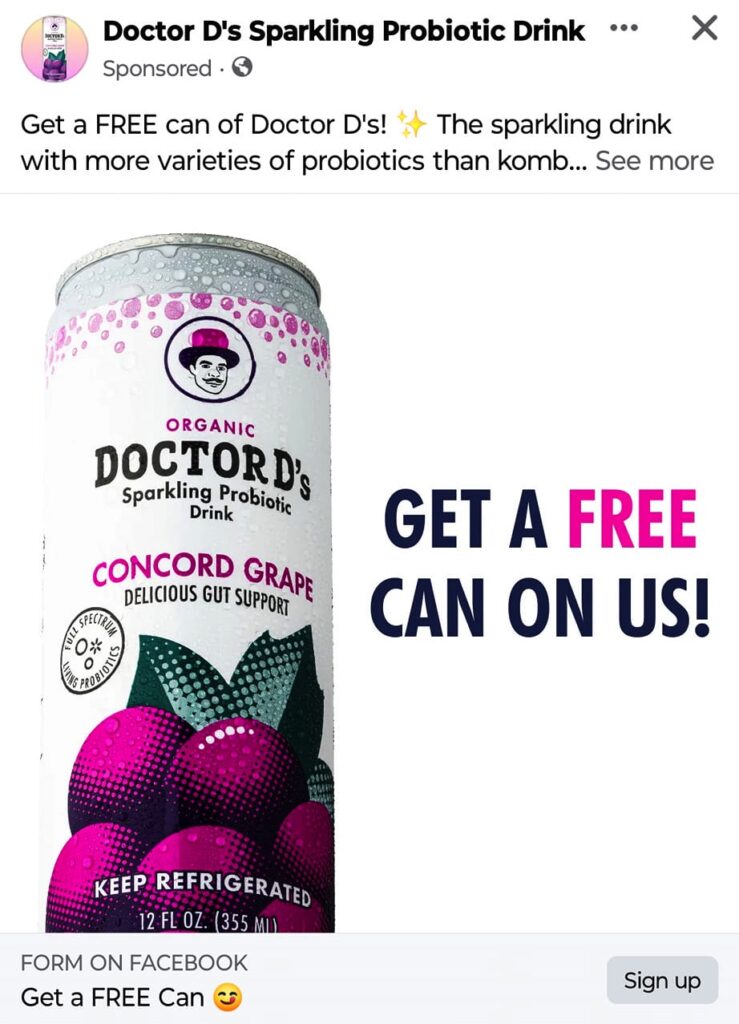 It's a limited-time offer, so make sure you don't miss out!
Available for select US residents on Facebook and Instagram ads.
Good luck.
About the Doctor D's Sparkling Probiotic Drink
Doctor D's is loaded with a variety of probiotics, even more than your typical kombucha. Probiotics are known for their myriad of health benefits, especially for the digestive system. A healthy gut is pivotal for overall well-being, making this drink a top contender for those who prioritize their health. Besides, every ingredient used in Doctor D's is 100% organic, ensuring you're sipping on nature's best without any harmful additives.
Forget the strong vinegar undertones of many health drinks. Doctor D's has perfected the formula to bring fresh and delectable flavors to the forefront. Each sip promises a burst of natural taste that's as good for the palate as it is for the body.
Be the first to get the latest freebies in your inbox