Last Updated on October 30, 2023
Looking for a way to get your hands on a free Estée Lauder Futurist Skin Tint sample to try? Look no further than this offer.
Estee Lauder is giving away free samples of their new Futurist Skin Tint Serum with SPF 20. So, if you've been on the hunt for that perfect skin tint that offers both radiance and hydration, this might just be your next beauty staple.
Read on to find out how to claim this sample and get your glow on.
How to order a free sample of Estée Lauder Futurist Skin Tint?
NEW! From Facebook / Instagram
Estée Lauder is now offering these samples through sponsored posts on Facebook and Instagram. Which means there is no direct link to the offer. However, you can apply the instructions below to increase your odds of getting it to pop up on your social media feed.
I suggest you :
Like and Follow Estee Lauder's page on Facebook and Instagram if you use it
Engage with the brand by interacting with its social accounts. You can like recent posts, leave a comment or watch a recent video they have shared on their page
Search the Estee Lauder Futurist Skin Tint and check it out on the Estee Lauder website
After this, simply keep an eye out while scrolling through your Facebook or Instagram feed. Here is the post you should be on the lookout for.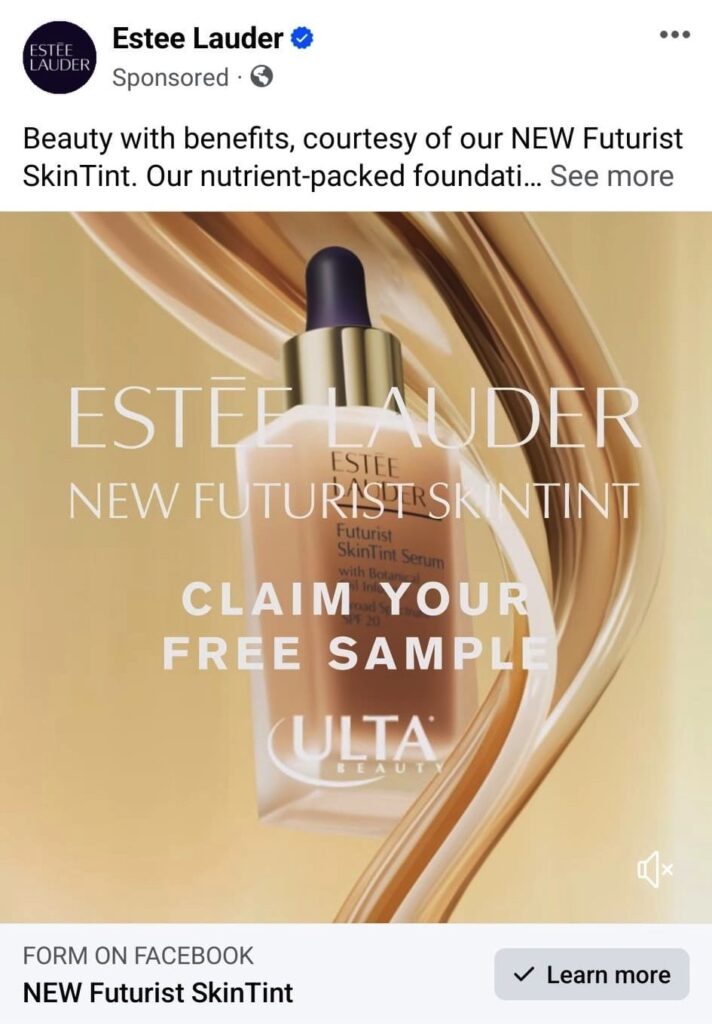 From TikTok
Have you been scrolling through your TikTok feed recently? If not, now might be the perfect time to do so. Estee Lauder is gracing our TikTok feeds with an offer too good to resist.
Follow the tips and tricks explained below to increase your odds of finding the sponsored ad, and as a result be able to order your very own Futurist Skin Tint Serum with SPF 20 sample.
Hop on TikTok. Open your app and scroll through your feed.
Use the search bar to look up Estée Lauder account, and follow them
Interact with their content by watching, then liking recent posts, etc…
Go back to the search bar and look up Estée Lauder Futurist Skin Tint
Interact with the results and take a good look around the results, the ad might be there
Keep an eye out for Estee Lauder's sponsored posts.
Once you come across the Estee Lauder Futurist Skin Tint ad, there will be a direct link or a swipe-up feature to claim your free sample.
Here is a screenshot of what the advert looks like to help you identify it quickly.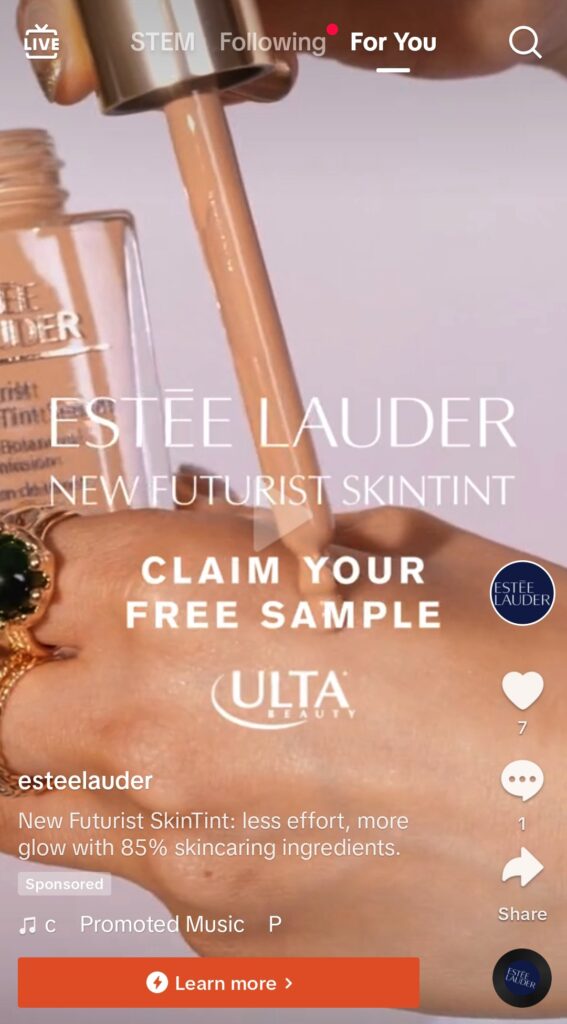 Like all good things, this offer won't last forever. It's available on a first-come, first-served basis. So, be quick and snag yours!
Available to select user son TikTok, who live in the United States.
Happy sampling, and may your skin always shine bright!
---
For everyone who manages to get their hands on this sample, we'd love to hear your thoughts! Share your reviews, tips, and looks with us. Tag us on our socials or drop your comments here. Let's get the conversation glowing!
Don't forget to follow us for more exciting beauty finds and offers. If you loved this, be sure to subscribe to our email list for the latest updates, and connect with us on social media to be part of our radiant community!
Be the first to get the latest freebies in your inbox